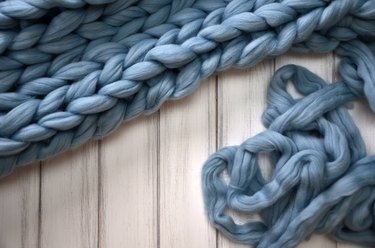 Oh, the plush, cozy feel of comfort when working with warm chunky yarns. There's really nothing like it, especially when creating something for someone you love. When you knit with chunky or bulky yarns, your projects will take shape quickly and easily, making knitting with chunky yarns perfect for beginners or for creating gifts. Any yarn with a weight above 5 is considered chunky yarn. You can knit or crochet rugs, blankets, pillows, afghans, throws and pet beds with chunky yarn. Use knitting needles, crochet hooks, or even your hands to create with chunky yarn. Understanding different types and weights of yarn will help you decide which chunky yarn will work best for your knitting or crochet project.
What to Consider When Purchasing Chunky Yarn For Knitting
​Fiber:​ Yarn is usually produced and sold in a combination of fibers, but it's important to understand the different types of fibers so you'll know what will work best for your project.
Wool comes from sheep and is an easy-to-handle, affordable, durable, breathable, moisture-resistant and popular fiber for knitting. It comes in a large range of colors and works well for knitting garments. Wool needs to be hand-washed in cool water.
Mohair is more expensive than wool but is warmer and fluffier. It resists wrinkling because of its elasticity but silk and wool are often added to make it a bit heavier. It tends to be itchy, which can be a drawback. Mohair needs to be hand-washed or dry-cleaned.
Cotton yarn is a common, natural, inexpensive plant fiber. It is smooth so it will show off fine stitch work. It has a good drape but isn't very elastic. Cotton yarn can be machine-washed.
Cashmere is a soft luxury yarn that is usually mixed with other fibers and gets softer with wear. Cashmere is a dry-clean-only yarn.
Angora yarn is made from angora rabbit fur. It is soft, silky, lightweight and warm. Projects made from angora yarn will need to be dry-cleaned or hand-washed in cold water and placed on a flat surface to dry.
Alpaca yarn is a dense fiber spun from alpaca fleece. It is hypoallergenic and good for knitting babywear. Alpaca yarn needs to be dry-cleaned or hand-washed.
Rayon is a man-made fiber that imitates natural fibers. It's shiny, smooth, cool, comfortable, and doesn't retain heat so it's better for warm weather knitwear. Rayon needs to be hand-washed.
Nylon is a durable, smooth, shiny synthetic fiber. It's easy to wash and can be laundered in a washing machine.
Polyester blends with natural fibers to create a fiber that has good draping, moisture-wicking and breathability properties. It's good for all seasons and can be machine-washed.
Cotton tube yarn is washable, pet-friendly, soft, strong and durable. You can use this thick yarn to create pet beds, blankets and cushions. It is measured and ordered by the pound.
​Weight:​ The thickness of yarn is measured in wraps per inch (WPI). Ply count ranges from 1-ply being the lightest weight to 14-ply being the heaviest weight. There are seven different weights of yarn ranging from 0 to 7.
0 is considered laceweight, fingering weight or #10 crochet thread. It is the lightest weight yarn and is used to knit or crochet doilies and lace. It needs to be handled very gently. When working with lace weight yarn, you use a size 000-1 knitting needle or a size B1 crochet hook.
1 is called superfine, sock weight or fingering weight. You can use this weight of yarn to knit or crochet hats, socks, gloves or garments. When working with super fine yarn, use a size 1-3 knitting needle or a size B1-E4 crochet hook.
2 is referred to as fine, baby weight or sport weight yarn. Use this yarn weight to knit or crochet hats, socks, gloves or garments. Size 3-5 knitting needles or size E4-7 crochet hooks are used with fine weight yarn.
3 is considered lightweight, DK weight or light worsted weight yarn. It is also used to knit or crochet hats, socks, gloves or garments. Use a size 5-7 knitting needle or a size 7-19 crochet hook when knitting or crocheting with lightweight yarn.
4 is called worsted, aran weight or afghan weight yarn. It has good stitch definition and warmth. Use size 7-9 knitting needles or 19-K10.5 crochet hooks when knitting or crocheting with worsted weight yarn.
5 is considered bulky, chunky, craft or rug yarn. It is used to create bulky yarn blankets, throws or scarves. Use a size 9-11 knitting needle or size K10.5-M13 crochet hook when working with bulky weight yarn.
6 is referred to as super bulky yarn and includes roving. It is a good weight for beginners and experienced knitters to knit and crochet fast projects. Super bulky yarn projects use a size 11-17 knitting needle, a size M13-Q crochet hook or even your hands.
7 is called jumbo-weight yarn and includes roving. You can knit or crochet large loose stitches with jumbo-weight yarn. It is sometimes referred to as boucle, chenille or slubby yarn. When creating projects with jumbo weight yarn, use size 17-plus knitting needles or size Q-plus crochet hooks. You can also use your hands to knit or crochet with jumbo-weight yarn.
​Amount:​ Yarn is measured in yards, meters and ounces. Be sure to refer to your pattern to determine how much yarn you'll need to purchase.
​Dye-Lot Number:​ Since color can vary slightly from each batch, the manufacturer that produces the yarn will give that color batch a number. This number is called the dye-lot number and it's printed on the skein wrapper. If you plan on purchasing more than one skein of yarn, be sure the dye-lot numbers match so your yarn color will be consistent.
​Care:​ How you need to care for the finished yarn project is an important consideration especially if you have children or plan to actually use it. Yarn can be gorgeous but if it has to be hand-washed or dry-cleaned it may not be practical for your use. There are many beautiful yarns available that can be machine-washed including premium acrylic, cotton, and superwash merino wool yarn.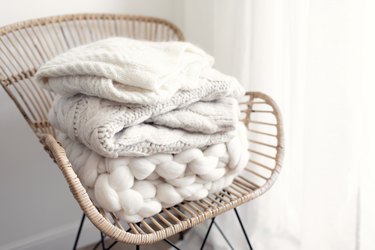 1. HomeModa Cotton Tube Chunky Yarn
HomeModa Cotton Tube Chunky Yarn is machine-washable, super fluffy and will hold its shape well. You can hand-knit or crochet jumbo blankets, wall hangings, weavings, pet beds, rugs and dream catchers. Add chic style to any room with a creation made from chunky yarn. It comes in a 20-meter or 60-meter skein and three colors: blue, dark gray or pink. To make a pet bed, you'll need to buy 30 to 40 meters of the HomeModa chunky yarn. You'll need 20 to 25 meters of chunky yarn for a small, soft mat. A lap throw will take 60 meters and a medium-sized blanket will require 130 to 150 meters of chunky yarn.
2. Wools by Nicki Chunky Merino Wool Yarn
Wools by Nicki Chunky Merino Wool Yarn is a number 6 super bulky yarn weight. It comes in a skein of 40 meters. It's also available in 80-meter, 120-meter and 188-meter skeins. Soft and natural, this chunky yarn comes in 29 different colors—you can also message the Etsy shop owner for a custom color creation. Chunky merino wool yarn is excellent for arm knitting. It only takes 40 meters of this chunky yarn to make a small cat bed, 120 meters to make a dog bed and 188 meters to make a small throw blanket.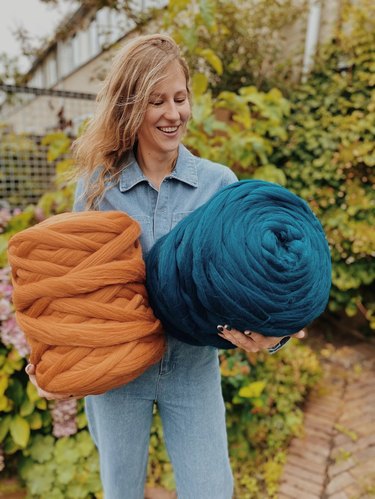 3. Mainstays Super Bulky Chenille Yarn, 4-Count
Mainstays Super Bulky Chenille Yarn comes in a package of four skeins that total 126.8 yards of chunky yarn. This bulky yarn is made of polyester and is completely machine-washable in cold water. It's ideal for beginning arm knitting and great for creating warm blankets, pretty scarves, cute hats, beautiful sweaters and much more. Don't want to arm knit? No worries, just break out your size 17 knitting needles and get to work knitting those unique projects or even try one of the four patterns that come free on the inside of the skein label. It comes in eight colors: Vanilla Dream, Soft Silver, Corsair, Light Pink, Charcoal, Metropolis Burgundy, Aqua and Black.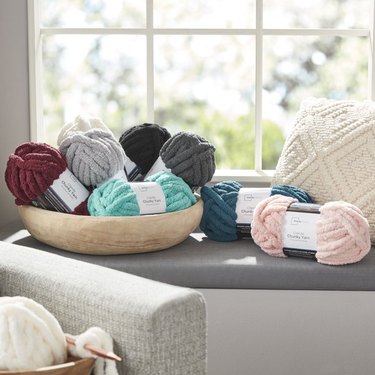 4. Sheps Wool Chunky Wool Roving Yarn
This beautiful natural wool roving is sold by the pound, which is equivalent to 36 feet in length. It's a creamy white, unprocessed, soft wool roving. Use it as-is or add your own dye to create any color you desire. Use this wool roving to make DIY wall hangings, wool dryer balls, cat beds, dog beds, rugs, felt animals and blankets. To arm knit a 30-inch long, 15-inch wide chunky knit blanket, you'll need to buy four pounds of wool roving. Six pounds of wool roving will make a 48-square-inch chunky knit blanket. A 58-square-inch chunky knit blanket will need 9 pounds of wool roving. Thirteen pounds of wool roving will be enough to arm knit a 64-inch wide, 80-inch long chunky knit blanket. This wool is not machine-washable and must be washed by hand in cold water.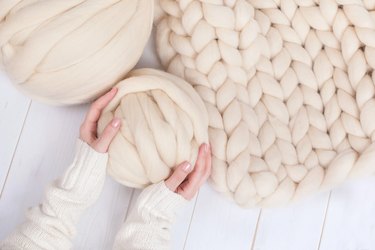 5. Bernet Softee Chunky Yarn, 6-Count
The Bernet Softee Chunky Yarn comes in a package of 6 skeins for a total of 648 yards of ultra-soft acrylic, super bulky weight knitting yarn. All six skeins of this acrylic yarn are from the same dye-lot so matching color is a snap. When knitting or crocheting with this bulky yarn, you'll need to use a size 11 knitting needle or a size L11 crochet hook. You can machine-wash and tumble-dry your projects made with this chunky yarn. The Bernet acrylic yarn comes in 19 different colors, so you're sure to find the right color to match your project. Knit or crochet a baby blanket, a cowl, and home decor accents like throw pillows or wall hangings.