If Presidents' Day Weekend sales passed you by, fear not, savvy shoppers! Overstock's huge Semi-Annual Sale is here, and the savings are tremendous. Running from Tuesday, March 8 through Monday, March 21, the sale boasts discounts of up to 70% off on thousands of home products in various categories, including indoor and outdoor furniture, rugs, bedding, decor, kitchen and home improvement. Plus, enjoy free shipping on everything!
The standout of the sale is a particularly strong showing from the Christopher Knight Home furniture collection—the brand behind the popular outdoor patio set used in Oprah's 2021 interview with Prince Harry and Meghan, Duchess of Sussex. There are limited-time deals on select furniture, rugs, lighting, bedding, kitchenware, home decor and more, offering an additional 10-20% off. Whether you're ready for a furniture refresh in time for spring, or simply wish to take advantage of great online deals on home products, you don't want to miss this one. We've compiled a list of some of the best deals on spring decor so you can give your home or outdoor entertaining space a little extra TLC.
1. Palazzo Outdoor Wicker Teardrop Chair With Cushion by Christopher Knight Home
To add some seating variety to your outdoor entertaining space, you can't go wrong with this vibrant, teardrop-shaped wicker chair from the Christopher Knight Home collection. It's constructed with an iron frame and includes a thick, full-bodied cushion that's 100% polyester. Plus, the cushion is water-resistant. The only caveat is that very tall people cannot sit comfortably in the chair, due to its partial canopy formed by the curvature of the frame. The chair measures 38 1/2 inches wide, 29 1/2 inches deep and 58 inches tall.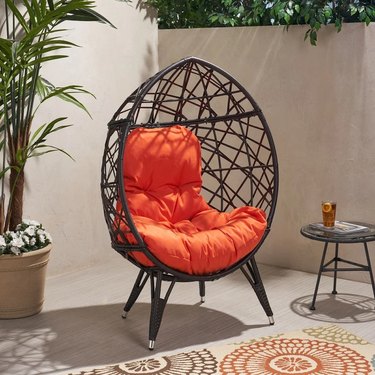 2. Carol Outdoor Lounger Bean Bag by Christopher Knight Home
This rectangular lounger bean bag from the Christopher Knight Home collection is a comfy way to seat around three or four people—or, for one lucky person, a relaxing way to lounge. The outer material is 100% polyester, while the inside is filled with high-density polyurethane foam that adds support and helps the lounger retain its shape. The lounger is available in multiple colors at varying prices and measures 72 inches wide, 40 inches deep and 15 inches tall.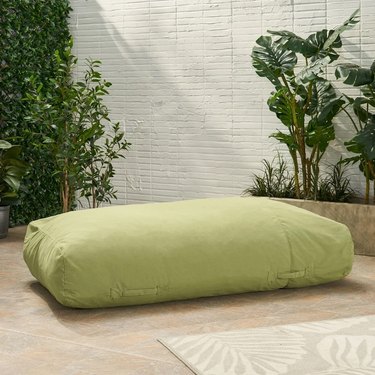 3. Alejandro Outdoor Acacia Wood Hanging Porch Swing by Christopher Knight Home
If you've got a spacious porch without much on it, you may be interested in this hanging porch swing from the Christopher Knight Home collection. Crafted from acacia wood, it features slatted seating for that classic look and is available in teak and dark gray finishes. It comes with two sturdy iron chains for hanging it up. Assembly is required, but all the necessary tools and instructions are included. The swing bench measures 49 1/4 inches wide, 25 1/4 inches deep and 22 inches tall.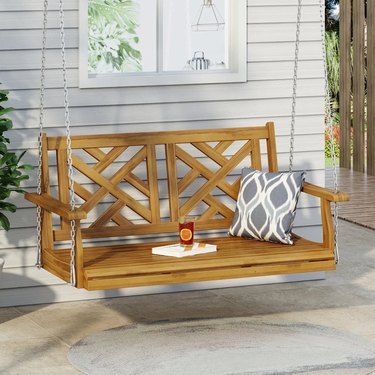 4. PHI VILLA 15-Foot Double-Sided Patio Umbrella With Crank
For homeowners with ample patio space who lack the luxury of an adjustable awning, this 15-foot wide patio umbrella can provide shade for as many as four people to comfortably lounge side-by-side. The canopy is made from 100% polyester fabric that's water-resistant, breathable, fade-resistant, UV-protective and easy to clean. The set includes a hand crank and sturdy base with two sandbags to weigh it down. When fully extended, the umbrella canopy spans 15 feet wide and the umbrella stands 8 4/5 feet tall.
5. Lilac Outdoor 12-Inch Round End Table by Christopher Knight Home – Teal
Add a punch of color to your patio with this teal end table from the Christopher Knight Home collection. It's made from iron and features a wraparound criss-cross pattern. While it's designed to withstand the elements outside, there's nothing stopping you from using it indoors to complement your living room, for example. The drum-shaped table measures 12 1/4 inches wide, 12 1/4 inches deep and 17 3/4 inches tall.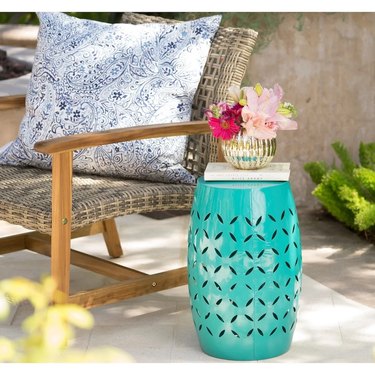 6. Outsunny Steel Square Outdoor Wood-Burning Fire Pit Table
While spring is just around the corner, it can still get pretty chilly in the evenings. If you don't want the temperature to bring your outdoor get-together inside, it's worth investing in a wood-burning fire pit table, like this one from Outsunny. It's constructed from steel and slate and includes a poker, spark screen and waterproof outdoor cover. The heat-resistant basin can withstand temperatures up to 1,382 degrees Fahrenheit. The tabletop measures 33 3/4 inches wide and deep, while the table stands 21 1/4 inches tall.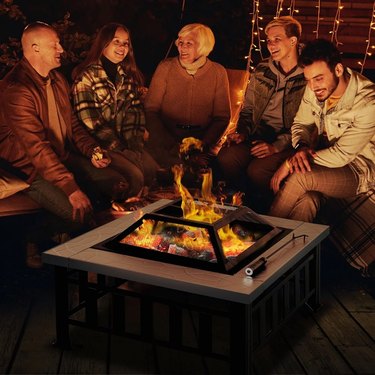 7. Set of 2 Succulent Metal Wall Planters for Artificial Plants
This set of two metal wall planters isn't waterproof, so it's best to stick with artificial plants. However, the visual impact is just as good as if they held real plants. Each planter features a striking polygonal design and gold trim. All you need to hang them up is a hammer and a couple of nails. The larger planter measures 14 1/4 inches wide, 5 1/2 inches deep and 20 1/2 inches tall, while the smaller planter measures 12 1/2 inches wide, 5 inches deep and 17 1/2 inches tall.
8. Nora Multi-Purpose Organizer Accent Table – Sahara Morning
For an accent table that's more than just an accent table, look no further than this multi-purpose organizer table. It combines creative storage with artful design to not only complement your space, but also keep things like magazines, TV remotes and sheet music in one tidy spot. Crafted from engineered woods, the table features two tiers and includes a divided nook, a traditional drawer, two wicker basket drawers and a two-tier magazine holder. The table measures 19 1/2 inches wide, 15 3/4 inches deep and 24 inches tall.
9. Modern Arched Full-Length Standing Mirror
This full-length standing mirror will make any small room feel larger. Featuring an arch-crowned silhouette and an ultra-thin metal frame, it's trendy, stylish—and best of all—easy to set up. It's available in four different sizes: 64 inches by 21 inches, 71 inches by 27 inches, 71 inches by 24 inches and 59 inches by 20 inches.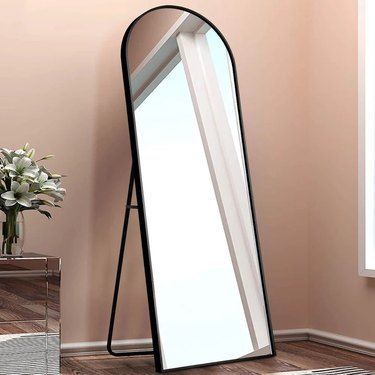 10. Natural Wood Cross-Cut Side Table With Iron Hairpin Legs – Large
Bring the outdoors in with this natural wood side table. Handcrafted using natural munggur wood sourced from a sustainable tropical forest, the round table top measures 13 inches in diameter, while the iron hairpin legs help give the table a height of 19 inches. To clean the table top, wipe it down with a clean, dry cloth. Light assembly is required.
11. Cristina Bohemian Fringed Macrame Wall Tapestry
This fringed macrame wall tapestry is a great way to add a bohemian touch to your space. Made in India using 100% cotton and pine (for the hanging rod), the cream-colored tapestry is available in two sizes—the smaller measures 15 inches wide and 31 inches long, while the larger measures 29 inches wide and 60 inches long. This tapestry adds texture to an otherwise blank wall and its muted color is subtle, yet inviting.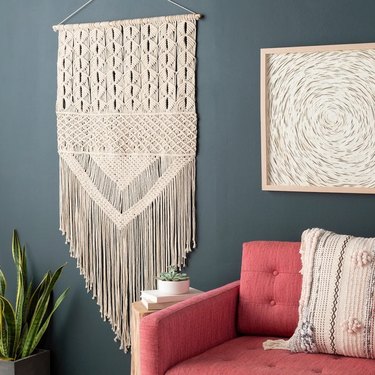 12. Design Art Blue Silver Spring Oval Wall Mirror
With its calming color scheme of subdued shades of blue and blue-green, this oval wall mirror would add a cool elegance to your bathroom. Instead of a traditional frame, the mirror uses premium scratch- and fade-resistant raised ink to form a double ring just inside the mirror's outer rim. The glass itself is a quarter-inch thick and provides distortion-free reflections. The mirror measures 24 inches wide and 36 inches tall.
13. Richards Wicker Hanging Chair by Christopher Knight Home
To mix things up a little in your living room, consider this beautiful hanging chair from the Christopher Knight Home collection. Made from polyethylene rattan—which can withstand the elements better than natural rattan wicker, should you choose to hang it outside—the chair comes with a plush, water-resistant cushion and an 8-foot suspension chain. Professional installation is required, and for safety reasons, it shouldn't be installed to sit more than 20 inches off the floor. It measures 30 inches wide, 31 1/2 inches deep and 44 1/2 inches tall.