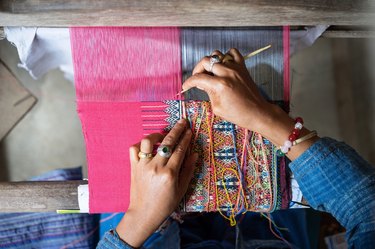 If you want to get into a crafting trend that's been weaving its way into home decor and fashion lately, now is definitely the time. Fluffy wall hangings, nubby textures on decorative pillow covers, and modern hand-woven tapestries are filling the interiors of newly designed homes. There are many weaving kits out there designed to help you become the fiber artist you'd love to be. However, before picking out the right weaving kit for you, you'll need to understand the difference between looms and what kinds of projects can be made on each particular loom. We're here to help you find just the right weaving kit suited for your needs.
What to Consider When Purchasing a Weaving Kit
​Vocabulary​: Before investing in a loom, you'll need to know the names of the different parts that come with a loom.
A warp thread is the thread that is directly wound around teeth, pins or notches that are spaced at regular intervals on the loom.
A weft thread is the yarn, thread, strips of torn fabric, driftwood, pinecones or even shells that are woven through the warp threads with a needle, shuttle or your hands.
A shuttle is a tool made from wood, plastic or cardboard. The weft thread is wrapped around the shuttle to keep the weft thread neatly and compactly organized while carrying it through the warp threads when loom weaving.
A heddle is made from a rigid material such as wood or plastic. There are uniform holes in the center of the heddle that the warp threads pass through so when the heddle is lifted or lowered the warp threads can move at the same time as a group.
​Type of Project​: There are many types of projects you can weave with a loom, and before you purchase a weaving kit, you'll need to decide what you'll most likely be making. If you plan on making potholders, coasters or blanket squares, a pin loom might be right for you. A tapestry loom is best for wall hangings, necklaces, coasters, placemats, scarves and shawls. If you are a more advanced weaver and will be creating larger and more complex projects, then a rigid heddle loom or table loom might be right for you.
​Type of Loom​: Next you'll need to decide which type of loom you'd like to use. Here we will explore four different types of looms:
A tapestry loom is a simple loom that uses warp and weft threads to make designs or pictures on wall hangings or furniture covers.
A pin loom is great for beginners. It has pins on all sides of the loom to wrap yarn around. Then more yarn is woven through with a needle to create potholders, coasters and small tapestries. You can easily use up scraps of yarn with a pin loom.
A rigid heddle loom is best for intermediate or advanced weavers. The warp threads are threaded alternately through a rigid heddle reed. This allows you to move the heddle up and down, creating a space between to then allow you to move the weft threads easily through the warp threads.
A table loom is good for creating complex patterns when weaving. It's similar to a rigid heddle loom but much easier to set up and take down. This type of loom is wonderful when traveling to classes, seminars or conferences.
​What's Included in the Kit​: Most kits will come with the following items:
Loom
Hardware
Tapestry needle
Darning needle
Dowel
Warp string
Yarn
​Workspace​: Determining how much space you have to house your loom is an important thing to consider. Ask yourself where you will be working on your projects and where you will be storing your loom when it's not in use. Another question to ask yourself is whether you'll be working on a table or on the floor. Finally, ask yourself if you'll have to put it away in between work sessions. The answers to these questions will help you pick out the type of weaving kit that is right for you.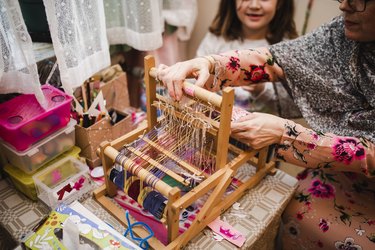 The Best Tapestry Loom Weaving Kit
If you want to try your hand at weaving a stylish wall hanging, the Ashford Weaving Kit is a good place to start. It comes with everything you need and you can choose between a kit with monochromatic fibers or a kit with bright colored fibers.
​Materials Included:​ Frame, needle, yarn, texture fiber, dowel, instructions
​Dimensions:​ 14" x 18"
​Special Features:​ Two color choices
​Type of Loom:​ Tapestry Loom
​Possible Projects:​ Wall hanging
The Best Pin Loom Weaving Kit
Harrisville Designs Deluxe Weaving Kit
Many of us can remember, as a child, the sense of accomplishment and pride when we created our first potholder with a pin loom. Most likely, after we carefully removed it from the loom and marveled at our handiwork, we wrapped it up and presented it to the favorite cook in our family. Then we watched with excitement as they unwrapped our work of art. We squealed with delight when they actually used the hot pad in the kitchen, sparking a lifetime love in us for all things handmade. Purchasing a Harrisville Designs weaving kit for a special child in your life just might help to ignite their creative urge and start them on a life journey of making things with their own hands.
Harrisville Designs has been working hard to keep the textile tradition going in Harrisville, New Hampshire since 1971. The pin loom kit is just one of the many kits that they offer. All the kits and the materials included are created in New Hampshire.
​Materials Included:​ Metal loom, 1 plastic hook, 1 set of cotton loops, illustrated instructions
​Dimensions:​ 7" x 7"
​Special Features:​ Multicolored cotton loops
​Type of Loom:​ Pin Loom
​Possible Projects:​ Potholders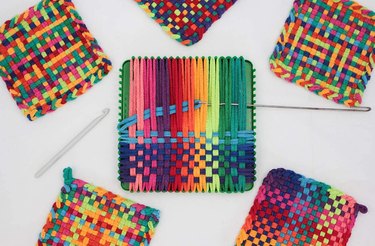 The Best Rigid Heddle Loom Weaving Kit
The Ashford Sample-It Loom Kit is a versatile loom that will keep you busy for years. It's designed with both beginner and intermediate weavers in mind. You can delve into creating over ten different types of projects with this loom. Try your hand at creating a wall hanging to go with your new kitchen decor or design a new pillow cover to freshen up your living room sofa. A new bathroom rug may even be in your future using this loom. It'll definitely keep you busy and satisfy your desire to try new types of weaving projects and at 18.5 inches wide, 18.5 inches long and only 5 inches tall—meaning it won't take up too much space. Go ahead and take it with you when you travel, as it only weighs 4 pounds, so moving it around is a breeze.
​Materials Included:​ Loom, 7.5 dpi reed, two 18-inch shuttles, instruction booklet, threading hook, warping peg, clamp
​Dimensions:​ 18.5" x 18.5" x 5"
​Special Features:​ Double heddle kit
​Type of Loom:​ Rigid Heddle Loom
​Possible Projects:​ Scarves, belts, wall hangings, placemats, fabric, rugs, tapestries, pillow covers, dish towels, garments, floor mats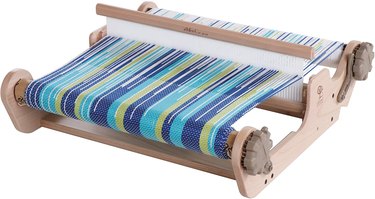 The Best Table Loom Weaving Kit
Mikimiqi Table Loom Weaving Kit
This simple and easy-to-use table loom kit will help you make unique and beautiful works of art. Since it's 15.75 inches long, 9.85 inches wide and 1.3 inches tall, you can create weaving projects in sizes anywhere from bracelets to small rugs. The possibilities are endless when it comes to weaving wall hangings, belts, scarves, pillow covers and anything else you can think of to weave. Beginner weavers will enjoy how easy it is to assemble and learn to use. Intermediate weavers will love the versatility of this loom kit and will be able to easily experiment with new weaving techniques.
​Materials Included:​ Wooden loom, comb, shuttle, thread
​Dimensions:​ 15.75" x 9.85" x 1.3"
​Special Features:​ Easy to assemble
​Type of Loom:​ Table Loom
​Possible Projects:​ Wall hangings, pillow covers, small rugs, tapestries, scarves, belts, fabric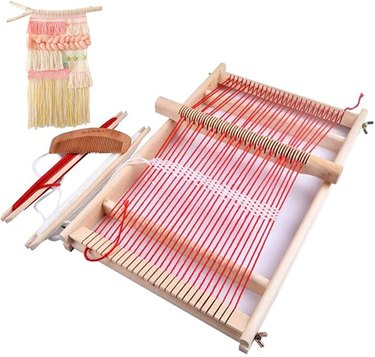 The Best Weaving Kit for Kids
Giving a child this weaving kit will provide a hands-on, screen-free and creative play experience. The bright, colorful yarn that comes with this kit, in addition to the ease of use, will stimulate children's imaginations and encourage creative expression. Weaving with children will also improve their concentration, enhance fine motor skills and develop better hand-eye coordination. This kit comes with everything you need to complete a wide variety of projects at various skill levels. Also included with this kit are photo and video tutorials on how to complete three different projects.
​Materials Included:​ Weaving loom frame, weaving loom shuttle, small weaving comb, yarn, 5 balls of wool, tapestry needle, video and graphic tutorials
​Dimensions:​ 9.44" x 9.25" x 1.97"
​Special Features:​ Will make round and square projects
​Type of Loom:​ Pin Loom
​Possible Projects:​ Coasters, potholders, small wall hangings, blanket squares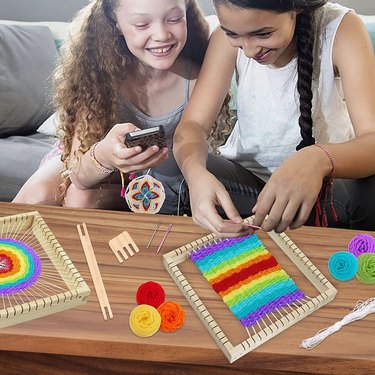 The Best Weaving Kit for Beginners
Lavievert Weaving Kit for Beginners
This collapsible, miniature version of a Rigid Heddle Loom is an affordable starter loom to help a budding fiber artist learn the basics, understand the mechanics of a traditional loom and experiment with designs. Beginner weavers will appreciate the fact that the warp threads are already threaded onto the loom for immediate use. It comes pre-assembled except for two screws that will need to be inserted into the stability bars. The Laviert loom is portable and folds up neatly even with an attached work in progress.
​Materials Included:​ Loom, 4 anti-skid stickers, 4 string shuttles, 1 ball of string
​Dimensions:​ 20.5" x 11" x 3.1" when folded, 15" x 12.6" x 10.6" when unfolded
​Special Features:​ Comes with warp threads already threaded on loom
​Type of Loom:​ Rigid Heddle Loom
​Possible Projects:​ Potholders, scarves, wall tapestries, table runners, test pieces sewn together, dish towels, pillow covers