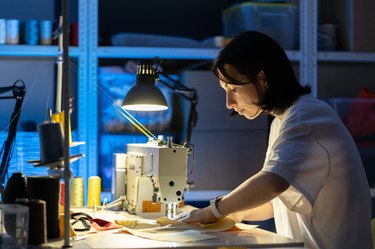 Investing in a good lamp for sewing and crafting is a must for professionals and hobbyists. Proper light is instrumental in creating your best work and reducing fatigue. Creativity and health are two important aspects of living our best lives, and when creating, nobody has time for eye strain headaches caused by improper lighting.
And if you're like most busy people, you are likely indulging in your hobbies after work or after the kids go to bed when regular lighting isn't optimal for seeing fine details or prolonged work. Sewing, knitting, crocheting, jewelry making and embroidery are all meant for fun, and sometimes profit, so be sure to take the plunge and purchase quality lights meant for all of your sewing and crafting needs. We're here to help you narrow your search for the perfect sewing and crafting lamp.
What to Consider When Purchasing a Lamp For Sewing and Crafting
​Type of Bulb​: There are several different types of bulbs to choose from when buying a lamp for sewing and crafting.
Incandescent bulbs emit a warm yellow light. The light is constant but has a very low output. They are inexpensive but don't last very long so they will end up costing more in the long run. This type of light has traditionally been used for household lighting but is quickly being phased out and isn't recommended for sewing and crafting.
Halogen lights are 10% brighter and less yellow than incandescent lights. They also last 2 to 3 times longer than an incandescent bulb. Halogen lights emit a mild, natural, less contrasting light that can reduce eye strain and is great for reading. On the flip side, when comparing halogen lights with LED lights, the halogen light emits more heat, is less energy-efficient and costs more in the long run.
LED lights emit a contrasting, cool, white light that is great for color matching and detail work. LED lights last a long time and are environmentally friendly. They are generally high quality and most include anti-glare technology which makes them perfect for sewing and crafting.
​Design​: When purchasing a lamp for sewing and crafting you'll choose between a floor lamp, table lamp or an attachable lamp.
Floor lamps come with a long pole ranging from 22 inches to 60 inches in height. The pole sits on a solid, stable base that is meant to be placed on the floor. Floor lamps are more versatile than table lamps since they can be placed next to a sewing or craft table as well as near a chair or couch when doing hand work that needs to be illuminated.
Desk lamps are lower, smaller and meant to be placed on a desk or table. These are best to use next to a sewing machine.
Attachable lamps are small, bright, adjustable lamps that can be attached directly to your sewing machine and positioned so a direct light illuminates the exact spot you need to see.
​Style:​ When determining which lamp to buy, you may want to consider which style will blend with the design aesthetic of your sewing space. From modern to vintage, there are many styles available to fit into any decor style.
Adjustable height lamps will bring the functionality of your lamp to a higher level. Since most of us don't do the exact same type of crafting and sewing, this type of lamp will allow you to switch from project to project.
Flexible gooseneck lamps let you move the light source to illuminate the precise spot you need to see on your project.
A dimmer switch will help you save money and energy in the long run. You can switch your light to high when you're focusing on details and lower the amount of light when working on a more general project. This will prolong the life of your bulbs.
Magnifiers attached to sewing and crafting lights will help to reduce eye strain and improve results when doing detail work like ripping out seams, embroidery, hand sewing or clipping threads.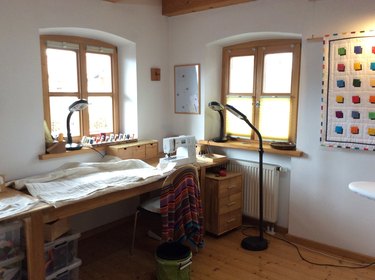 Brightech Magnifying Lamp
When your sewing or crafting ventures require continuous, close focus work, the Brightech magnifying lamp will reduce eye fatigue and help those with visual needs to see their work. This lamp comes with a flexible gooseneck that can be adjusted to allow you to see your project from any angle. Since this lamp has a heavy, strong base, it will stay put so you can use both hands when working on embroidery, jewelry, crocheting, painting, hand sewing and other small projects. The 3-inch, scratch-resistant, diopter glass lens will magnify and keep things in focus up to 13 inches away. The built-in LED lights will last 20,000 hours. That's the same as three hours a day for 20 years—more than enough time to light up your quality crafting and sewing. The 3-year warranty is definitely icing on the cake.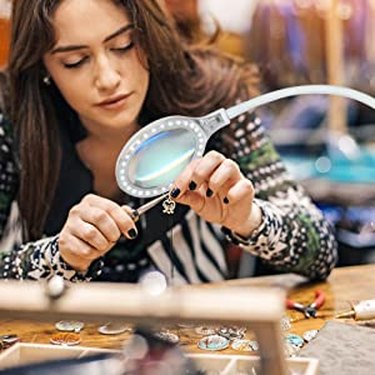 The Verilux LED floor lamp has a flexible gooseneck which makes this lamp an excellent choice for sewing, jewelry making, scrapbooking, crocheting, knitting and other hobbies that require focusing for long periods of time. Place it next to your sofa or comfy chair when doing hand work or next to your table when working on a sewing machine. Wherever you choose to place this lamp, the Full Spectrum Light will help you see details clearly so you can accomplish your best work. To allow for correct illumination on any surface, you can adjust the color temperature and the brightness of the Verilux lamp from warm white to daylight. The weighted base ensures this lamp won't topple over while you work. Weighing in at only 11 pounds, it's easy to move from place to place to use for any task where you may need extra lighting.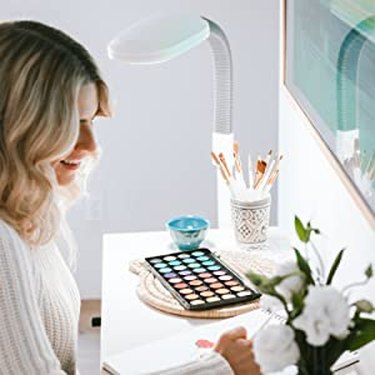 The Lepro adjustable table lamp protects your eyes and prevents eye strain with non-flickering lighting. The lamp head is 13 inches long and has a frosted shade to reduce glare, halos and shadows. It has three light settings and five brightness levels to allow you to customize your lighting for all your sewing and crafting projects. Since this lamp is LED, it won't overheat like traditional lighting. If you use your smartphone to access sewing and crafting tutorials while you work, you'll be happy to know the Lepro desk lamp has a built-in USB port so you can keep your phone charged throughout the entire project.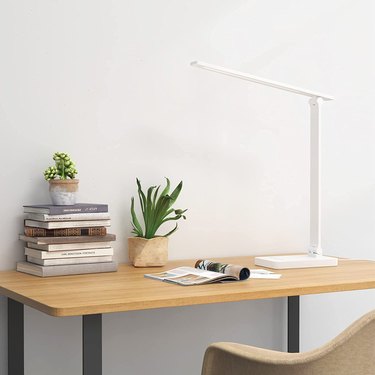 The Best Attachable Sewing Machine Light
Cutterpillar Cordless LED Flex Sewing Machine Light
When you need a precise light source to zoom in on a project, simply attach the Cutterpillar cordless LED light directly to your sewing machine. It attaches with velcro and is easily removed when you need to place it in the charging cradle to charge. It has three levels of brightness and always stays cool to the touch because it is an LED light. The flexible neck allows you to point the light source directly to where you need it most. And the best part is, you don't need to find a spot to place your lamp since it's attached to the side of your machine. Take it with you to sewing and crafting classes, seminars and conferences as it won't take up too much space in your bag.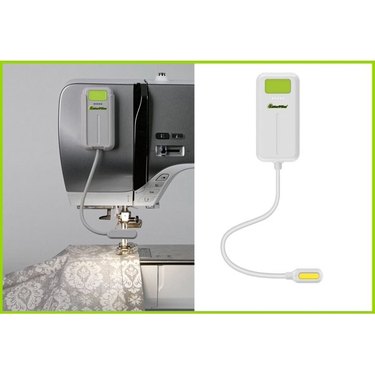 If traveling to classes, seminars and conferences is a big part of your sewing and crafting adventures, you'll need a reliable portable light. The OttLite folding task lamp only weighs one pound and when folded, it measures 4.75 inches wide and 20.75 inches tall. To make carrying easy, the OttLite has a handle. It'll pack nicely into your bags, and since it folds up, the bulb is protected. The base is only 3.75 inches by 4.5 inches, so it'll take up very little space on the table, which is important if you have to share space with another class participant. You can even adjust the position of the light from 11.25 inches to 17.5 inches, so it'll shine where you need the most illumination. The bulb will last 10,000 hours and can even be replaced to make this lamp an eco-friendly choice.