To create sewing projects that look their best, it's imperative to get precise measurements before cutting. Accurate measuring definitely equals success in the sewing world. The old adage, "measure twice, cut once" will not only save you time in the long run but it will save some of your hard-earned money, too. No one wants to cut into a hard-to-find piece of lace or expensive leather only to find out the measurements were off. Yikes! To get correct measurements and construct beautiful fabric designs, you'll need the right tools for the job. We're here to help you navigate the world of sewing rulers and get the perfect ruler to fit all of your sewing needs.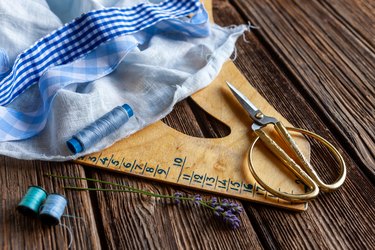 What to Consider When Purchasing a Sewing Ruler
There are numerous types of sewing rulers on the market today, and each has a different function for a different type of sewing. It's important to know what each type of ruler does so you'll best know what ruler will suit your sewing needs.
​Acrylic Quilting Rulers:​ This type of sewing ruler comes in many shapes and sizes and is made from clear plastic. The markings are in inches and help to measure and mark triangles, hexagons and perfect squares when quilting. It's used with a rotary cutter and since the ruler is see-through, you can line it up directly over the fabric design you'd like to cut.
​Adjustable Sewing Rulers:​ If you need to measure a long length but don't have lots of space, a folding ruler will hold its shape while you measure then fold up for easy storage.
​Measuring Gauge:​ These gauges help to measure small seam allowances and mark buttonholes anywhere from 1/8-inch up to 2-inch measurements. They can even help you draw a perfect circle.
​Pattern Drafting Rulers:​ These rulers often come in a set and are used to help design patterns. French curves are used to draw curved pattern lines like armholes, curved darts, sleeve cap curves and necklines. Hip curves have a more gentle curve and are used to make or adjust hiplines, hems and other basic curved pattern lines.
​Tailor's L Square:​ This is a ruler that forms a 90-degree angle (like a big L) and helps when lining up crosswise and lengthwise grains.
​T-Square:​ This ruler is shaped like a large letter T. It's used to find fabric grain, draw long lines, measure and alter fabrics, and mark 90-degree angles.
​Clear Acrylic Ruler:​ This type of ruler is transparent, so you can see through them to measure and mark straight lines, seam lines, quilt lines, pattern markings, hems, topstitching lines, buttonholes, tucks and pleats. They include 1/4-inch and 1/2-inch grid lines for precise measurements. They can be used as a straightedge for a rotary cutter and for measuring 30-, 60- and 90-degree angles.
​Flexible Curve Ruler:​ This ruler is made from plastic or rubber with an internal metal core so it will bend and hold to any shape like armholes and neck holes. Since the width of a flexible curve ruler is 1/4-inch they can also be used to mark seam allowances on curved edges.
​Adjustable Seam Gauge:​ This small ruler is used to mark and measure seam allowances, button placement, hem depths, buttonholes, pleats and tucks.
​Measuring Tape:​ A measuring tape is one of the most common and basic measuring devices used for sewing. These are put to use when measuring a bust, waist, hips and other body parts for garment sewing measurements.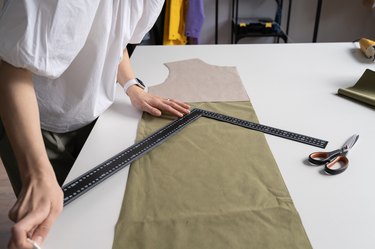 The Best Acrylic Quilting Ruler
Frienda 6-Piece Quilting Ruler Set
This package includes six pieces. There are four acrylic square quilting rulers: A 4.5-inch square, a 6-inch square, a 9.5-inch square and a 12.5-inch square. It also includes an acrylic ruler and an ironing ruler. Each ruler has a 0.1-inch-thick, clean, laser-cut edge for easy cutting. The ironing ruler is made from a transparent resin that will withstand high temperatures. The Frienda quilting ruler set comes in 3 colors: yellow, pink or blue.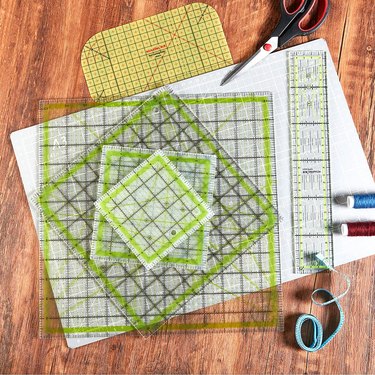 The Best Adjustable Sewing Ruler
The QWORK birchwood foldable ruler will open up to measure a project up to 6 feet 6 inches. It's perfect for measuring large sewing projects like curtains, sheets, blankets and furniture slipcovers. It has both imperial and metric measuring increments on both sides of the ruler. It folds into 9-inch segments when you're finished measuring for easy storage.
Frienda 2-Piece Measuring Gauge
You'll get two measuring gauges in this Frienda set. One gauge is made of metal and the other is plastic. You can use the T-shaped plastic gauge to fold your fabric and set the gauge to the length you want. You can also use it to draw a perfect circle with your desired radius. The metal measuring ruler will also help you draw a perfect circle and has a built-in buttonhole spacer. They both have imperial and metric increments on both sides and a sliding pointer to help you measure button and buttonhole placement, seam allowances and patchwork. Keep them both or use one and give the other as a gift.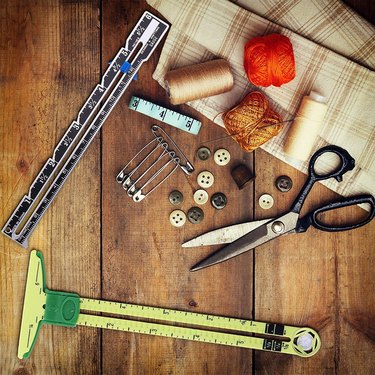 The Best Pattern Drafting Rulers
HLZC Store Pattern Drafting Rulers
If you've been contemplating trying your hand at pattern drafting so you can have the freedom to create your own designs, repurpose your existing clothes and alter commercial patterns for a better fit, then this is the pattern drafting ruler kit for you. It comes with ten transparent rulers, including French and hip rulers. You also get a bonus flexible curve ruler, a measuring tape, 2 tracing wheels and tailor's scissors. The HLZC ruler kit includes everything you need to get started in the world of pattern drafting.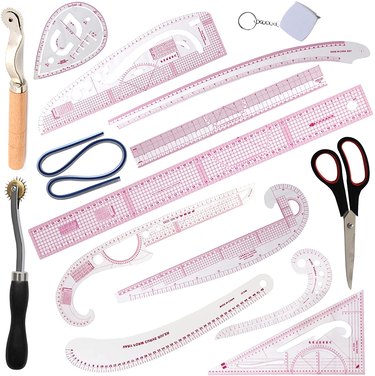 The Best Tailor's L-Square Ruler
The Walfront L-square ruler will be a nice addition to your pattern drafting rulers and will work wonderfully to create scaled patterns from original sewing patterns. It will also help you draw accurate 90-degree angles and straight lines. The arms of the square are 8 inches by 8 inches. The transparent acrylic ruler allows you to see through the ruler so you know you are marking the correct spot on the pattern.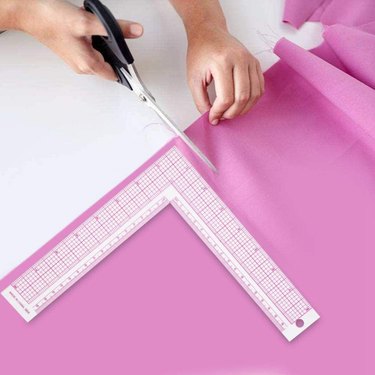 The Best Clear Acrylic Sewing Ruler
The Fiskars clear sewing ruler is made of 3-millimeter quality acrylic. It is 6 inches wide and 24 inches long so you can cut strips of fabric up to 6 inches wide right off the bolt. There are easy-to-read 1/8-inch grid lines on all four sides for accurate measuring, and the gridlines are broken to help see through to the fabric edges. It also has 30-, 45- and 60-degree line indicators to help with precise angle cutting.
The Best Flexible Curve Ruler
Mr. Pen Flexible Curve Ruler
The 24-inch (60-centimeter) Mr. Pen bendy ruler can be used to alter clothing patterns, draw sketches, create needlepoint borders, draft pants and design sleeves. It's next to impossible to capture the exact measurements of a curve with a regular ruler. The flexible steel wire inside this pliable ruler helps you bend it into curves to mimic those on your body. The ruler also holds its shape until you straighten it out. Simply mold it into the curvature you need, hold it in place, and cut or draw around the curve. The Mr. Pen flexible curve ruler will assist in drawing a perfect circle, a precise curve or series of curves, a straight line or balanced triangles. It has 1/16-inch measurement increments and the outside edge is slightly raised and offset to provide a precise measuring edge for both pen and pencil.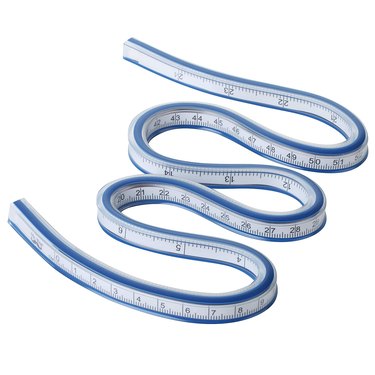 The Best Measuring Tape for Sewing
iBayam 2-Pack Measuring Tape
This set comes with two measuring tapes, a soft pink tape measure and a retractable tape measure. Both tape measures have large clear markings in centimeters and inches and will measure up to 60 inches or 150 centimeters. You can use these tape measures for body measurements when sewing, tailoring, measuring weight loss, ordering clothes online, waist measurement or measuring any curved surface. The black retractable tape measure has a button that releases the tape when you're pulling it out or retracting it back into the holder. It is only 2 inches in diameter and 1/2-inch tall so it will fit nicely into any sewing kit.