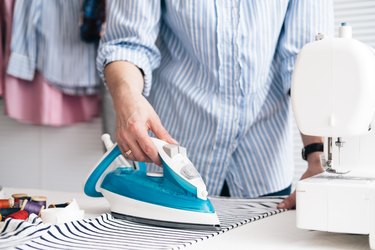 To get a professional, crisp look with any sewing project, an exceptional iron is crucial. Every seam, whether you're sewing garments, home decor or quilts, will need to be pressed. A good, clean iron is essential when preparing several yards of fabric for cutting a pattern, applying fusible interfacing or pressing seams. A dependable iron that glides across the fabric is just as important as a good sewing machine to ensure sewing success. Since iron selection is such a crucial part of the sewing process, we've tried to simplify your quest for the perfect iron by listing some things to keep in mind while shopping.
What to Consider When Purchasing an Iron for Sewing
​Wattage:​ The rule of thumb when it comes to iron wattage is the higher the wattage, the better the performance. Irons come in a range of heat settings from 1000 watts up to 2000 watts. Higher wattage irons will heat up faster (meaning less time standing around waiting) and will produce steady, powerful bursts of steam to help flatten wrinkles, pleats and seams.
​Power Functions:​ When sewing with different types of fabrics, you'll need an iron that has adjustable temperature settings. Your iron should adjust from 275 degrees Fahrenheit to 445 degrees Fahrenheit. If you press a fabric at a higher temperature than recommended, you could damage it. If you use too low of a setting, it won't press effectively. You should always test your fabric first on a small area so you don't ruin your project. Here are some of the recommended heat settings for different types of fabrics:
Acetate/Nylon: 275° F
Wool: 300° F
Silk: 300° F
Polyester: 300° F
Viscose/Rayon: 375° F
Triacetate: 390° F
Cotton: 400° F
Linen: 445° F
​Automatic Shut-Off:​ We've all had those moments when we leave the house only to worry that we forgot to turn something off before we left. Since irons use high heat, safety precautions should be in place to prevent injury, fire damage and to give us peace of mind. Most irons include an automatic shut-off feature, but having an adjustable time feature can make your sewing session more effective. When you work on a sewing project for a long period of time, the automatic shut-off should be set for a longer period of time. If you have to turn the iron back on each time you get up from your sewing machine because it turns off after five minutes, you'll spend several more minutes waiting for it to heat up every time you want to press something.
​Weight:​ Since pressing fabric is a physical activity, you'll want to consider the weight of your iron. Make sure it's lightweight enough for you to handle comfortably but heavy enough to press your fabric adequately. Heavier irons store heat for longer, are more stable and produce bigger bursts of steam, meaning you'll use less force to get rid of wrinkles. But, they can be bulkier, produce hand fatigue when used for long lengths of time, and can be harder to get into small spaces. So, finding a good balance is important.
​Water Reservoir:​ A big part of achieving professional-looking seams while sewing is pressing with steam. The iron you choose needs to have a large enough water tank so you won't need to refill it constantly and wait for it to reheat when using the steam feature of your iron for a long duration of time. It's also important for the water reservoir to be see-through, so you'll know ahead of time when the water is getting low. There's nothing worse than constantly running out of water, unplugging the iron to refill the water tank and then waiting for it to heat up again! Some irons even offer a separate, much larger water reservoir.
​Soleplate:​ The soleplate is the metal plate on the underside of an iron that heats up and touches the surface needing to be pressed. These can be stainless steel or ceramic. Basically, stainless steel soleplates are easy to clean and have excellent glide over the fabric. Ceramic soleplates can reach higher temperatures without scorching fabrics and eliminate static while ironing. You'll also need to consider the size of the soleplate when purchasing your new iron. An iron with a small soleplate is good for traveling, small projects, and quilting piecework. You'll want an iron with a larger soleplate if you're working on large quilts, doing loads of home ironing, or are a professional who sews for long periods of time. Whichever iron you choose, just make sure it's nonstick and runs smoothly over your fabric.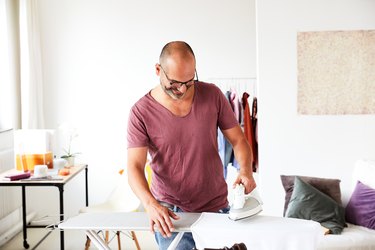 The Best Overall Iron for Sewing
Rowenta DW2459 Access Steam Iron
If steam and safety are a priority for you when choosing an iron, then the Rowenta DW2459 is a solid choice. The soleplate has 350 steam holes for even steam distribution, blasting away wrinkles and helping the iron glide exceptionally well across fabric. You can even hold this iron vertically and steam away wrinkles on curtains, suits and delicate garments. Since the water tank holds 8.5 ounces of water, you won't need to spend lots of your sewing time refilling the reservoir. Plus, because this iron has an anti-calcium system that removes minerals and impurities, you won't need to use distilled water to prevent build-up or steam blockage. It also has an anti-drip system to allow you to iron at low temperatures without worrying that your iron will leak onto your fabric and stain it.
The retractable cord means simpler storage—no more untangling the cord when taking out the iron or struggling to wrap up the cord when putting it away. While the retractable cord can reduce tripping hazards and increase safety, the automatic shut-off feature will lessen the risk of fire. When standing upright, the iron will automatically shut off after 8 minutes of inactivity, but it will shut off after 30 seconds of inactivity when the iron is positioned on its side or face down.
​Wattage:​ 1725 watts
​Power Functions:​ 3-setting thermostat knob
​Automatic Shut-Off:​ Yes
​Weight:​ 3.87 lbs.
​Water Reservoir:​ 8.5 oz.
​Soleplate:​ Stainless steel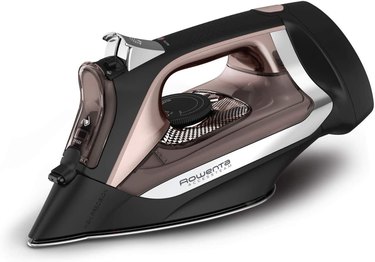 The Best Budget Iron for Sewing
Black+Decker IR40V Easy Steam Compact Iron
The lightweight, no-frills, compact Black+Decker Easy Steam iron is powerful enough to smooth away wrinkles and inexpensive enough for a beginning sewer or anyone who doesn't want to invest too much money. It's very easy to use, all you need to do is fill it with tap water, plug it in, set the temperature control to match the fabric you're using, and press out wrinkles to your heart's content. This iron will maintain the proper temperature for six different fabrics: synthetic, nylon/silk, polyester/rayon, blends, wool and cotton. Just set the dial on the type of fabric you're using and the iron will properly regulate the temperature and steam. The anti-drip system maintains a consistent heat so water won't drip from the iron and stain the material or the ironing board cover. Safety features include a 360-degree pivoting cord to decrease the possibility of it becoming tangled and tipping over the iron, and this model will automatically shut off if left inactive on its side, heel or soleplate to reduce the risk of fire.
​Wattage:​ 1200 watts
​Power Functions:​ 6 settings and a fabric guide
​Automatic Shut-Off:​ Yes
​Weight:​ 1.98 lbs.
​Water Reservoir:​ 8 oz.
​Soleplate:​ Stainless steel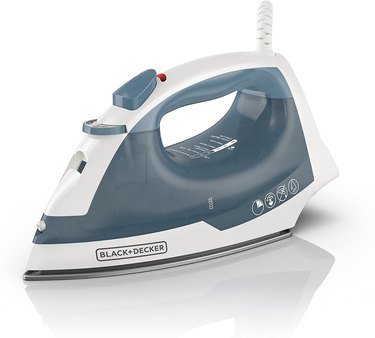 The Best Cordless Iron for Sewing
Panasonic NI-WL600 Cordless Steam/Dry Iron
From preparing yards of fabric to pressing small, quarter-inch seams, the Panasonic cordless iron can tackle it all. It heats up quickly and works well for quilt piecing, applique work, crafts and sewing. The 360-degree soleplate with a double-tip design will press in all directions and works nicely when ironing collars, sleeves and cuffs. Since it's cordless, it will eliminate the need to untangle a cord when setting up the iron or putting it away. The base has a cord that retracts out of the way with the touch of a button. Remove wrinkles from curtains and hanging garments with the vertical steam feature.
There are three heat settings in addition to three steam settings to maintain proper heat for the various types of fabrics you'll be working with. The detachable 5.6-ounce water tank eliminates the need to carry your entire iron back and forth to the water source. This iron also includes an anti-drip system to protect against ruining your fabric with water stains and an anti-calcium system to reduce the chance of clogging the sole plate steam holes with mineral build-up. If you leave the Panasonic Cordless iron unattended for ten minutes, it will automatically shut off. When you're finished using this iron, just pack it away in the carrying case for easy storage. You can easily bring this compact, lightweight iron to your favorite sewing seminars, retreats, classes and conferences.
​Wattage:​ 1500 watts
​Power Functions:​ Adjustable steam and dry settings
​Automatic Shut-Off:​ Yes, after 10 mins. inactivity
​Weight:​ 5.6 oz.
​Water Reservoir:​ 4.7 oz.
​Soleplate:​ Stainless steel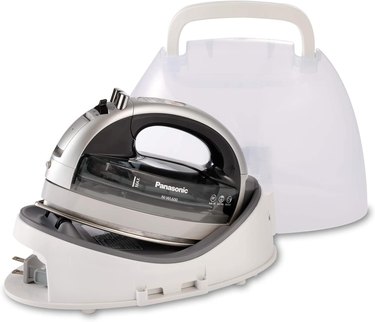 The Best Iron for Quilting
Precision pressing with a good iron is crucial for quilters. The diamond ceramic soleplate will glide smoothly over the fabric and fit into the smallest of spaces. The steam feature will blast out wrinkles in horizontal and vertical positions. There's no need to interrupt your sewing time with constant water tank refills since this iron has a large, 12.7-ounce water tank. The Oliso TG 1600 Pro Plus iron will streamline your sewing session with the auto-lift system. All you need to do is touch the handle and the iron will lower onto your fabric. Remove your hand from the iron and it will automatically lift the iron off your pressing surface to prevent scorching and keep you safe.
​Wattage:​ 1800 watts
​Power Functions:​ Digital fabric selector, steam burst, cold spray buttons
​Automatic Shut-Off:​ Yes
​Weight:​ 4.38 lbs.
​Water Reservoir:​ 12.7 oz.
​Soleplate:​ Ceramic