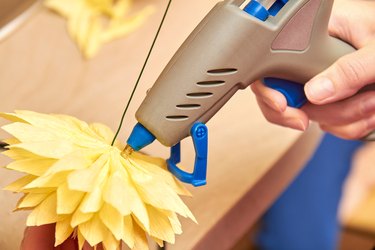 A good hot glue gun is right up there on a crafter's list of must-have items. Whether you're a scrapbooker, set designer, card maker, sewer, home repair guru, woodworker or interior designer, a hot glue gun will help you get the job done professionally and efficiently. But which glue gun is best for you? We've done our research and are here to help you wade through the choices and pick the glue gun that will work best for you.
What to Consider When Purchasing a Hot Glue Gun
​Heat:​ There are low-temperature, high-temperature and dual-temperature hot glue guns on the market. Each kind is best suited for specific types of projects.
Low-temperature glue guns use silicone glue sticks that melt at 250 degrees Fahrenheit. They are best for smaller, more delicate projects like paper crafts, scrapbooking and fabric projects. Since the glue melts at a lower temperature, it's safe to use on lace, fabric, foil, paper, ribbon and even floral foam. Low-temperature glue guns are small, lightweight, portable, affordable and more kid-friendly than a high-temperature glue gun. As with anything dealing with heat, adult supervision is still required but the smaller size and lower temperature will make it much easier for children to create their own masterpieces.
High-temperature glue guns use glue sticks made with polymers and acrylic, which melt at a higher temperature of 380 degrees Fahrenheit. Hobbyists and adult crafters choose this type of glue gun when working with materials that require a stronger bond such as wood, plastic, metals, ceramics, rocks or magnets. The high temperature will melt the glue faster and more efficiently, plus the glue will stay hot longer. This type of glue gun works well for simple home repairs and larger DIY projects, however, it tends to be more expensive and can damage delicate materials, so it should only be used by adults.
Dual-temperature glue guns can be used for a variety of projects. They are harder to find and tend to be more expensive but they are quite versatile and give the crafter more control over the heat setting, depending on what material they are using.
​Wattage:​ The wattage of low-temperature glue guns range from 10 to 20 watts and will heat up in 3 to 5 minutes. High-temperature glue gun wattage ranges from 20 to 100 watts. They will stay hot longer and heat up in a minute or two, making them more efficient for larger projects.
​Size:​ Ask yourself what kind of projects you'll most likely be working on to determine what size glue gun will be best for you. Mini glue guns are smaller and work best for people with small hands, children or delicate projects. They use a glue stick that is 0.27 inches in diameter, weigh just under 9 ounces, and dispense a smaller amount of glue, which makes them perfect for small-scale crafts like Christmas ornaments. Full-size glue guns are bigger and work best for larger projects, product assembly, or if you'll be using the glue gun for a long duration of time. They use a glue stick that is 0.44 inches in diameter and dispense a larger amount of glue. You can even get a glue stick manufactured in a large roll for continuous glue dispensing. Full-size glue guns can weigh up to 5 pounds so they are best for adult hands.
​Manual Versus Trigger Feed:​ A manual feed glue gun will take more effort to use but the trade-off is better control. The crafter has to push the glue through the gun with their thumb in order to dispense the glue. A trigger feed glue gun is a one-hand operation. All the user has to do is squeeze a trigger to release the melted glue. It is easier to use but you give up control of the quantity of melted glue that will be released each time you press the trigger.
​Cords:​ Cordless glue guns are great when you don't have access to electricity or if you'd like to be free from the cord getting in your way while crafting. You can get cordless glue guns that work with regular batteries, rechargeable batteries, compressed air or disposable butane cartridges. This type of glue gun tends to be more expensive and harder to find that a hot glue gun with a cord. Meantime, corded glue guns are more affordable and common but you'll have to be somewhere close to an outlet in order to use it.
​Price:​ You can purchase most hot glue guns for under $20.00. There are a few out there that can be as high as $60.00 but they will typically come with options such as a dripless nozzle or glue flow controls.
​Options:​ Most hot glue guns are very basic and come with a cord and a little supply of glue sticks. There are some other good options available that you can look for when purchasing your next hot glue gun.
An on/off switch comes with some glue guns as well as an automatic shut-off that will turn it off even when it's still plugged in. These features will definitely make your glue gun safer and less of a fire hazard.
Glue guns include different types of stands to keep the glue gun from falling over and to keep the hot tip from coming in contact with a delicate surface. Some have a flip-down stand that works much like a kickstand. Others have an attached base that holds the glue gun up when you set it down on the table. Another type of stand is a separate wire stand that will contain your glue gun when not in use.
A heat-resistant sleeved tip is another safety feature that will reduce the risk of burnt fingers.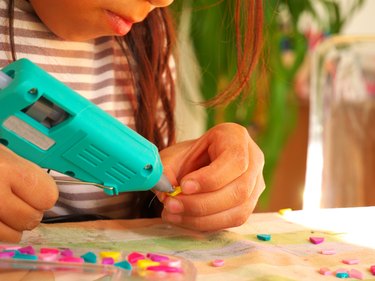 The Best Overall Hot Glue Gun
Gorilla Full-Size Hot Glue Gun
If you're a well-rounded crafter who works on a wide variety of projects then the well-built and well-designed Gorilla glue gun is a good choice for you. It comes with dual temperature settings at a very reasonable price point. It's great for creating strong bonds on home projects and large crafts using wood, metal, plastic and glass when on the high-temperature setting. The low setting is good for floral, fabric, foam and jewelry crafts. It heats up quickly and holds the heat, which eliminates the need to wait in-between applications. Because it has dual temperature settings, the glue won't become too thin when working with it for a significant amount of time. The easy-to-squeeze, large paddle trigger pumps the glue evenly and gives you more leverage while securing your materials. Precise glue application is possible with the long, insulated, no-leak nozzle that comes with the Gorilla hot glue gun. It also comes with a built-in stand with a wide base that keeps the gun from tipping over when not in use.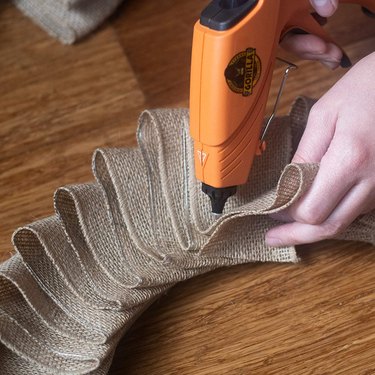 The Best Mini Hot Glue Gun
Maxdone Mini Hot Glue Gun
The Maxdone mini hot glue gun is a good choice if you are making small home repairs, crafting simple home decor projects, or working on small crafts such as jewelry or scrapbooking. It heats up quickly but has a temperature control setting to help keep the glue flowing smoothly throughout your entire project. Since it's made from fire retardant materials and has an on/off switch, it's one of the safest hot glue guns on the market. The accurate trigger controls the melted glue flow to minimize waste. The insulated nozzle reduces glue deformation over long-term use under high temperatures. It comes with 20 clear glue sticks and 10 multicolored glue sticks.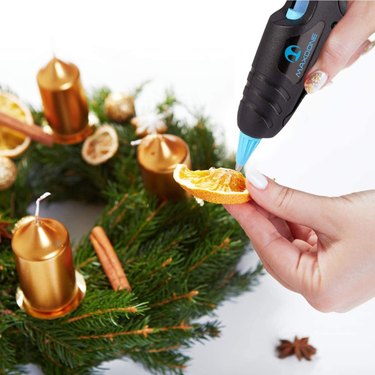 The Best Cordless Hot Glue Gun
Workpro Cordless Hot Glue Gun
If you don't want to be stuck by a wall or outlet when crafting, then a cordless glue gun is a good choice for you. The Workpro glue gun will work for 25 minutes on a fully-charged 2600 premium lithium-ion battery to allow you plenty of work time on cord-free repairs, decorations or craft projects. To help everyone stay safe and conserve energy, it has an automatic shut-off feature after 5 minutes of inactivity. The heat indicator light will let you know if it's on or off. In addition to a drip-free nozzle and an on/off switch, this glue gun comes with 20 glue sticks so you can get started on your projects right away. The built-in stand will keep your glue gun in a standing position and keep it from falling over when you're not using it. And there's a reason it only comes in pink. The Workpro company is a proud supporter of the National Breast Cancer Foundation and will donate $0.20 to cancer research for every glue gun sold. It's a win, win in our book.
The Best Dual-Temperature Hot Glue Gun
Seekone Dual Power Hot Glue Gun
The Seekone hot glue gun is a good tool for quick repairs, handicrafts and DIY projects. You can switch between 60 watts and 100 watts according to your crafting needs. It has a high-tech ceramic thermal heating system to ensure fast preheating time and a consistent temperature while working. The comfortable trigger controls the glue flow for minimum waste. This gun includes an insulated copper nozzle that guarantees the glue stick will hold its shape even under high temperatures. Its compact nozzle shape fits perfectly into small spaces like cracks, appliances, toys, shoes and even circuit boards. Twenty clear glue sticks are included as well as a stainless stand holder to help the gun remain upright when not in use.
The Best High-Temperature Hot Glue Gun
Arrow GT300 High-Temperature Glue Gun
If your glue gun requirements include professional installations, intricate upholstery and larger home repair projects, the heavy-duty Arrow GT300 hot glue gun will certainly meet your needs. It's one of the more expensive models but the drip-resistant, insulated safety nozzle and sturdy base stand make it well worth the extra money. It's one of the few glue guns to have a precision adjustment knob that allows you to regulate the glue flow for specific projects. You can even adjust the glue to accurately place small dots or fine thin lines of glue. If your work area is tight, the gun's extended nose will help you get glue into those hard-to-reach spaces.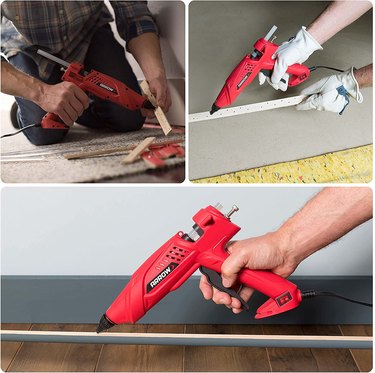 The Best Low-Temperature Hot Glue Gun
Surebonder L-270 Low-Temperature Glue Gun
The Surebonder low-temperature glue gun is safe and reliable—perfect for use in delicate craft projects with fabrics, paper, lace, foil and children's art. The on/off indicator lights let you know when it's hot and the insulated nozzle will help protect your fingers from burns. The fine nozzle tip helps get glue into tight spaces and will create very fine glue lines. This gun also works well if you enjoy sealing holiday cards and invitation envelopes with wax seals.