Things You'll Need
White fabric

Tailor's chalk

Fusible interfacing

Iron

Sewing machine (or sewing needle)

Thread

Straight pins

Red felt

Fabric glue (or hot glue gun and glue sticks)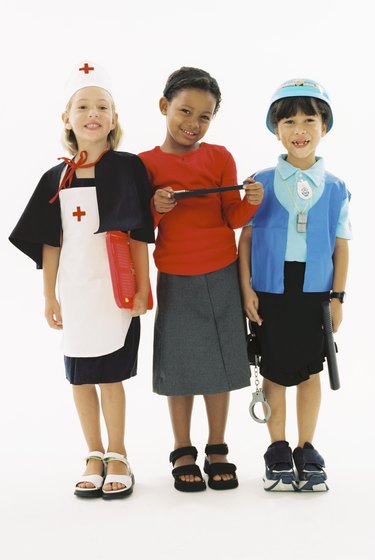 Make a realistic-looking vintage nurse hat to complete an old-fashioned costume. You can make the hat for a child's nurse costume from some leftover white scraps of fabric, or make it from some new, satin fabric for a sexy adult's nurse outfit. The front of the nurse's hat can be attached to a handmade dome cap or sewn onto a white, fabric-covered headband. It isn't a difficult project.
Step 1
Lay some white fabric on your work surface and draw a trapezoid shape with a piece of tailor's chalk. Make the shape about 5 1/2 inches wide by 3 1/2 inches tall. Cut out the trapezoid and make a second identical shape from the same fabric. Cut one more identical trapezoid from fusible interfacing.
Step 2
Lay the interfacing on top of one of the trapezoids and fuse the two together with the iron. Consult the instructions that come with the interfacing for the best way to do this.
Step 3
Lay the two fabric trapezoids together with the good sides inward. The interfacing side should be facing outward.
Step 4
Sew around three sides (two short sides and the longest side) of the trapezoids with a straight stitch and then turn the nurse hat right side out through the remaining side. This is the bottom of the hat. Fold the edges of the remaining side inward and sew to close.
Step 5
Cut a rectangle of fabric and one of interfacing that each measure 3 inches wide by 8 inches long. Fuse the interfacing to the rectangle in the same manner as the trapezoid.
Step 6
Divide the rectangle mentally into three equal sections along the length. Fold the first third inward at a 45-degree angle. Fold the third at the other end inward on a 45-degree angle as well. The ends of the two folded pieces should overlap. Sew along the overlapping section. The rectangle now makes a stiff, dome shape to sit on your head.
Step 7
Hold the dome shape against the narrow bottom of the trapezoids and sew the two together.
Step 8
Cut a "t" shape from a red piece of felt. This is the cross for the hat. Spread glue on the back of the cross and press it against the front, center of the hat.
Tip
Instead of making the domed bottom for the hat, you can attach the trapezoid front to a fabric headband with glue or sewing.