Whether you've just started to sew or you've been creating garments for a while now, you have probably considered purchasing a dress form to bring your designs to the next level. Dress forms are instrumental when it comes to draping patterns or getting just the right fit for your clothing. They are usually made of dense foam covered with fabric in the shape of a body. Some are the exact shape of your model and some are adjustable so you can use them to create for many different people. The world of dress forms can be confusing so we're here to help you sort out the differences and assist you in making a choice that will suit your needs best.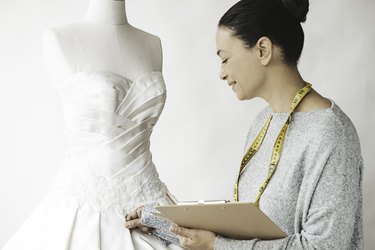 What to Consider When Buying a Dress Form
​Type:​ There are five types of dress forms to be aware of when you're shopping.
​Adjustable Dress Form:​ An adjustable dress form provides lots of flexibility. It will come with an adjustable dial to modify the measurements. This type of dress form usually comes on a fold-up tripod stand and is lighter than a professional dress form, which makes it easy to transport. The adjustable dress form includes just the torso—no arms or legs—which can make fitting pants and trousers a little tricky. When using the dials to expand an adjustable dress form, gaps are created. This can be a drawback because the gaps create open areas that might make pinning impossible at crucial points, such as the center front and side seam areas.
​Professional Dress Form:​ A professional dress form is used by designers or tailors to fit and pin clothing. This type of form is a fixed size and not adjustable. It is a solid fiberglass form covered with light padding and tightly woven fabric. This makes it ideal for pinning and draping. It is much more expensive than other dress forms and can be quite an investment, so usually, unless you're a fashion designer, tailor or fashion student, you won't need to spend this much money.
​Custom Dress Form:​ A custom dress form is created especially for you using measurements that you provide or by having your body scanned. This type of dress form will be your exact body shape and size. It is not adjustable so you are limited to using it to create for only one body.
​Bifurcated Dress Form:​ A bifurcated dress form comes with arms and legs in addition to the torso which makes them ideal for designing and fitting pants or trousers. These are considered a professional form, so a bifurcated dress form will be more expensive and heavy-duty than an adjustable dress form.
​Display Dress Form (Mannequin):​ A display dress form is made from a solid material and is not intended for designing or fitting clothing. They will usually be stylized and be the full body, including arms, legs and the torso. It is simply for exhibiting clothing in a showroom, studio or store.
​Adjustability:​ If you plan on designing or sewing for other people or if you think your weight may fluctuate, then an adjustable dress form might be a great option for you. This type of dress form needs to expand and contract using dials in the bust, waist, hip and torso length areas. You just measure your own body or the person you are creating for and you should be able to adjust the dials to fit those exact measurements.
​Portability:​ If you travel for your design business and need to bring a dress form with you, an adjustable dress form would be a good option. Adjustable dress forms can be taken apart and are much lighter than a professional, custom or bifurcated dress form.
​Shape:​ Since every body is different, you'll need to keep in mind your measurements when shopping for a dress form. If you're purchasing a professional or custom dress form it will be created to the measurements that you provide. But an adjustable dress form will have a range of measurements. They will come in small medium and large size ranges, so make sure that your true measurements fit into the range of the adjustable dress form you are purchasing. Also, since dress forms are created for male, female, children and adult bodies, it's important to consider the gender and the age of the person you are purchasing the dress form for.
​Price:​ Since dress forms can vary in price between $100 for a low-end adjustable form to $1,500 for a custom professional form, it is important to know what your needs are when it comes to purchasing the dress form that is right for you. If you're not a professional tailor, designer or fashion student, then a custom or professional dress form might be more of an investment than you need. If you're just designing and sewing for your family, then a more inexpensive adjustable dress form might be all you need.
Let's take a look at some of the best dress forms of 2022 to help you determine which option is right for you.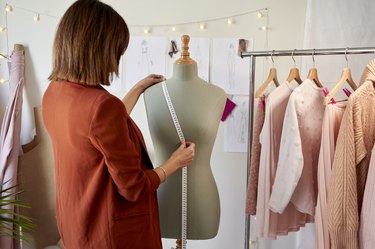 The Best Overall Adjustable Dress Form
Dritz My Double Designer Adjustable Dress Form
The Dritz My Double Designer Adjustable Dress Form dress form is one of the most versatile dress forms on the market. With an adjustable bust, waist, hip and neck, it can be customized to fit a wide range of body sizes and shapes. It is available in petite, small, medium and full-figure ranges. It has extended shoulders to assist the setting in of sleeves on blouses, jackets and shirts. The center pole allows you to work on dresses, gowns, skirts, jackets, shirts, blouses and shirts. The center pole can be moved to an off-set pole position to allow you to work on trousers and the fitting of pants. You can alter the height to match your shoulder to floor measurement. It also has a rolling base with locking castors so you can roll it around your workspace and lock it in place when you need it to be stationary. It comes with step-by-step instructions, a built-in pin cushion, printed pole measurements, and a pin hem marker to help you create even hems.
The Best Male Adjustable Dress Form
Adjustoform Male 8-Part Adjustable Dressmaking Dummy
Since dress forms are made for much more than just dresses, this form is based on the male body and helps in the creation of trousers and pants as well as shirts and jackets. It has a metal tripod stand as well as 12 thumbwheel adjusters so you can get just the right measurements for your sewing project. There are eight sections on this form and a waist lengthening mechanism. The pole can be switched from the center position to an off-center position so you can work on trousers by hanging them in their natural location.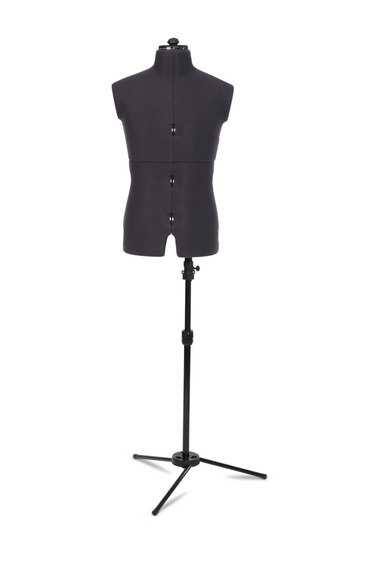 The Best Child's Adjustable Dress Form
Dritz Little Double Adjustable Dress Form
Since a child's body shape is so different from an adult's, it's important to purchase a dress form created specifically for children if you're sewing for little ones. The Dritz Little Double Adjustable Dress Form has adjustable neck, bust, waist, hip and height measurements. The neck will increase from 12 to 15 inches. The bust expands from 24 to 32 inches. The waist has a range from 22 to 30 inches. The hips can be adjusted anywhere from 26 to 34 inches. The back waist length will go from 11 to 13 inches. The center pole will allow you to match a child's shoulder to floor measurement. The base is a tripod that will collapse for easy storage or transport.

The Best Professional Dress Form
PGM Professional Missy Dress Form
This PGM Professional Missy Dress Form is covered with linen and high-density felt, which will hold pins more securely and allow for draping design work. The shoulders collapse so you can dress or remove a garment without the risk of stretching or tearing the fabric. It also comes with partial legs and a pole that can be moved off-center to help with the designing and fitting of swimsuits, lingerie or trousers. The height can be easily adjusted using the foot pedal. This dress form is available in sizes 2 through 20.
The Best Bifurcated Dress Form
TSC Professional Female Full Body Dress Form
If you are an aspiring fashion designer or a professional tailor, then this is the choice for you. The Shop Company's bifurcated dress form comes with detachable arms and collapsible shoulders to prevent your tight-fitting clothing designs from getting damaged when you remove them from or place them on the form. It comes on a cast iron base to ensure stability and the height can be adjusted from 70 to 78 inches with an easy-to-use foot pedal. It is available in sizes 0 to 24. The durable foam and canvas cover is designed to withstand as much pinning as you can dish out. It comes with assembly instructions as well as an online version.