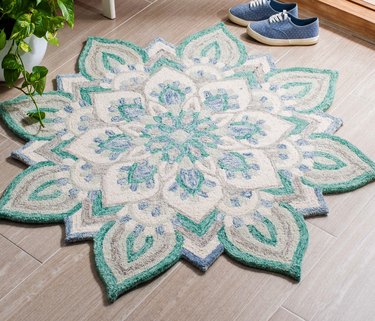 Rug-making is once again having its day in the sun and staging a vigorous comeback. This fun and artistic hobby is quickly gaining popularity, especially since people are staying home more and looking for things to do in the comfort of their own space. Handmade rugs make great gifts, beautiful home decor, and could even create an additional stream of income. Using a tufting gun, you can make custom carpet designs by "painting" with colorful yarn and creating any design your heart desires.
A tufting gun is basically a hand-held tool used to make rugs. The yarn is fed through a hollow needle, much like a sewing machine, and it punctures a cloth to create a cut pile or a loop pile. Tufting guns speed up the process of making handmade rugs and are much faster than using a hand-held rug hook or a punch needle. If you decide to jump on the affordable rug-making wagon, all you need to do to get started is put on your creative pants, grab some yarn and backing material, and purchase a tufting gun. We might not be able to help you get your creative pants on but we can certainly help you pick out the right tufting gun.
What to Consider When Purchasing a Tufting Gun
‌Cut Pile Versus Loop Pile:‌ There are different tufting guns for making a cut pile rug and a loop pile rug, so it's important to know the difference between the two before you purchase one. Both types of rugs are beautiful, it just depends on what kind of aesthetic you're going for—a tight loop or a loose and hairy loop.
A cut pile rug is fluffy and sometimes called a "shag" rug. It's created when the yarn is pushed through the cloth with a tufting gun, and the ends of the yarn are automatically cut, creating an upright pile with exposed yarn ends. The pile can be pulled out easily because it's loose on the back of the cloth so it has to be secured with carpet glue. A cut pile rug is typically made with polyester or wool yarn and tends to be less durable than a loop pile rug. This type of rug would be perfect for a low-traffic area or for a wall art installation.
A loop pile rug is created when the tufting gun creates loops that are connected to each other, giving you a nubby rug texture. The yarn sits tight on the rug and creates a compact, more durable finish. You can actually see the loop so you can create more intricate details and designs on a loop pile rug. Loop pile rugs are usually made with nylon, wool or olefin yarn. A loop pile rug is more appropriate for high-traffic areas than a cut pile rug.
‌Electric Versus Pneumatic:‌
An electric tufting gun can be plugged into electricity for use at home (or anywhere near a power source) to create low pile rugs. It doesn't require any special equipment to run and you can create both cut and loop pile rugs with an electric tufting gun. Most hobbyists choose to purchase electric tufting guns because they are affordable and easy to use.
A pneumatic tufting gun needs access to an air compressor but you can create much higher cut and loop pile rugs. Most professional rug makers use this type of tufting gun as they tend to be more expensive and most hobbyists don't have access to air compressors.
‌Safety:‌ Even though rug-making seems like a safe hobby, a tufting gun is considered a power tool and power tools can cause injuries if used incorrectly. Be sure to check and make sure the tufting gun you choose has safety systems in place to protect you and to protect your gun from short-circuiting.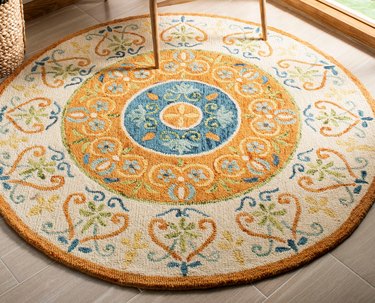 The Best Tufting Gun for Cut Pile Rugs
DIY your own exquisite artwork and practical carpets with this durable tufting gun. The speed is adjustable, anywhere from 5 stitches per second to 40 stitches per second, so beginners and professionals can use this gun. Since the tufting gun only weighs 3 pounds, you can use it for a significant amount of time without experiencing hand fatigue. It also has a 360-degree adjustable handle for utmost comfort. The Vehipa Tufting Gun has built-in over-voltage, over-current and short-circuit protection systems so you can use it with confidence.
The Best Tufting Gun for Loop Pile Rugs
The AK-II Loop Pile Tufting Gun is an electric tufting gun that makes loop piles. You can adjust the loops anywhere from 4 millimeters to 14 millimeters. The adjustable speed range of 5 stitches per second to 40 stitches per second makes it an easy gun to work with. It's also super lightweight, at only 3 pounds, so it's easy on your hands if you're using it for an extended period of time. You can order just the tufting gun or you can order a kit that includes the gun, an adapter, tufting fabric and yarn. If safety is important to you, this gun has over-voltage, over-current and short-circuit protection built right in.
The Best Tufting Gun For Beginners
The Artufting 2-in-1 tufting gun switches back and forth from cut pile to loop pile so it provides the versatility a beginner needs to create one-of-a-kind custom rugs. It has the capability to thread several strands of yarn through the needle to save time and to create unusual and original rug designs. Both beginners and experienced rug makers will enjoy the adjustable speeds between 5 stitches per second and 40 stitches per second. The Artufting gun is able to take what you can dish out since it's made from durable, corrosion-resistant, long-lasting material. It also has a tested short-circuit, over-voltage, over-current protection system in place for peace of mind while you're rug-making.
The Best High-Speed Tufting Gun
The Besgeer tufting gun will manually switch between cut and pile loops to allow you to make unique handmade rugs. The variable speed of the gun ranges from 4 stitches per second to 45 stitches per second, allowing you to see your finished creations in less time. You can make designs with different densities by simply adjusting the speed of the tufting gun. The pile height adjusts from 4 millimeters to 19 millimeters so you can create one-of-a-kind art. This tufting gun comes with a 12-month warranty and free lifetime technical support.
The Best Industrial-Grade Tufting Gun
If you've been bitten by the rug-making bug and you find yourself creating tufted masterpieces on a regular basis, then it might be time for you to invest in an industrial-grade tufting gun. The durable Kohstar tufting gun can take what you dish out. With a tufting speed of 2,400 RPMs and flexible movement, you can operate this gun easily and efficiently. This versatile tufting gun is dual-purpose and able to make both cut and loop designs with varying pile heights between 9 millimeters and 18 millimeters. It's an electric tufting gun, so you get industrial-grade quality without needing an air compressor.
The Best Tufting Gun for Pneumatic Rugs
For those of you who have upped your rug tufting game from a hobby to a money-making profession, you'll want to consider purchasing a pneumatic, or air-operated, tufting gun. The variable speed of this type of gun is unparalleled at 0 stitches per minute to 1,100 stitches per minute. In order to reach those speeds and operate this tufting gun, you'll need to attach it to an air compressor. The range of 20-millimeter to 60-millimeter pile heights, as well as the ability to create both cut pile and loop pile, gives you plenty of opportunities to vary your beautiful rug designs.