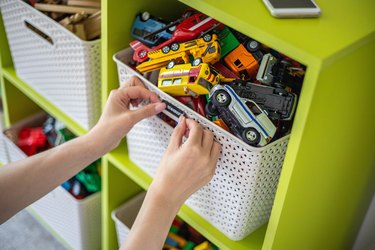 Finding the perfect storage bin that fits your needs and space can instantly transform a room, taking it from cluttered to clean. Being able to pack away all those items taking up valuable real estate can make your home look tidier and help you find what you're looking for more easily. But as you can imagine, there are a million and one storage bin solutions on the market. Especially when you consider that each room has its own aesthetics and requirements that storage bins need to meet.
What to Consider When Purchasing a Storage Bin
​Volume:​ The most important aspect of a storage bin is its volume. Think about what you're planning on storing away and how much space it will occupy. You might need to purchase multiple storage bins rather than one extra-large storage bin that would be difficult to move.
​Durability:​ Durability might not be a top consideration if you're simply storing clothes under the bed, but if you're looking for a solution for heavy or fragile items, it's certainly something to keep in mind. A durable container is also important if you're storing items in an area of your home that's susceptible to temperature changes or pests, such as the attic, garage or basement.
​Usability:​ Ease of use is vital with any storage bin as the majority of these bins will need to be accessed on a regular basis. Some storage bins feature ergonomic handles for added comfort, while others have flip-top lids that make them easier to open and close. If you plan to maximize your storage space by stacking the bins, think about whether or not you'll be able to take them down and carry them on your own.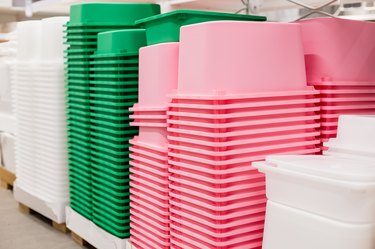 The Best Overall Storage Bin
Rubbermaid BRUTE Storage Container with Lid, 20-Gallon
These heavy-duty storage bins are tough, made from high-density polyethylene resin plastic that can withstand garage and outdoor use. The ergonomic handles are easy to grip and designed to minimize back injuries and finger strain. The handles also have drainage holes so water doesn't pool and cause bacteria to grow. The lid has a tight snap, ensuring your items are well protected from the elements. And the base of the bin is ribbed so you can drag it around without concern that it'll fall apart. And finally, these storage containers are stackable, which makes them perfect for garages or attics where space is limited. There are two sizes available, 14 or 20 gallons, along with two color options—gray or white. The 20-gallon option pictured here measures 27.75 inches long, 17.5 inches wide and 15.25 inches high.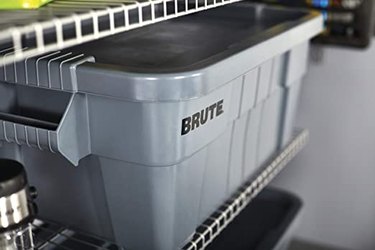 The Best Industrial-Strength Storage Bin
Rubbermaid ActionPacker Lockable Storage Container, 35-Gallon
Designed and manufactured in the U.S., the Rubbermaid Action Packer is a hardcore storage bin built to handle the harshest environments. Whether you're dragging it to a campsite, up a mountain, or letting it bang around the loading bay of your pickup truck, the impact-resistant, high-density polyethylene will keep your belongings intact. It even comes with a lifetime warranty for peace of mind. The latch on the bin is lockable but a bungee cord is another way to secure the contents—just note that neither a lock nor bungee cord is included with purchase. The bin can withstand temperature changes from 0 degrees to 100 degrees Fahrenheit and can handle up to 100 pounds of cargo, although that would certainly make it difficult to move. It's excellent for storing tools in the back of a pickup truck, providing ample space for everything your need. The exterior dimensions are 35 inches long, 20 inches wide and 17.25 inches high, while the interior dimensions are 31 inches long, 16 inches wide and 14 inches high.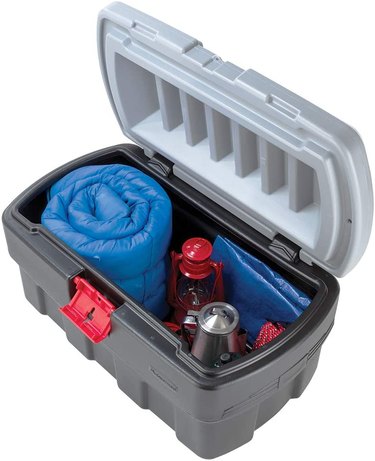 The Best Collapsible Storage Bin
CleverMade Collapsible Storage Bins With Lids, 3-Pack
While storage bins can certainly free up space around your home, sometimes they also need to be stowed away and out of sight. Collapsible storage bins are one solution, but they can be flimsy and lack the rigidity of a solid bin. CleverMade's collapsible storage bins are heavy-duty and rugged, while still being lightweight enough to tote around when not in use. This three-pack is sold in two sizes, 12 gallons or 16 gallons, and two colors, charcoal or blue. But what separates CleverMade's design from other collapsible solutions is its tight clipping lid. We should note that it's not completely weather-proof as the side-grip handles are open, somewhat exposing the contents. The bins are stackable, which is yet another handy feature. When erect, each bin measures 21 inches long, 14 inches wide and 11 inches high. Once collapsed, it measures just 2.5 inches high—meaning you can slot it away into the smallest of spaces.
The Best Clear Storage Bin
Akro-Mils 12-Gallon Plastic Storage KeepBox
Akro-Mils' 12-gallon plastic bin is manufactured from semi-clear plastic, allowing homeowners to quickly identify what's inside. It features a flip-top hinged lid, which makes it convenient to open and close. When the lids are closed, the bins can be stacked on top of each other. Or, when the lids are left open, the bins can nest inside each other for easy storage. The plastic storage bin is suitable for a variety of uses, from storing Christmas ornaments to out-of-season clothing to kids' toys. The bin is made in the U.S. and measures 21.5 inches long, 15.25 inches wide and 12.5 inches high.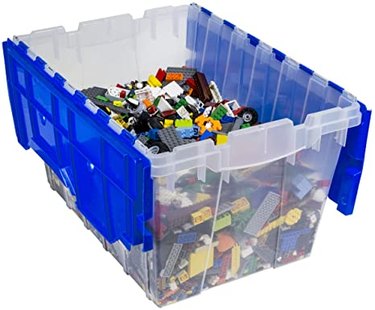 The Best Under-Bed Storage Bin
Long Under Bed Box With Wheels
The Container Store's long under-bed box is perfect for slipping out-of-season clothing, shoes and blankets out the way. It moves freely on most surfaces thanks to its wheels, helping homeowners to utilize every inch of their homes. Aside from using it under the bed, you could place it under a couch or dresser. And because it's made from clear, "virtually unbreakable" plastic, you'll always know what's inside the box without having to open it up. The lockable lids, which open on either side, prevent moths and other pests from creeping inside. The interior dimensions are 32.75 inches long, 15.75 inches wide and 5.5 inches high, so it's relatively low-profile.
The Best Storage Bin for Clothing
iWill Create Pro Storage Box, 2-Pack
If you're not blessed with space under your bed, iWill's Create Pro is an amazingly versatile storage box that can be used in your closet, on a bookshelf, under a bench or any other place you can think to put it. Created from breathable linen and thick PP plastic boards for reinforcement, what you get is a box that ensures your clothes stay fresh when stored away. Double zippers allow the box to open on three sides and three durable handles make it easy to move around. There's also a transparent label pouch, so you can make a note of what's inside. The boxes are sold in a two-pack and come in light gray, beige, black-gray and dark gray. They can fold flat when not in use, or be stacked on top of each other. And because they're good-looking storage boxes, chances are you won't mind having them on display. Each box measures 17 inches long, 13 inches wide and 9 inches high.