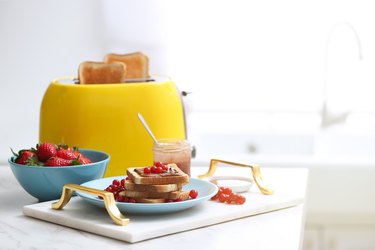 Selecting a toaster that's perfect for your wallet and your home is trickier than you may think. While you might have an idea of what you want, the problem is that there are so many to choose from within the various subcategories.
Luckily for you, we've decided to do all the heavy lifting regarding researching the best toaster. But what characteristics should be noted when selecting a toaster?
Considerations When Buying a Toaster
With toasters, you have many options to choose from. Whether you're in the market for a two- or four-slice model, metal or plastic, long or short slots, additional accessories or even a smart toaster, the perfect appliance for you is out there.
The first thing to consider is what you're planning on toasting, as some individuals will be using their appliance for simple slices of bread, or they might be into toasting waffles. Also, there's the need to consider space. While everyone loves to have options, it's not really feasible to have a four-slice model in a kitchen with limited counter space. Another factor is your budget, as toasters can catch you off guard with pricing.
When listing our top five toasters for every budget and home, we looked at aesthetics (if it lives on the counter, you might want it to be attractive), price point, materials, extras and additional features.
Hamilton Beach Extra-Wide Slot Two-Slice Toaster
Retailing for under $20, this budget-friendly toaster has been a best-seller since December 2019. Hamilton Beach even earned the title of the number one brand in toasters in the U.S., according to NPD Group's consumer survey. What puts this value for money appliance ahead of its competition is that it's compact and affordable while offering extra-wide slots. So, you can toast a typical slice of bread or waffles.
It offers a premium look with stainless steel sides and black plastic edging. This toaster comes with seven settings, an accessible crumb tray, and an easy retriever (Toast Boost) to ensure that you can scoop out smaller slices. It also has an auto shut-off function for peace of mind. And finally, a large cancel button is easy to locate and can be used at any time.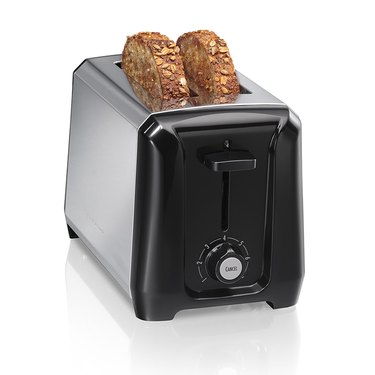 Breville Die-Cast Two-Slice Smart Toaster
This brushed stainless steel toaster offers loads of additional features unique to the Breville range. The Breville Die-Cast Two-Slice Smart Toaster touts a "Lift and Look" function for those who need to know exactly what's going on with their sensitive bagels. It also means you don't have to stop the toasting cycle when checking on progress.
If you're not perfectly happy after the cycle, you can push the "A Bit More" function, which allows the user to add a little more time for the toaster to serve you the exact shade of toast you desire. There's also a One-Touch Lowering Function, which means you do away with the usual toasting lever and lower your toast in gently every time.
Its two slots are extra-wide, ensuring you can toast artisanal bread and bagels. And adding to its premium aesthetics, this toaster has an LED display to indicate the level of brownness you desire from your toast. While this toaster is leaps and bounds ahead of its competition, it is on the pricier side.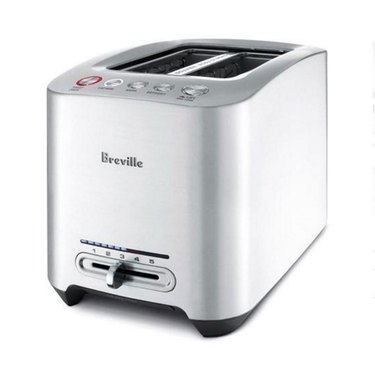 Cuisinart Four-Slice Compact Plastic Toaster
Although brushed stainless steel toasters offer a high-end look, we think the Cuisinart Four-Slice Compact Plastic Toaster has nailed the quality plastic feel with its classic straight lines and additional functionality that makes it perfect for most families.
As an appliance created to serve professional chefs, the development team at Cuisinart made sure that this toaster always delivered evenly browned bread. It also comes with seven settings, which means you can really dial in exactly what you want. And with two different dials for individual slots, you can have two variations of toast popping out.
It's equipped with a defrosting setting, which is convenient for households that freeze their baked goods. The slots, while not extra-wide, are generous enough to accommodate a skinny bagel. It also comes with a limited three-year warranty.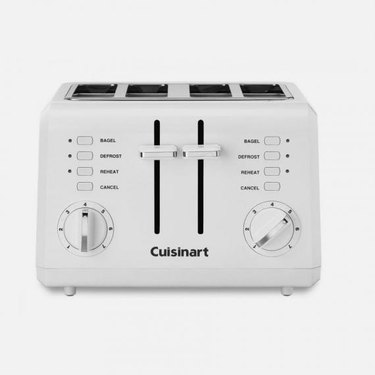 With its retro styling, Dash's Clear View Toaster is a real looker, and is bound to be a conversation piece in any kitchen. The glass window means you can literally watch your toast throughout the process, which in turn means you don't need to burn your toast ever again.
While this isn't unique to the realm of glass panel toasters, the number of additional features does set it apart. It boasts defrost and reheat settings, an auto shut-off function, and can toast wider, artisanal bread and bagels.
There are also seven settings of browning on the toaster, but we think it's the classic styling that makes it special. Offered in seven deluxe colors, in a sub-genre where toasters can venture into tacky RGB hues, this remains a premium product through and through. It's also fairly slim for countertops, comes with a toasting recipe guide and its slots are extra-long.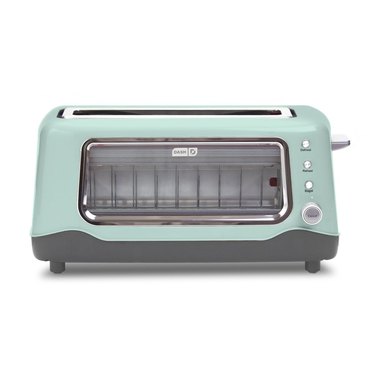 Revolution InstaGLO R180 Toaster
This new age two-slice toaster offers so much for those who want to bring their kitchen into the 21st century. The Revolution two-slice toaster has a new technology they've called InstaGLO, which allows the appliance to reach its full temperature within two seconds. This speed means your bread is toasted so quickly that it retains its moisture.
Then there's the touchscreen, which allows for 63 precise settings within three taps. And with loads of extras, such as the Panini Press, you can use it throughout the day. There's a toasting algorithm at play behind the scenes that can adjust the heat depending on where your bread is in the slot. This toaster also offers a countdown clock, happy finishing chime and automatic cleaning reminder.