If you've got it, haunt it! With spooky season afoot, there's no better time than now to get in the Halloween spirit and draw attention to some of our favorite scary-talented DIY creators. If you want to have a fang-tastic party or decorate your home to give your guests a ghostly greeting, look no further than these innovators we rounded up for food ideas, handcrafted bags, pumpkin carvings, embroidery as well as arts and crafts. Find out what inspires them to be creepily creative — especially on Hallow's eve.
Nikk is a proud "ambassador of Halloween" and he lives up to the title, serving up food art and DIY suggestions that always give 'em pumpkin to talk about. His love for spooky season has existed since childhood. "I have been obsessed with Halloween since I was a kid. Most kids were playing with teddy bears while I was carrying a witch decoration and rocking the coolest black cape everywhere I went," Nikk shared with eHow.
Creating Halloween content has also been therapeutic for Nikk, who shared how celebrating the season has helped him overcome struggles with anxiety. "The only thing that would get me out of my panic attacks were when my grandmother would put on halloween movies, bake halloween goodies with me and tell me stories of halloween's past."
His creative video content continues to inspire whether he's making a "poison apple" or "tarot [card] cookies," and the latter was featured in ​Spooky Little Halloween​ magazine. One of his videos was even duetted by Gordon Ramsay himself. The best part: most of his ideas can be made using household items!
This mom and son duo has carved out a place for themselves with their incredible handcrafted purses made from quality materials. Each and every bag is detailed to perfection, bringing your favorite Halloween keepsakes to life "for the spooky at heart since 2013."
"We strive to be creative with our designs and constantly work on making new and uniquely different bags that we can be proud of," according to the About Us section in their bio. "We want to continue creating and designing bags for all of our customers who have supported us and those who would love a chance to."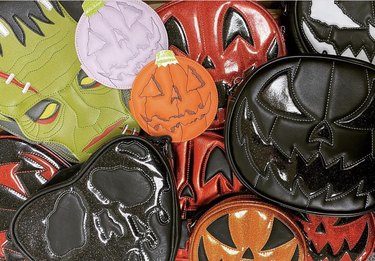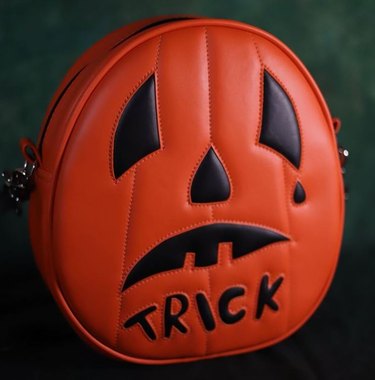 What hasn't Jon done? He is not only a professional holiday pumpkin carver, but also an influencer, concept artist and sculptor for TV and Film. And he was even the winner of the fourth season of Food Network's ​Halloween Wars​. In September, he held a virtual master class on Zoom to teach other social media users how to take their pumpkin carving skills up a notch. He even worked with our very own eHow team on this extreme pumpkin makeover project.
"During the Holiday season, Jon translates his sculpting skills, utilizing pumpkins, gourds, radishes, carrots, leeks, chocolate, cheese and butter, sculpting characters, likenesses, the scariest of monsters and jolliest of elves for some of Hollywood's top events," per his website. "You may also spot him around the heart of the USA, turning mammoth sized pumpkins into masterpieces of art or see him on Food Network, YouTube or Instagram."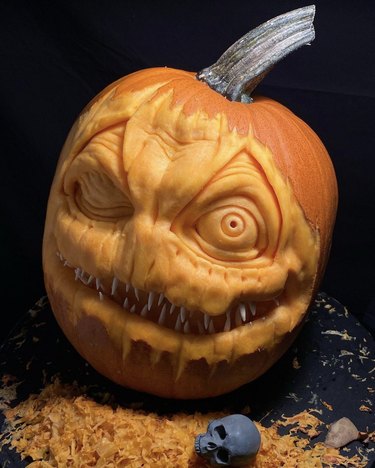 Her embroidery prowess is something to marvel at and it may come as no surprise considering she specializes in "slightly spooky stitches" that are both seasonal and stylish. Rachel's work is sold on Etsy for an affordable price, so it won't be hard to swoop up some of your own just in time for Halloween.
Her Instagram page is filled with delightfully spooky works of stitched art that any Halloween lover will appreciate. Rachel is currently sharing pieces she is making for #stitchtober2021 and we know you'll be as impressed as we are.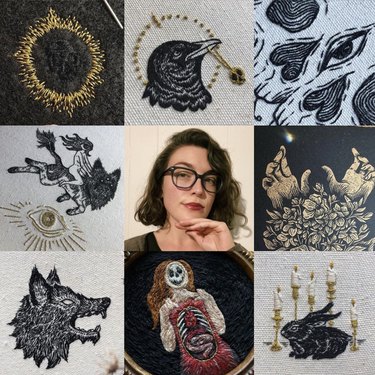 Jessi is another accomplished artist and curator who offers carvings and woodcuts for the "eternally spooky" available online, whether that's in the shape of a pumpkin, skeleton or other Halloween-inspired shape. In addition to her work as a DIYer, she is currently the head of the Visual Arts department and curator at Carroll Community College in Westminster, Maryland.
The imagery she uses is largely "based in folklore, spiritualism, the nude form, and science fiction via the ritual labor of woodcut," according to her personal website. "She seeks to channel and express her need to liaise with the forgotten, the secret and the ephemeral."
These scary-talented Halloween DIYers are always bringing their A-game when spooky season comes around. Trick or treat yo' self to checking out their pages for your own viewing enjoyment!