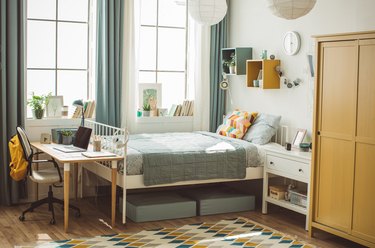 When "home" is a 185-square-foot dorm room that you share with a roommate, you've got to get creative when it comes to storage. While your space might come equipped with a reach-in wardrobe or a well-worn desk, chances are you're going to need additional solutions for organizing shoes, toiletries, linens, art supplies and other items.
Fortunately, the end of summer is prime time for scoring deals on back-to-school storage essentials like shower caddies, hanging organizers, shelving units and more. Here we've compiled a list of on-sale products that will corral your clutter and add some much-needed style to that drab dorm room of yours.
1. Hangit XL Photo Display
For many freshman students, college is the first extended period of time they'll spend away from home. Photos and mementos that remind you of your friends and family can help put a smile on your face when you walk through the door. This 26-by-60-inch photo display is lightweight enough to hang with double-sided mounting tape and comes with mini versions of Dormify's best selling posters so you can sprinkle in some art with your Polaroids and concert tickets. It promises to keep your personal treasures organized while showing off a bit of your personality.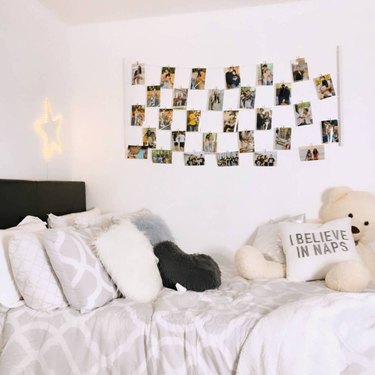 Ditch that flimsy over-the-door mirror for something that can grow with you as you transition into your first apartment. This wall-leaning mirror comes in a black or white finish, and boasts hooks for hanging backpacks, purses or scarves. If you make your own jewelry or just have an extensive collection, you could add S-hooks to the bars for additional storage.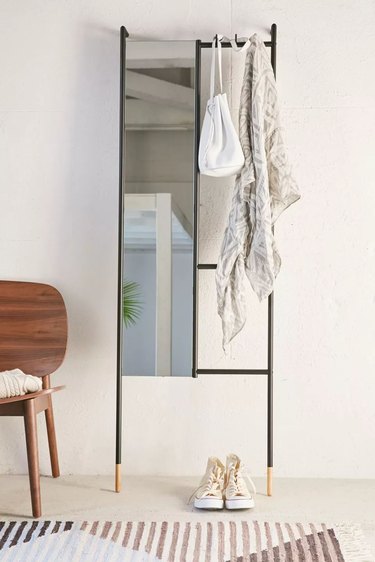 3. ​​UBesGoo 3 Tier Storage Basket Organizer
There's nothing more versatile than a three-tier cart. Whether you're looking to store skincare products, school supplies or grab-and-go snacks, this rolling cart is guaranteed to get the job done. According to the reviews, it's easy to assemble and holds up well. If you're feeling extra crafty, you could attach a pegboard panel or slap on some organizing labels to increase the cart's functionality.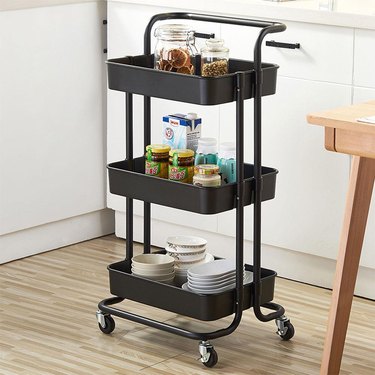 Attention environmental science majors: These stylish shower caddies are each made from over 18 recycled plastic water bottles. Available in five colorways, the water-resistant caddies tout 12 exterior pockets and a sizable interior pocket for storing larger items like flip flops or shampoo and conditioner bottles. For an extra $12.50, you can have it monogrammed in your preferred font and thread color.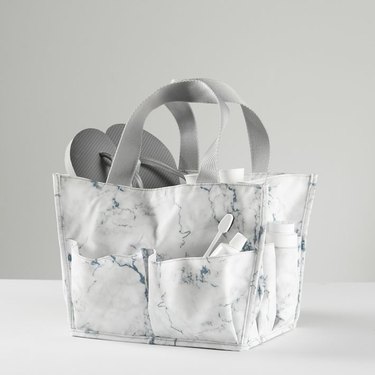 5. Fabric Hanging Organizer
While having a meal plan is certainly convenient, there are going to be times when hunger strikes long after the cafeteria has closed. But with the right tools and ingredients, you can whip up cheap and easy recipes in your dorm's communal kitchen. Keep those mealtime must-haves close at hand by snagging a hanging organizer that fits over your mini fridge. Here you'll be able to store plates, cutlery, condiments and snacks to power you through an all-nighter.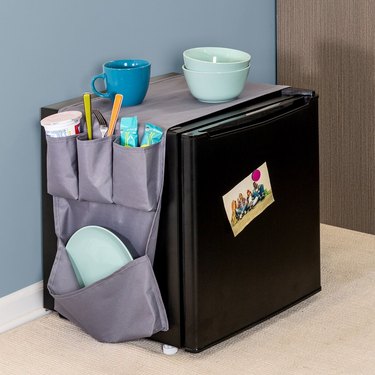 6. 4 in 1 Wireless Charging Dock Qi Wireless Charger Stand
With most assignments submitted online these days, you probably won't need to stock your desk with traditional school supplies like paper clips, pencils and highlighters. Expensive tech devices, however, should be kept in a designated spot on your desk where they can be easily accessed and recharged. This four-in-one wireless charging dock works best with Apple products (but can accommodate other Qi-enabled devices), allowing you to juice up your Airpods, Apple Watch, iPhone and iPad simultaneously. If your phone doesn't support wireless charging, transforming a plastic bottle into a phone charging station makes for a fun alternative.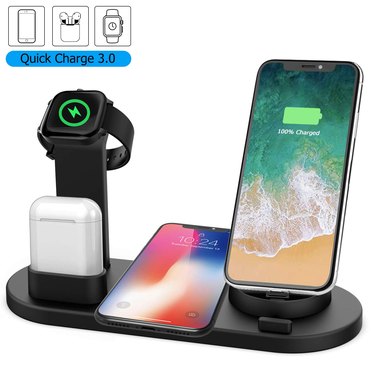 7. Renata Over-The-Bed Twin Size Storage Shelf
Stand out from the collegiate crowd of faux, tufted headboards with an over-the-bed shelving unit from Urban Outfitters. Its two mango wood shelves are complemented by a metal frame in either a black or gold finish. There's plenty of room for displaying books, artificial plants, photos and prints, and you could easily string up some fairy lights to give your space a cozy vibe. And because the shelving unit doesn't have to be secured to the wall, you won't get dinged for damages to your dorm room at the end of the school year.