If being an artist with traditional media, such as paints or drawing supplies, hasn't panned out for you yet, you might want to give punch needle embroidery a try. Sometimes referred to as "painting with thread," punch needle embroidery is simple, beginner-friendly and a whole lot of fun. The rhythmic movements of punch needle embroidery can also make this a very relaxing and meditative hobby.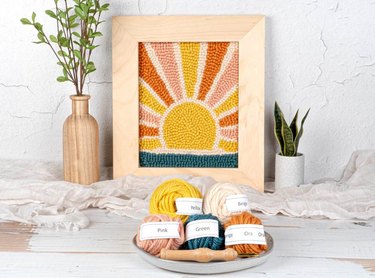 The threaded punch needle creates a beautiful texture by piercing the fabric on one side and creating a loop on the other. You hold the punch needle like you would a pen or pencil as you punch the needle through the fabric. Punch needles come in a variety of sizes depending on the size of the fiber you choose to use. You can create a punch needle masterpiece by using different threads – from fine, thin embroidery floss all the way up in size to thick, bulky yarns. In the past, this would become the top of a rug, but today's crafters have become much more inspired and are pushing the envelope with punch needle projects.
What Can You Make With a Punch Needle?
There's nothing wrong with making the traditional rug with a punch needle, but why stop there? You can make a wall hanging, pillows, hair barrettes, stuffed animals and trivets. If you are super creative, you can needle punch a design on the back of a denim jacket.
To get started on your own punch needle project, all you really need is a cloth (like burlap or monk's cloth), an embroidery hoop, a punch needle and some kind of yarn or thread. We've got you covered if you'd just like to give it a try using a kit that includes everything you need to get started with this fun new trend.
Punch Needle and Starter Kits
This punch needle is designed by Amy Oxford, a punch needle expert. She designed this needle with beginners in mind, and it is constructed for comfort and speed. It comes with an illustrated booklet that explains everything you'll need to know to get started in needle punching. While the kits on this list do come with a punch needle tool, or have the option of adding one for an extra fee, this punch needle is a great choice if you're just starting out.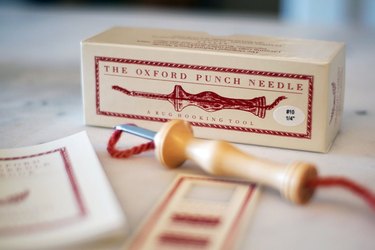 2. Sunrise Punch Needle Kit
Designed by Lawrence Ross, artist and founder of String of the Art, the Sunrise Punch Needle Kit is sure to make you want to punch to your heart's content. The fun colors and design are right on trend, and it even includes a pine frame to complete your project. The detailed instructions are easy to follow, and it doesn't take long to complete. Lawrence has included extra yarn and tips, and to make sure you are successful, he'll even quickly answer any questions you might have.
12 by 14-inch pine wooden frame
Monks cloth
Pattern template
Highest-quality 100 percent wool yarn
Instructions for first-time punchers
Sawtooth hanging hook
Punch needle tool (add to the kit for $8)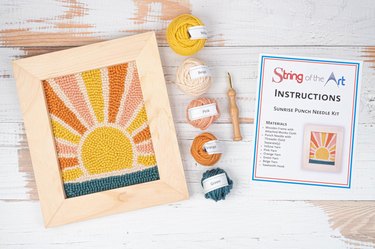 3. Lemon Punch Needle Kit for Beginners
This easy, fun and complete kit designed by Fang Crafts Studio comes with everything you need to create your first punch needle project. Make it for yourself or give it as a handmade gift. Choose the popular lemon design, or if you prefer cherries or rainbows, they have that too. Whatever pattern you prefer, you can have a finished product in only three or four hours. For a hassle-free experience, this kit not only comes with everything you need but also includes detailed instructions and tips.
20 cm plastic embroidery hoop
Linen fabrics
Pattern paper
Carbon paper
Punch needle
Set yarn rug

Instructions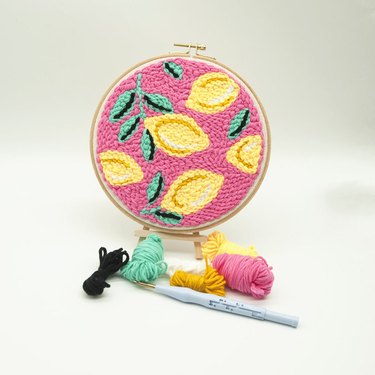 4. Daisy Punch Needle Kit
Jenny DIY Crafts has really stepped up to the plate in the beginning punch needle kit arena. Not only is this fun and graphic daisy design kit available but she has eight other design options (sunrise, rainbows, bears, waves, sunsets, starry skies, mountains and florals) from which to choose. It's perfect for beginners and includes extra yarn to allow for a few mistakes as well as thorough instructions to help make your first experience in needle punching a rewarding one. This project can be completed in less than a weekend, and Jenny even has an instructional video to help resolve any issues you may be having. Not only does this kit include everything you need to get started but the shipping is free. Sounds like a win-win situation to us.
20 cm embroidery hoop
Illustrated linen fabrics
Punch needle
Set yarn rug

Scissors
Instructions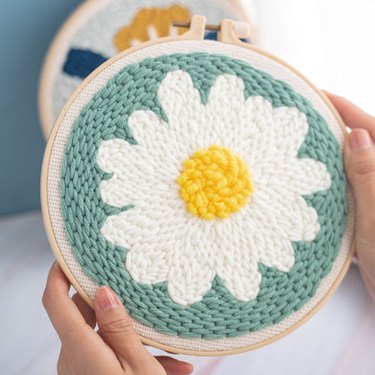 5. Flamingo Punch Needle Starter Kit
This vibrant pink flamingo is sure to catch your eye and could be the perfect gift for that colorful person in your life. The kit comes with everything you need to complete this project and includes a wooden display stand and a pouch to keep all of your supplies organized and handy while you're working. It even has a QR code that takes you to an instructional YouTube tutorial. A flamingo symbolizes beauty, balance and grace, and there is plenty of that and more in this kit.
Embroidery hoop
Wooden tripod
Fabric (with flamingo pattern printed)
Punch needle pen
Scissors
Threader
7 yarns
Canvas bag
6. Boho Sun Needle Punch Kit
Get your punch on with this simple but fun hipster needle punch kit. If you are a punch needle embroidery beginner, then this is the kit for you. Fiber artist Kelly, who thoughtfully designed this kit with newbies in mind, says even if you don't consider yourself to be artsy, you can complete this project. Make it for yourself, give the kit as a present or create it and share the finished project. No matter what you decide to do, this punch needle embroidery art is sure to bring a smile.
Cotton monks cloth
4 colors of medium-weight yarn (enough to complete the project)
High-quality punch needle with wood handle (if selected)

Threader
8-inch no-slip gripper hoop

8-inch wood embroidery hoop

Boho sun design pattern

Full set of instructions with step-by-step photos plus access to quick-start videos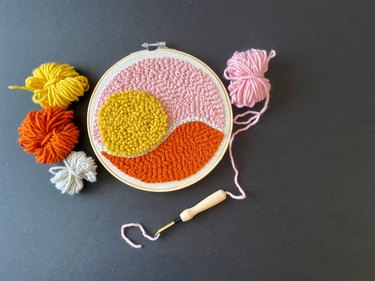 Whether you're using a predesigned kit or designing your own patterns, punch needle embroidery might be just the hobby you've been waiting for. Give it a try and who knows – it might lead you to the artistic life you've been wanting, and you just might be the first to create the Mona Lisa with yarn.