Not all superheroes wear capes! Shopping for a Father's Day gift can be tricky. Some people go the sentimental route, while others prefer something comical and cute. Perhaps you opt for something more practical that he will enjoy. Well, fortunately, you won't be short on options because there are countless handmade gifts available to order easily on Amazon and Etsy that are both thoughtful and sweet. Getting something customizable is another way to show that special dad in your life just how much he means to you. We have some DIY Father's Day gift inspiration for you in this list of 10 handmade gifts.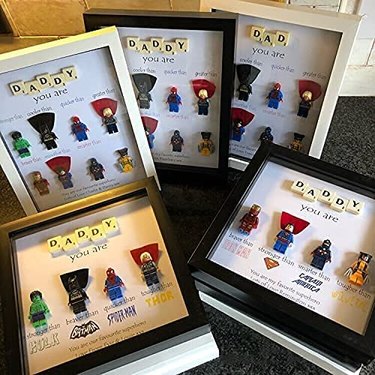 1. Hands Down DIY Frame Sign
He's the best dad — hands down! Etsy's shop TheWhimsyCompany sells an adorable little kit that you can put together in a jiffy, and the finished product will have him feeling like the MVP that he is.
The seller provides acrylic paint, a paintbrush, a frame and a sign that has the message "Best Dad Hands Down." You can swap out the word "Dad" for anything you would like in case you call him "Papa," "Grandpa" or anything else. Once it arrives, you can simply have your kids dip their hands into the paint and press them onto the sign. On the bottom, you can add a carved-in name of your choice that will be added prior to its delivery so it's ready to go.
The Hands Down DIY Frame Sign is available on Etsy.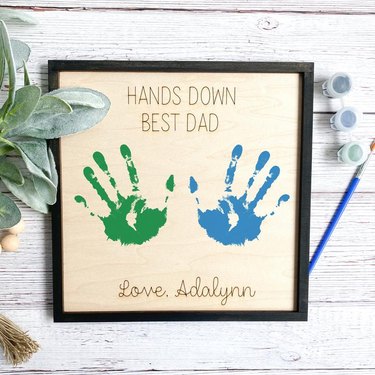 Does your dad like to stay organized? If so, he might adore this sweet gift set sold via Etsy. It has a rugged look, can be personalized and holds his phone, wallet, rings, watch, keys, glasses and miscellaneous items all in one place.
The top of the wood block has an engraving that says "Dad's Stuff," and many buyers usually add their own message. Initials will be placed in the bottom left corner of the dock, and a word or name will be placed in the top or middle section. There's a small cutout in the back of the dock where some people place their coins, lighters, pens or other items.
The Dad Gift Set is available on Etsy.
Amazon's shop BGYVNU has a darling frame inspired by the super dad in your life. It includes your favorite movie heroes, including Thor, the Incredible Hulk, Batman, Captain America and more. You can buy the four or eight superhero pack, and it can be hung on a wall or placed on a desk.
Another bonus to this purchase is that you can freely sign and personalize the phrase "You are our superhero" with the name of the person you love. The seller makes each frame from scratch and strives to ensure the product arrives to you intact. If the dad you know is a Marvel enthusiast or a comic book connoisseur, this might be a winning choice.
The Superhero Frame is available on Amazon.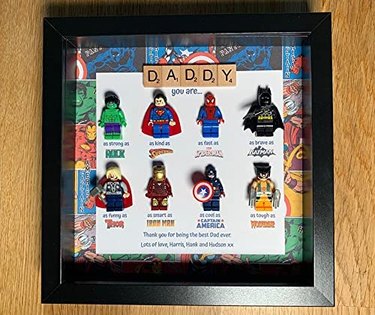 4. Custom Photo Jigsaw Puzzle
It's heart-shaped and heartfelt! This 75-piece custom jigsaw puzzle sold on Amazon is another gem because you can cherish it for years to come. It's a wonderful gift to put together and a great way to spend time with loved ones.
You only need to upload your photo upon purchase, and the VEELU store team will create your stunning puzzle. Buyers can add as many photos as they want, meaning you can make it resemble a collage if desired. It's made of premium quality and environmentally friendly materials, which is yet another perk. There are five sizes from which to choose.
The Custom Photo Jigsaw Puzzle is available on Amazon.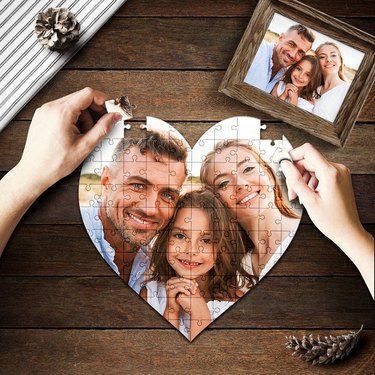 Etsy's shop SouthernPints sells a very aesthetically pleasing craft cocktail kit that is handmade, and perhaps that is right up your dad's alley. Each jar contains high-quality ingredients for up to 16 craft cocktails of your choice.
It's health-focused and has no artificial flavors or preservatives. The ingredients are also non-GMO, gluten-free and vegan friendly. Once it arrives at your front door, unpack and add your favorite spirit, juice or tonic. Afterward, refrigerate it for one to three days. The seller notes that the contents are best if consumed within two weeks to a month, as the flavor will change over time. People say the finished product looks fabulous on the shelf, so it's a win-win situation!
The Craft Cocktail Kit is available on Etsy.
6. First-Time Dad Beer Labels
Calling all new dads! This gift sold via Etsy will be relatable to the first-time fathers still getting the hang(over) of it.
For Father's Day, you can gift him his favorite brew personalized with themed beer-bottle labels. They have sleepless night labels, dirty diapers labels, 3:00 a.m. Feedings labels, Drool and Spit Up labels, Messes Made labels and oh-so-famous Endless Crying labels. All you have to do is BYOB (bring your own beer) and just peel the labels and stick them to your bottles! The seller recommends removing any existing labels on the bottle first.
The First-Time Dad Beer Labels are available on Etsy.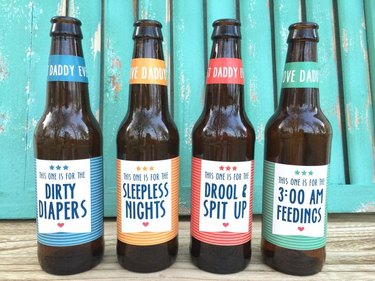 7. Personalized Multitools
We all love a best-seller, especially for Father's Day. Etsy's shop RavenSkullMagic sells handmade and personalized hammer multitools as well as pliers multitools that are both efficient and extremely useful. It should be noted that you must be over 18 to purchase either of these items.
The hammer multitool comes with a hammer, Philips screwdriver, pliers, reamer, saw blade, file, knife blade, flat-head screwdriver and wire cutters. The pliers multitool includes pliers, Philips screwdriver, reamer, saw blade, file, knife blade, flat-head screwdriver and wire cutters. You can customize the wooden handle by having it engraved with the message of your choice.
The Personalized Multitools are available on Etsy.
8. Father's Day Gift T-Shirt
Surprise your dad with a loving, handmade T-shirt that illustrates just how much you appreciate his efforts. The message on this one says "Nothing is Really Broken Until Your Dad Can't Fix It."
It's made of 100 percent cotton, making it soft and cozy. The double stitching on the neckline and sleeves add more durability, and it can be ready to ship within two to seven business days. The sizes range from small to 3X, so there is a great range for any body size. You can't go wrong with a timeless T-shirt made with love!
The Father's Day Gift T-Shirt is available on Etsy.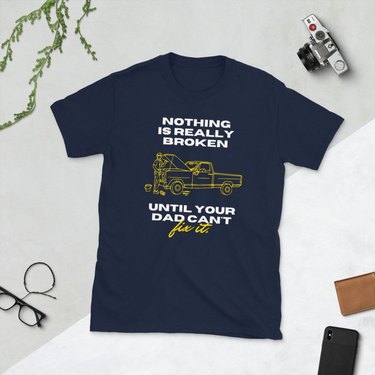 If music makes his heart sing, then this Amazon shop might have the perfect Father's Day gift for you. Simplycoolgifts offers a customized music box that is both gorgeous and sentimental.
The kit includes one wooden music box made of maple wood with a "Daddy's Girl" carving as well as your choice of color and song. When you try it, be sure to wind it first, and the song should play for one to two minutes at a time. If you're doing a custom order, allow four to five business days for preparation, although the seller notes you can reach out if you need it sooner.
The Customized Music Box is available on Amazon.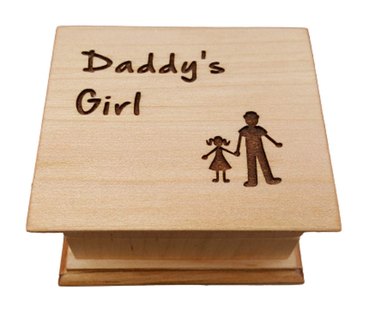 10. We Love You Key Chain
Last but not least, you could treat your dad to a key chain from Amazon's shop Tucker's Trinkets and Treasures. The seller will stamp "Dad," "Grandpa," "Papa" or any other loving term across the center of the aluminum disc on your key chain with "I Love You" or "We Love You" along the bottom edge.
The seller will add a customizable penny with a child's name to your key chain. You can choose pennies from the year 1950 to 2021, but if you don't specify a year, you will get a modern one. "Aluminum is a great alternative to stainless steel. It will not tarnish or change colors and has a lighter weight than stainless steel," the seller points out. It usually ships within two to three days, so it will arrive quickly.
The We Love You Key Chain is available on Amazon.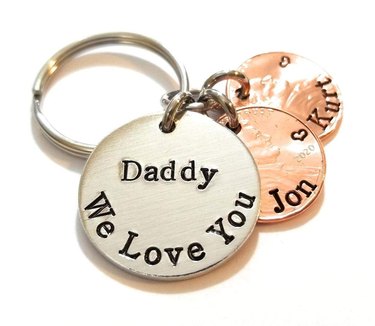 You can't go wrong when it comes to spoiling the dad in your life on Father's Day! Any of these handmade and customizable gift ideas will have him feeling like the special man he is. Have fun celebrating the momentous occasion!