Most people associate knitting and crocheting with chunky sweaters, warm scarves, cozy afghans, head-hugging beanies and all things cold weather. If you're a newbie to yarn crafts (or you're eager to become one), you may think that spring and summer are ​not​ the seasons for diving into your fiber stash and getting your stitch on. However, veteran knitters and crocheters know that there are plenty of warm and hot weather projects – from clothes and accessories to summery home decor – to keep your needles and hooks in use all year.
Do you need some warm-weather project inspiration? We've got you covered – and then some! Here are 10 knitting and crocheting kits you can find online that won't only give you ideas, but many provide everything you need to take an entire project from start to finish. Whether you already have a few yarn projects under your belt or you're a complete novice, you'll find something here that's perfect for both your skill level and your summer style.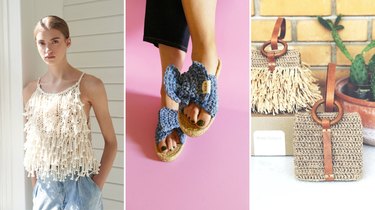 1. Sleeveless Top Knit Kit
​Skill Level​: Advanced beginner (some knitting experience recommended)
When you think of summer wear, you think of lightweight, natural fibers (such as cotton, linen or bamboo) and sleeveless shell tops and tanks. Basically, you think of something like this top. This nifty kit provides everything you need to knit a cute and versatile cotton shell top with a breezy cropped fit.
Knitting pattern
100 percent cotton yarn
Knitting needles
Darning needle
Reusable muslin storage bag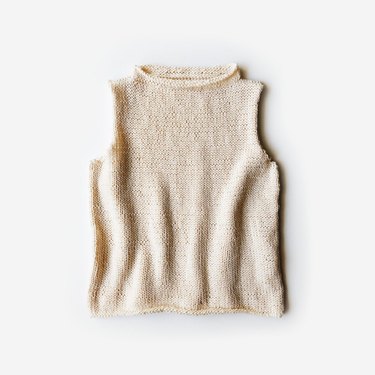 2. Crochet Bow Sandals Kit
​Skill level:​ Intermediate
These unique bow sandals look like something you'd spontaneously score from a hidden boutique during an oceanside weekend getaway. Available from iotaSoftLiving, a design company based in Israel, you will not only have the pleasure of hand making and wearing these statement sandals but you'll also be supporting the studio's social project of employing and empowering women on their way to financial freedom.
Knitting instructions

Yarn in color of choice
Needle and thread
Shoe soles
Size 6 crochet hook
iota motif coin
Cotton project bag
3. Knit Market Tote Bag Kit
​Skill level:​ Advanced beginner (must know how to knit in the round)
Here's just what you need for carrying home your fruit and veggies from the farmers' market or toting your towels, sunblock and summer reading to the beach. This simple lightweight market tote (made from cotton clothesline) is your perfect utilitarian summer accessory. Do you want one in a shade other than white? No problem! The rope is 100 percent cotton, so it's easily dyeable. (We recommend organic, all-natural dyes, like Nature Colors.)
Knitting instructions

White cotton clothesline rope (dyeable)
Size 50/25 mm circular knitting needles
Rope patch for joining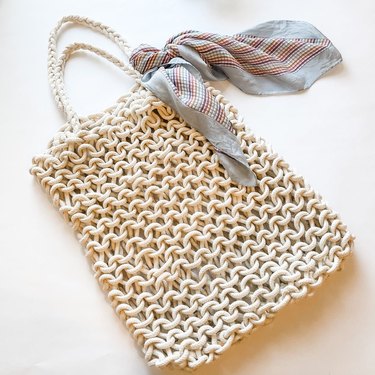 ​Skill level:​ Advanced beginner (should have experience knitting in the round)
This kit may not be summer wear, but it definitely has desert oasis getaway vibes. Place this adorable trio of knit cacti in genuine terra-cotta pots on a bright windowsill, and your guests might actually do a double-take! They are fun to look at and even more fun to make. This kit features three types of cacti: Mexican fence post, saguaro and golden barrel. Though yarn, stuffing and pots are included, you'll need to supply a set of US 3 double-pointed needles, 3.5 mm crochet hook and a darning needle for finishing.
Knitting pattern
100 percent wool yarns in three shades of green (for cactus)
100 percent wool yarns in yellow and pink (for flowers)
Polyester stuffing
Three 2-inch terra-cotta pots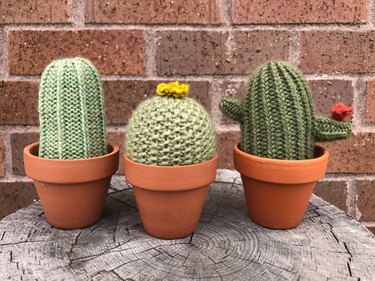 5. Crochet Tank Bodysuit or Swimsuit
​Skill Level:​ Intermediate
This summertime number calls to mind '70s boho beachwear, when crochet string bikinis were all the rage. In fact, since it's made using an acrylic and spandex-blend yarn, it can be worn as both a tank top and a bathing suit (no need to worry about it sagging and losing its shape mid-swim). Perfect for pairing with a flowy skirt or wide-leg jeans, this suit will be a summertime staple. The seller provides the materials and instructions, but you'll need to supply the knitting tools.
Crochet pattern
Acrylic/spandex yarn in two contrasting colors or one color of your choice
Lycra fabric for straps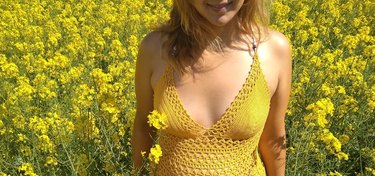 6. Jute Crochet Wristlet Bag
When you're heading out for a quick cold-brew coffee date and just need to carry the essentials, you'll be glad you crocheted this cute jute wristlet bag! This kit includes all materials and tools (should you choose to include them) to hook up this leather, jute and wood wristlet with a unique single-strap, ring-closure design. Even better, all materials are 100 percent natural and sustainable.
Knitting pattern
Jute yarn
Leather Strap
1 Wooden Ring
Yarn needle (optional)
4mm crochet hook (optional)
2 stitch markers (optional)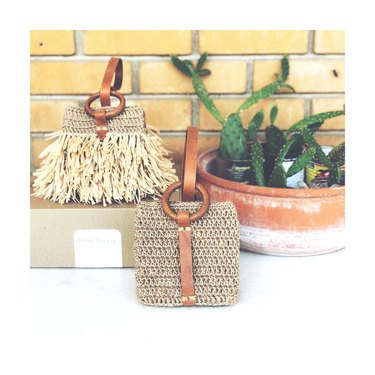 7. Crochet or Knit Pouf Kit
Sure, any season's a good one for putting up your feet and relaxing. However, with the glorious array of bright, bold colors from which to choose, these DIY pouf kits from Joann scream summer decor. Each kit supplies everything you need to make a comfy pouf, except for the filling. What we especially love about this kit is that it provides tools and instructions for both knitting and crocheting – simply pick your technique of choice.
Both knitting and crocheting patterns
Hooked zpagetti yarn in color of choice
12 mm XL knitting needles
12 mm crochet hook
Portable gift box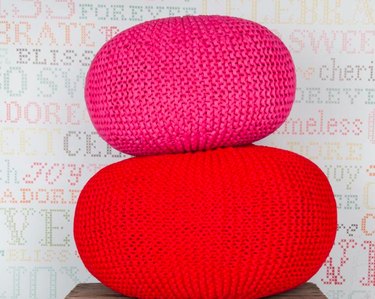 8. Knit Fringe Tank Top Kit
How fun is this fringed tank top? Made with light and breathable 100 percent cotton yarn, this top goes to show that it's totally possible to wear chunky knits during the warmer months. Even better, this quick-knit project should only take a couple of hours to make. You've gotta love fast, handmade wearables!
100 percent cotton yarn
6.5 mm crochet hook
Pattern
Loopy Mango drawstring bag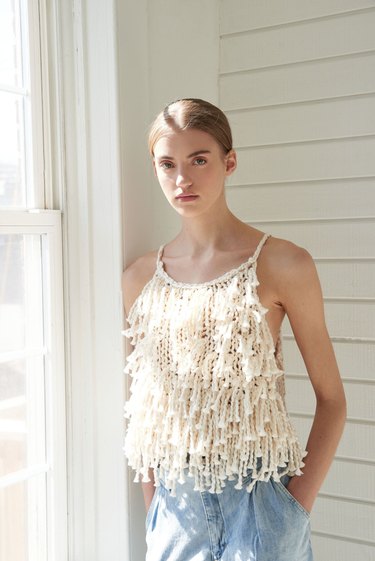 9. Summer Hat Knitting Kit
We all know by now to never, ever leave home without adequate sun protection. Although sunscreen is always a must, topping it all off with a wide-brimmed hat is better yet. If you're a beginning knitter, however, you may want to choose another project on this list. This hat will definitely take a more experienced knitter who is adept with lacework and knitting with mercerized sport-weight yarn. If this sounds like you and you're also looking to branch off into the millinery arts, this floppy hat could be a super fun way to start.
Pattern
Mercerized cotton yarn (in the color of your choice)
Millinery wire
10. Crocheted Jute Beach Backpack Kit
​Skill level:​ Intermediate
If you're a crocheter who prefers backpacks over shoulder bags or totes, we see you! This jute backpack is just what you need to carry your beach essentials while leaving your arms free. We love its airy open weave, allowing you to see exactly what you've packed so that no essential gets left behind. Also, you can choose to include or leave out the necessary tools, so you won't be left with extraneous items.
Crochet pattern
Jute yarn
Cotton rope
Hemp waxed cord
Yarn needle (optional)
1 crochet hook 4 mm (optional)
2 stitch markers (optional)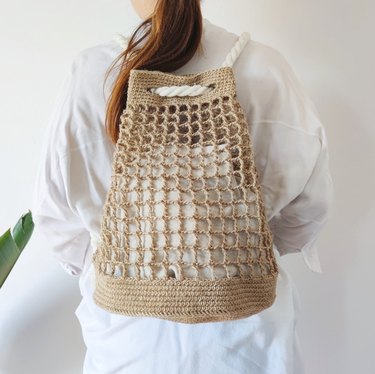 Have we rid you of any notion that knitting and crocheting is an exclusively cold-weather sport? Great! Now grab a tall glass of iced tea, your hooks and needles and stitch up something fabulous.