Moss and faux plant wall art, which first gained popularity in hotel, restaurant and corporate interiors, has now become a hot decorating trend for homes. It's a chance to bring the beauty of the outdoors inside, as framed art rather than just a potted plant, with absolutely no maintenance required. While pre-made wall art is available, DIY kits are more affordable and, frankly, more fun as you can give your verdant masterpiece your personal spin. You can even throw a crafting party and let everyone make their own.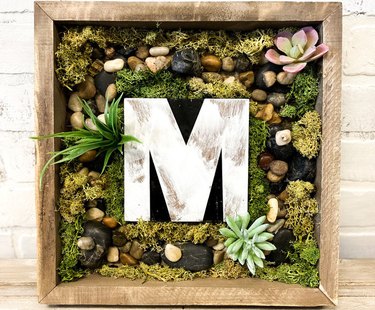 1. Moss Wall Art Kit, Jungle Edition
The plants in this kit are actually 100% real; they're just naturally preserved so you don't have to worry about giving them water or proper sunlight. Along with a pinewood frame, the kit includes dried moss, lichen, ferns and even flowers. But the pièce de résistance is the animal that presides in the center of the frame. You have a choice of a gold rhinoceros, elephant or giraffe, all of which fit in wonderfully with the surrounding greenery. You'll certainly be the king, or queen, of the DIY jungle.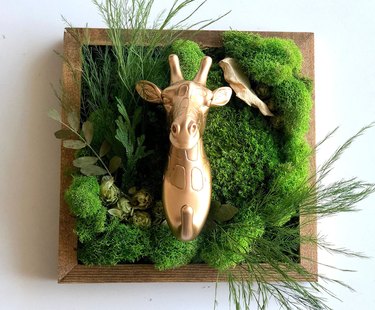 Tip
At 8 x 8 inches, this piece of wall art is also perfectly sized to fit on a bookshelf, desktop or bathroom counter. Why should your walls have all the fun?
2. Wood Monogram Faux Succulent Kit
Just as hot a design trend as moss and faux plants is monogram art – and this DIY kit features both. Included are a wood shadow box, light and dark green moss, river rocks, faux succulents and the capital letter of your choice. The letter comes in a natural wood finish, so you may want to paint it first in a color that matches your room. Then hot glue the monogram in the center of the shadow box, and attach all the elements around it. Moss is a great "filler," so leave that for last to fill in any empty spaces.
Tip
The rocks will make this piece heavy, so be sure to use the proper reinforcements when hanging on a wall. You can also lean it against the wall while it sits on a table.
3. LOVE Succulent Wall Décor Kit
Instead of just a monogram, this wall art kit spells out the word L-O-V-E. It's easy with the included wood frame, letters and miniature faux succulents. An alternative word that is available from this merchant is G-R-O-W. Either would be so perfect in a baby's room. Better yet, get both words for an adorably matched set. Now this is how you spell fun.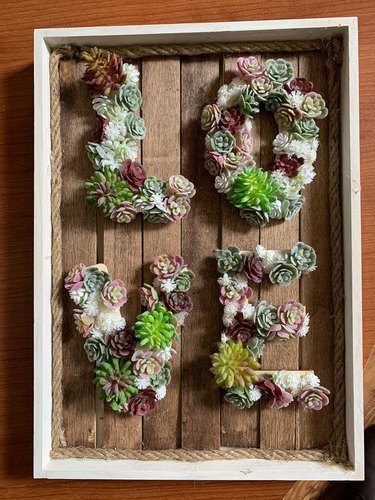 Tip
Use the letter "O" in the word as a frame and place a photo in the opening. That dials up the cuteness factor to the max.
4. Peace Symbol Faux Succulent Kit
The iconic '60s peace sign is as popular as ever, and this kit cleverly uses it as the frame to house the moss and succulents. The frame is handmade from redwood and cedar, which are naturally rot resistant, making this arrangement ideal to display outdoors. Along with the unique frame, the kit includes foam, moss, faux succulents and a hanger.
Tip
Hang this on your front door as a year-round wreath to welcome friends and neighbors. They'll think you're so groovy.
5. Moss Color-by-Numbers Tree Art
With this incredibly cool kit, you get to create a color-by-numbers painting, but instead of using paint, you color in the drawing with moss. The kit includes a drawing of a tree with numbers indicated in the areas that need to be covered. The moss is also numbered, so you just glue it to the corresponding area on the picture. This creates a three-dimensional art piece that is sure to impress anyone who sees it. And don't get us started on how fun it is to run your fingers through.
Tip
Because of its zen feel, this wall art would look beautiful in a bathroom and give it that spa look.
Decorating is so much more rewarding when you have a hand in fashioning the pieces that will grace your home. As these five wall art kits demonstrate, while the plants themselves don't grow, your creativity certainly will.