Conjure up some spooky snacks for Halloween inspired by the wickedly beloved film ‌Hocus Pocus‌. You don't have to be a Sanderson sister or possess any special sorcery skills to make them. In fact, we took some magical shortcuts by using all store-bought ingredients. Big on both flavor and fun, these bewitching bites are sure to put a spell on all who try them. We promise it's not just a bunch of hocus pocus — you'll be the hit of your next Halloween party.
Recipe 1: Spell Book Brownies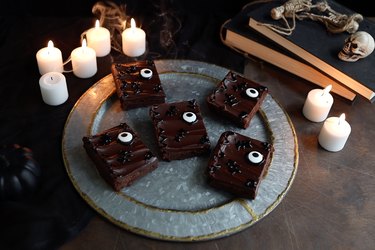 Things You'll Need
Pre-made frosted brownies

Candy eyes

Black cookie icing
Cut brownies into rectangles that resemble book shapes. Place a candy eye on the top right side, and pipe a circle of black icing around it.
Pipe a squiggle line down the left side of the brownie to resemble a book "spine." Then, pipe figure-8s in each corner on the right to look like snakes and pipe two rows of stitches in the center of the brownie. This is a perfect and delicious Halloween treat on its own, or it can be paired with a movie night.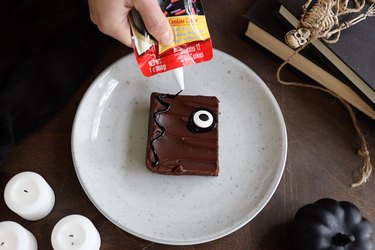 Recipe 2: Witches' Brooms Peanut Butter Cups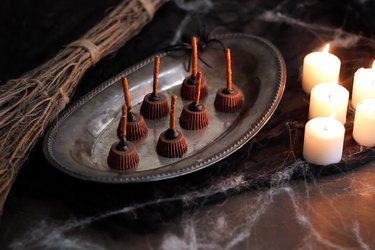 Things You'll Need
Black candy melts

Pretzel sticks

Miniature peanut butter cups
Melt two tablespoons of black candy melts in a microwave-safe bowl for 30 seconds. Stir, and reheat for another 15 seconds if needed.
Dip the tip of a pretzel stick into the melted candy. Press the pretzel stick into the center of a peanut butter cup. Voila! This Halloween snack is so simple, you won't even have time to doff your witch hat before these broomsticks take off into the night.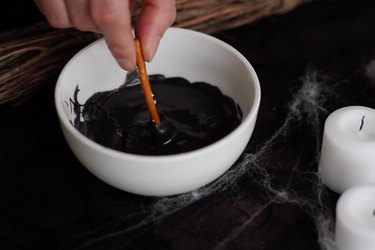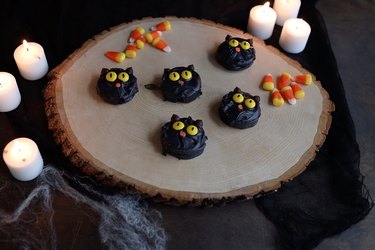 Things You'll Need
Black candy melts

Chocolate sandwich cookies

Peanut butter candies

Orange sprinkles

Chocolate chips

Edible black marker
Melt black candy melts in a microwave-safe bowl for 30 seconds. Stir, and reheat for 15 seconds if needed. Dip a chocolate sandwich cookie in the melted candy to coat it, and let the excess drip off.
Place two yellow peanut butter candies for the eyes, an orange sprinkle for the nose and two chocolate chips for the ears. Draw eyes onto the yellow candies with a black edible marker. You don't need to crack open any ancient tomes to master this Halloween recipe.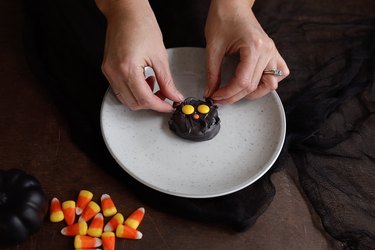 Recipe 4: Sanderson Sisters' Potion Punch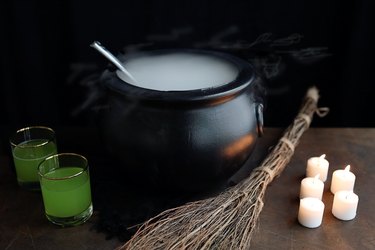 Things You'll Need
Black cauldron

Green fruit punch, 1 gallon

Lemon lime soda, 2 liters

Pineapple juice, 46 ounces

Dry ice
Chill the green punch, lemon lime soda and pineapple juice. When cold, pour into a clean black cauldron (or place a punch bowl inside the cauldron).
Stir everything together inside the cauldron. When ready to serve, add dry ice for a spooky smoking cauldron effect. This spooky concoction is right out of ‌Hocus Pocus‌, so be careful for Winifred or another Sanderson sister. You might just end up as an ingredient in this witchy brew.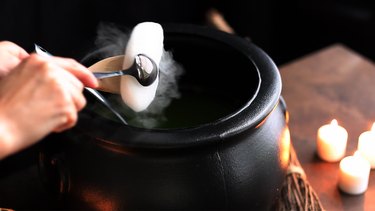 These quick and easy ‌Hocus Pocus‌-themed foods are a great addition to any fun Halloween movie night or Halloween party.
You don't have to be in Salem to enjoy these treats, so what are you waiting for? Get your ‌Hocus Pocus‌ party started!