Stay safe and stylish with these double-layer fabric face masks. They are definitely not as difficult to make as they may seem. All you need is a needle and thread for this simple sewing project—that's right, no sewing machine necessary. Plus, you can easily customize them for yourself or loved ones with your favorite colors or patterns. Simply wear, wash, and reuse!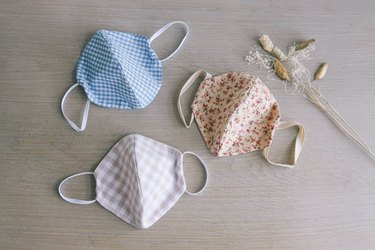 Things You'll Need
100% cotton fabric (tight weave or quilting)

Plate or pot lid (10 or 11-inch for adults, 8-inch for kids)

Pen

Scissors

Needle and thread

Iron

Elastic, hair bands, or bias tape

Safety pin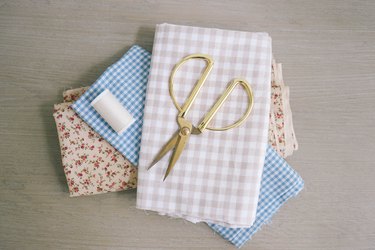 Step 1
Place a 10- or 11-inch plate or pot lid (8-inch for kids) on the wrong side of the fabric and trace around it with a pen. Cut out with scissors.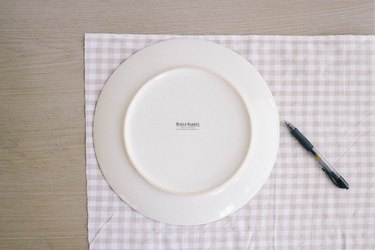 Step 2
Fold the circle in half, and then fold it in half again. Cut along the fold lines, so you're left with four equal pie pieces of the circle.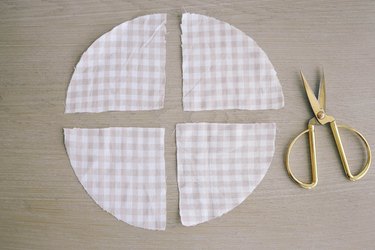 Step 3
Place two pie pieces with the right sides together, and hand sew along the curved edge with a 1/8-inch seam allowance. Repeat with the other two pie pieces.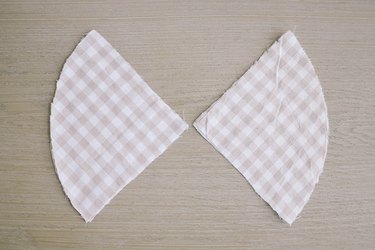 Step 4
Unfold the pie pieces so you have two diamond shape pieces, and place them with the right sides together. Sew along all of the edges, but leave a 1-inch opening.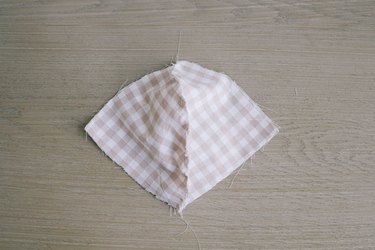 Step 5
Using the opening you left un-sewn, turn the fabric right-side out. Then fold in the raw edges of the opening and sew it closed.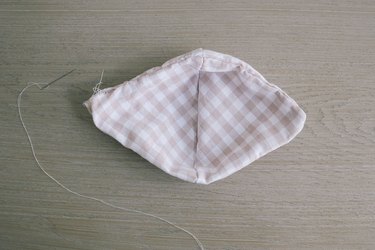 Step 6
Create crisp, clean edges by pressing around the mask with a hot iron.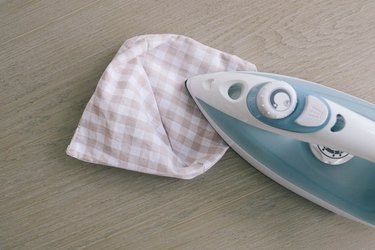 Step 7
Fold in the pointy tip on one side of the mask, and then fold in 1/4-inch of fabric. Press with an iron. Repeat on the other side.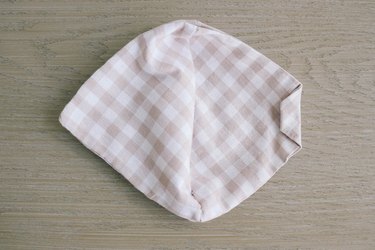 Step 8
Sew the fold closed on each side to create a pocket to hold your elastic band. Cut your elastic to 10-inch lengths for adults or 8-inch lengths for kids. If needed, use a safety pin to thread the elastic through the little pockets on each side of the mask.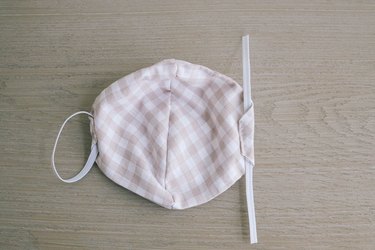 Tip
You can use elastic hair bands or bias tape if you can't find elastic. Even strips of old T-shirts would work.
Step 9
Tie both elastic bands into a tight knot, and then rotate them until the knots are hidden inside the fabric pockets. Your masks are ready for use!