Dogs — their companionship and unconditional love is even more important now than ever. The sloppy kisses and wagging tails of our cherished pups can automatically lift our spirits. Who doesn't love it when Fido snuggles up and can't get enough of our love? And who can say no when he grabs his leash with pure delight asking to go out for a walk? If your leash has seen better days or you just want to make something different for your walks in the park, make a new one from the waistbands of a couple of old pairs of jeans. Adorn it with some fringe or a couple of decorative treasures to give it a unique design made especially for you and your pooch.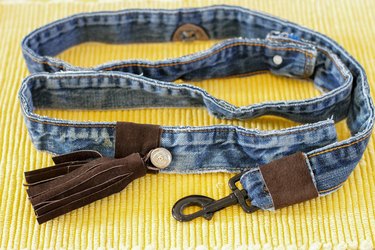 Things You'll Need
Two denim jean waistbands

Sharp scissors

Hot glue gun

Two 1 1/2-inch x 7-inch pieces of leather or suede

One 4-inch x 12-inch piece of leather or suede

Swivel clip
Warning
This leash is best for small dogs that don't tend to pull. Apply a generous amount of hot glue and test walk indoors before use.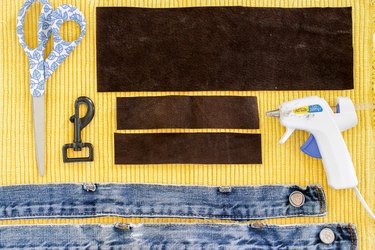 Step 1
Use a sharp pair of scissors to cut the waistbands off of two pairs of old jeans. Remove the belt loops.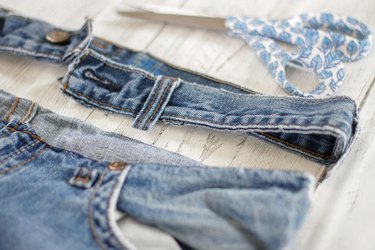 Step 2
Attach the two waistbands using the button.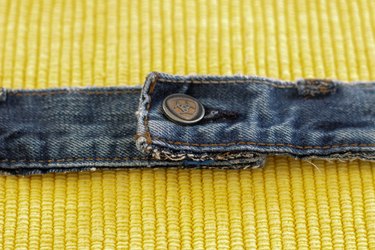 Step 3
To make the handle loop, fold over 8 inches on the end with the button. Use a hot glue gun to attach the end in place. Wrap the 1 1/2-inch x 4-inch piece of leather around the end and hot glue it in place. Leave the button exposed.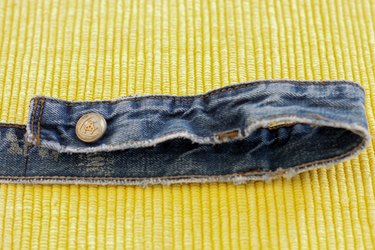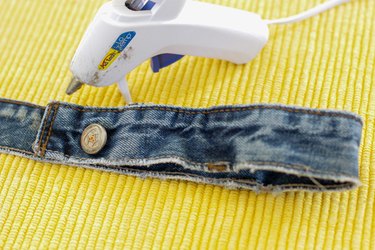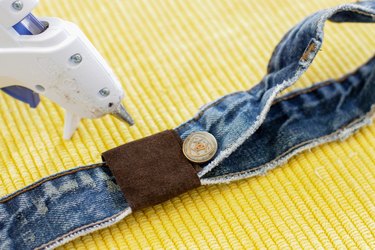 Step 4
Thread the other end of the waistband through the swivel clip. Hot glue it in place. Wrap the other 1 1/2-inch x 4-inch piece of leather around the end and hot glue it in place.
Tip
If you have a leash that has seen better days, you could cut the clip from the old leash instead of buying a one.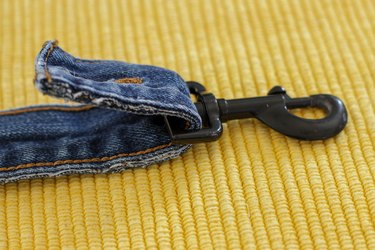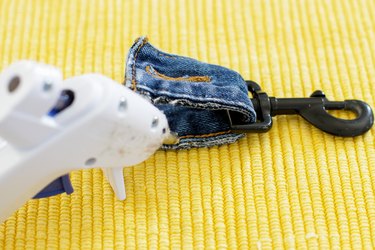 Step 5
To make a decorative tassel, cut the 4-inch x 12-inch piece of leather into 1/4-inch strips, stopping the cut before you get to the top edge. Fold a 1/4-inch x 6-inch piece of leather in half and place the ends of the loop on the end of the fringed piece so the loop is up. Run a bead of hot glue along the uncut side of the leather and roll. Attach the loop of the tassel onto the button on the leash.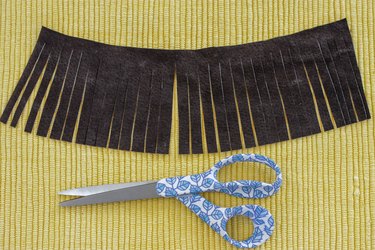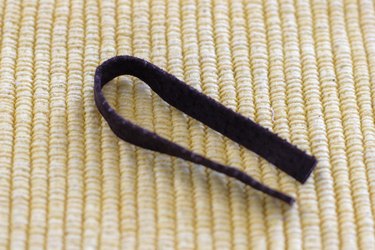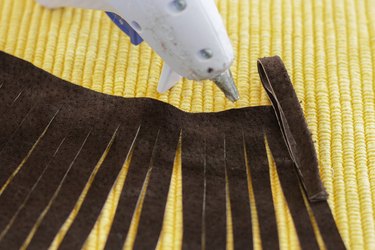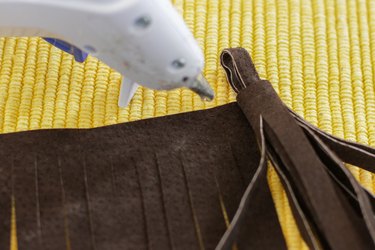 Did someone say, "Let's go for a walk?"