Bring a little hygge into your home this season with a cute traditional Scandinavian ornament. In Sweden, they're known as a Tomte. If you're in Norway, you'll hear them called a Nisse. You might even know them as Gnomes. Originally, they were Nordic folklore creatures who were believed to be responsible for protecting the farmstead, but make sure you treat them right or they'll become very mischievous. So grab some old sweater remnants, a sock and a little rice and you'll be hangin' with your "gnomies" this winter, too. (Gnome pun intended. Ha!)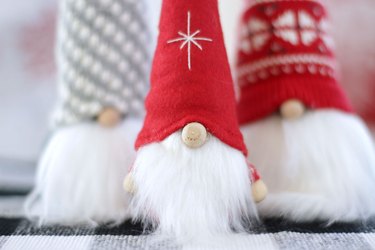 eHow may earn compensation through affiliate links in this tutorial.
Things You'll Need
Sock

Sharp scissors

Rice

Faux fur

Marking pen

Small wooden bead

Sweater remnant or felt

Chopstick or pencil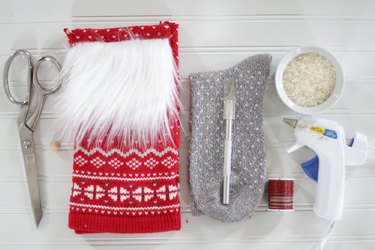 Step 1
Cut approximately 5-inches from the toe of the sock. You can adjust this measurement for smaller or larger gnomes.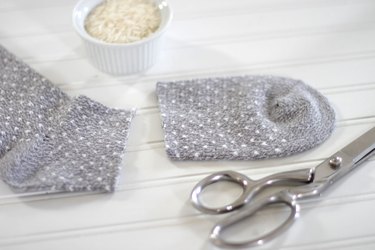 Step 2
Fill with rice until it is the shape and size you'd like for your gnome.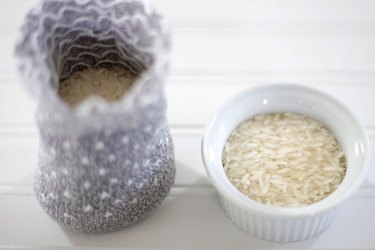 Step 3
Step 4
To create the beard, draw a triangle on the back side of the faux fur. The top of the triangle should be the same measurement as halfway around the body of your gnome, and the nap of the fur should be pointing down from the top of your triangle.
Use a sharp exacto knife to cut from the back side of the faux fur along the triangle marks. Do NOT use scissors because it will cut all of the nice fur.
Step 5
Attach the faux fur to create the beard and the wooden bead to create the nose with a hot glue gun.
Step 6
Measure around your gnome's head and add a 1/2-inch. This will be the bottom measurement of the hat. The height measurement depends on how tall you'd like your hat to be. Use the bottom finished hem of the sweater remnant as the bottom of the hat. Cut a triangle shape.
Tip
If you previously made a pair of mittens from an old sweater, this would be a nice way to use up the rest of the sweater. If you don't have any sweater remnants, you could also use felt for the hat.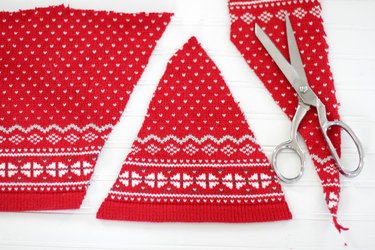 Step 7
Fold the triangle in half with the right sides together and sew along the edge. Clip the tip of the hat to reduce bulk. Turn the hat right side out, using a pencil or a chopstick to push out the tip.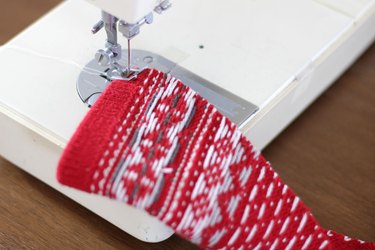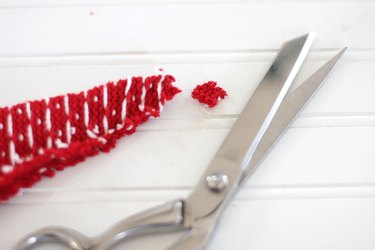 Step 8
Cut a piece of craft wire that is the same height as the hat. Place it inside the hat then fill loosely with stuffing.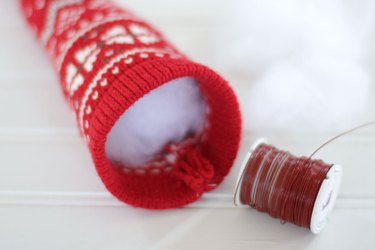 Step 9
Use a hot glue gun to attach the hat to the top of the gnome. The gnome will look better if you pull the hat down over the nose a bit.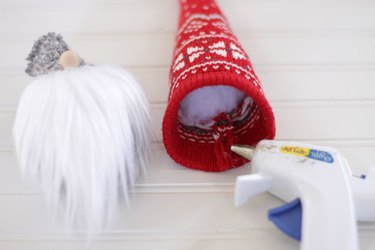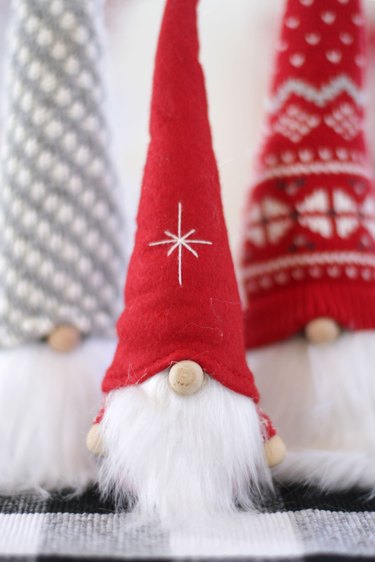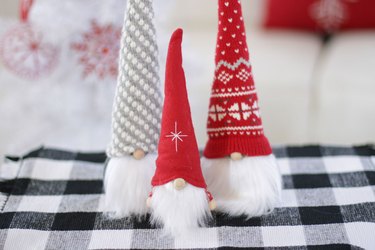 Buy materials for this tutorial: