Can you say jalapeño popper stuffed pretzels three times fast? It may be a mouthful, but something tells us your taste buds won't mind. From the cheesy jalapeño filling to the salty soft pretzel, this unique snack is savory, spicy and delicious. Your friends and family will love this one! Read on to learn how to make it.
Things You'll Need
2 1/4 cups all-purpose flour

1 cup warm water

1/4 ounce (1 packet) active dry yeast

2 tablespoons olive oil

3 tablespoons sugar

1/2 teaspoon salt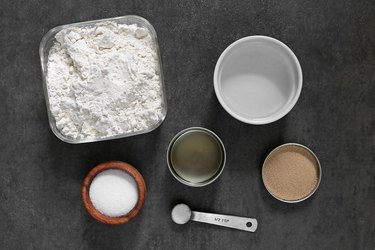 Tip
Make sure the water is warm, not hot. If the water is too hot, it will kill the yeast and the dough won't rise.
Pretzel Dough
Step 1
In a large bowl, combine 1 cup warm water and yeast. Let sit until puffy, about 3 minutes. It should smell "yeasty" like beer.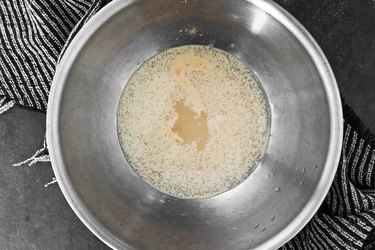 Step 2
Add 1 cup of flour, olive oil, sugar and salt. Mix well.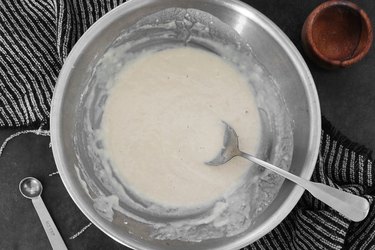 Step 3
Gradually add the rest of the flour and mix.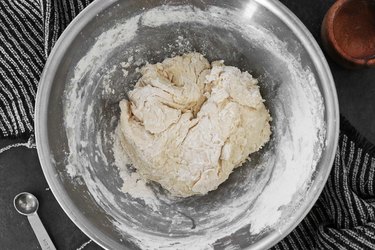 Step 4
Dust your hands with flour and transfer the dough to a lightly floured surface. Knead until it's smooth yet tacky. If it's too sticky, slowly add more flour.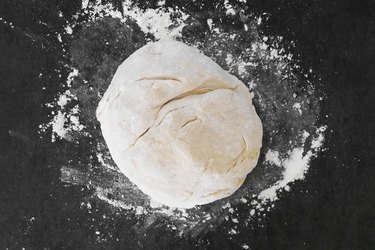 Step 5
Grease a large bowl. Transfer the dough to the bowl and cover with a damp towel.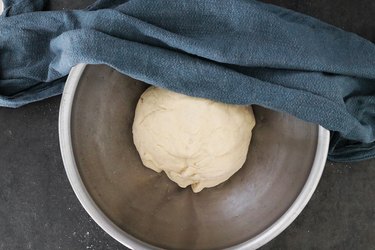 Step 6
Leave the dough in a warm area until it doubles in size, about 1 hour. Gently punch the dough to deflate.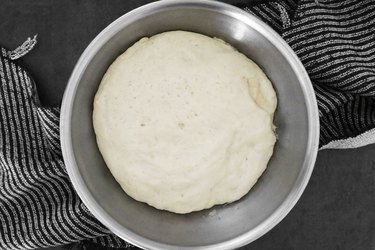 Jalapeño Cheese Filling
Things You'll Need
8 ounces softened cream cheese

1 1/2 cups shredded cheddar cheese

4 jalapeño peppers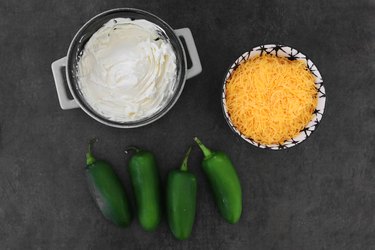 Tip
It's a good idea to wear gloves while cutting and handling jalapeño peppers. The juices can irritate the skin, especially if you have an open cut. Avoid touching your eyes or face until you remove the gloves and wash your hands.
Step 1
Cut the stems off the jalapeño peppers. Slice in half lengthwise.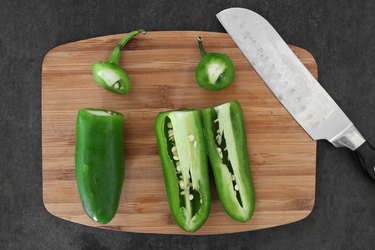 Step 2
With a spoon or your gloved hand, scoop out the seeds and white pith. If you want to make your stuffed pretzels extra spicy, leave some of the pith and seeds.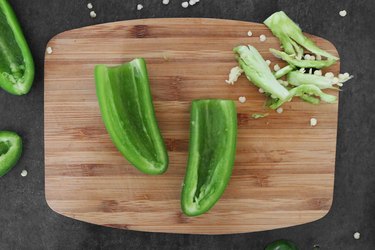 Step 3
Chop the jalapeño peppers into 1/4-inch pieces. It's easiest to slice them into strips before cutting into cubes.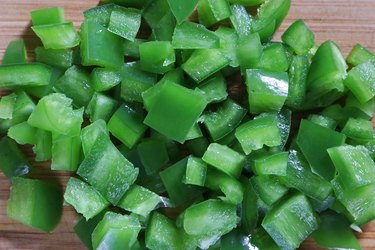 Step 4
In a bowl, combine the softened cream cheese, cheddar cheese and chopped jalapeño peppers. Mix well.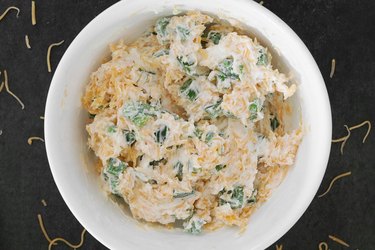 Jalapeño Popper Stuffed Pretzels
Things You'll Need
Pretzel dough

Jalapeño cheese filling


1/3 cup baking soda

2 tablespoons melted butter

Sea salt

3 cups warm water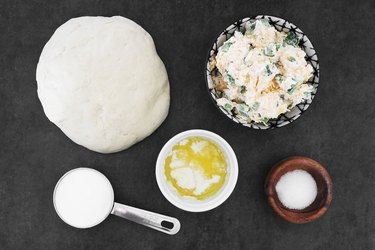 Step 1
Pre-heat the oven to 450° Fahrenheit. Meanwhile, roll the dough into 16 balls.
Tip
To make the balls, split the dough in half. Split each piece in half once again to make 4 pieces. Continue splitting each piece in half until you have 16 pieces total.
Step 2
On a floured surface, roll each ball into 3-inch to 4-inch wide circles.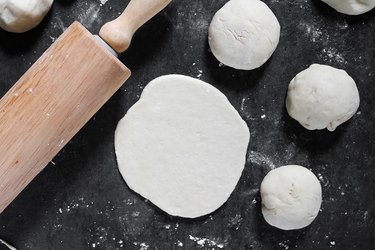 Step 3
Add a tablespoon of jalapeño cheese filling to the center of each circle. Fold up the edges, pinch together and roll to secure. Repeat with the remaining pieces of dough.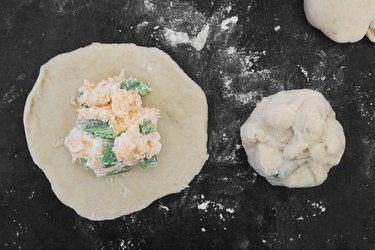 Step 4
In a large bowl, combine the warm water and baking soda. Stir until dissolved.
Dip each ball into the baking soda mixture and place on a parchment-lined baking sheet.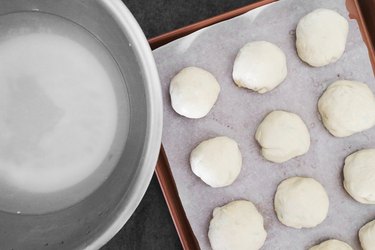 Step 5
Bake for 10 to 12 minutes or until golden brown. Brush with melted butter and sprinkle with salt. Serve warm.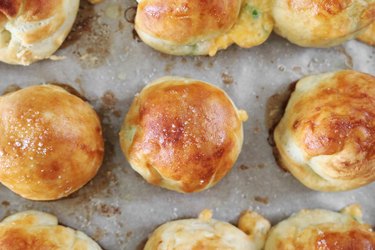 Feel free to experiment with this stuffed pretzel recipe. For example, if you'd like to make even smaller pretzels, roll the dough int 32 pieces and stuff with 1/2 tablespoon of filling. You can even roll the dough into logs. To make the snack even cheesier, serve with beer cheese dipping sauce.