This Cast Iron Skillet Red Velvet Cookie is the ultimate dessert! It's dense, chewy, studded with molten white chocolate chips, and filled with plenty of classic cookie flavor. Serve it alongside a generous scoop of ice cream and a thick drizzle of chocolate sauce for something even more incredible.
Things You'll Need
5 ounces (140 grams) unsalted butter, cubed

7 ounces (200 grams) light brown sugar

1.8 ounces (50 grams) granulated sugar

1 large egg

1 tablespoon vanilla bean extract

7 ounces (200 grams) all-purpose flour

1 tablespoon dutch processed cocoa powder

1/2 teaspoon baking soda

1/2 teaspoon salt

5.3 ounces (150 grams) white chocolate chips or chunks

1 teaspoon red food coloring

Ice cream, for serving (optional)

Chocolate sauce, for serving (optional)
Step 1: Combine Wet Ingredients
Pre-heat the oven to 350 degrees Fahrenheit (180 degrees Celsius). Lightly grease a large cast iron skillet. Set aside.
Place the unsalted butter into a medium sized saucepan set over medium-low heat. Heat, stirring occasionally, until melted. Pour the melted butter into a large mixing bowl and add in the light brown sugar and granulated sugar. Whisk until well combined. Add in the egg and whisk until glossy. Add in the vanilla bean extract and whisk until incorporated. Set the bowl aside.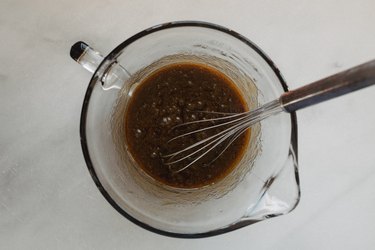 Step 2: Combine Dry Ingredients
In a separate medium sized mixing bowl, whisk together the all-purpose flour, dutch processed cocoa powder, baking soda and salt.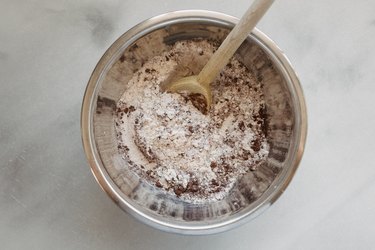 Step 3: Make Dough
Add half of the dry ingredients into the bowl with the butter and sugar mixture. Use a wooden spoon to mix until just combined (some dry flour pockets should remain).
Add in the remaining dry ingredients and mix until just combined. Whisk in the red food coloring. Fold in the white chocolate chips or chunks until evenly incorporated throughout the dough.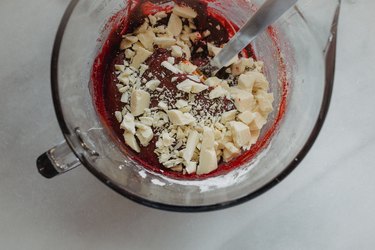 Use a rubber spatula to spread the dough into an even layer in the cast-iron skillet.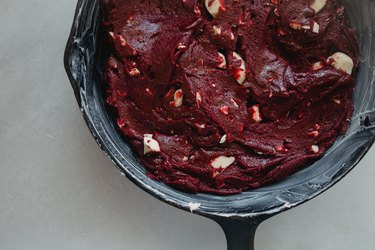 Step 4: Bake
Bake, 18 to 22 minutes, or until puffed and firm around the edges but still slightly soft in the center. Remove from the oven and transfer the cast iron skillet to a wire rack to let cool for 5 minutes.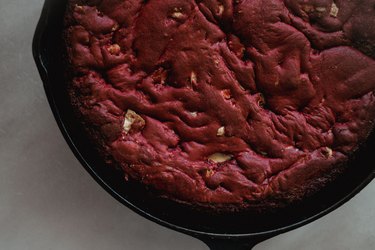 Step 5: Serve & Enjoy
Serve the skillet cookie immediately, along with a generous scoop of ice cream and a drizzle of chocolate fudge, if desired. It is best eaten warm on the day of making.