Who doesn't love a classic cinnamon roll? These cinnamon rolls are soft, fluffy, filled intensely with sweet cinnamon-y flavor and covered in a generous slathering of delicious cream cheese frosting. They're the perfect homemade sweet treat worth waking up for. So, break out your cast iron skillet and make them today by following this easy recipe!
Things You'll Need
8.5 ounces (250 millilitres) whole milk

1 tablespoon (.6 ounce) (15 grams) instant dried yeast

1.1 pounds (515 grams) all-purpose flour

2.1 ounces (60 grams) granulated sugar

1 teaspoon salt

3 medium eggs

4.2 ounces (120 grams) unsalted butter, at room temperature

7 ounces (200 grams) light brown sugar


1 tablespoon ground cinnamon

¼ teaspoon salt

2 tablespoons unsalted butter, melted

1 egg, lightly beaten for the egg wash

4.4 ounces (125 grams) powdered sugar

1.8 ounces (50 grams) cream cheese, at room temperature

2-4 tablespoons whole milk

1 teaspoon vanilla bean extract
Step 1: Make Dough
Place the whole milk into a medium sized saucepan. Heat on medium-low until the milk is lukewarm in temperature. Remove from the heat and stir in the yeast until combined. Set the mixture aside to prove for 5 minutes.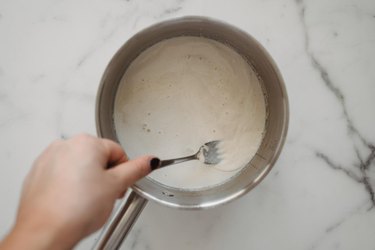 Meanwhile, place the all-purpose flour, granulated sugar and salt into the bowl of a stand mixer fitted with the dough hook attachment. Mix on low speed for 1 minute to combine.
Pour the milk and yeast mixture into the bowl with the dry ingredients. Mix until a shaggy dough forms, about 1 minute. Add in the eggs. Increase the speed to medium and knead until it forms a rough ball around the dough hook, 3 minutes.
Add in the butter, a generous tablespoon at a time, until it is all incorporated. Increase the mixer speed to medium-high and knead for a further 6 minutes, or until a very smooth, velvety, and soft dough has formed. Stop mixing. Cover the bowl with a layer of plastic wrap and set the dough aside to rise until it has doubled in size, 1 hour.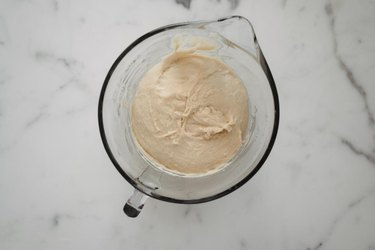 Step 2: Make Filling
In a medium sized bowl, combine the light brown sugar, ground cinnamon, and salt. Set aside until needed.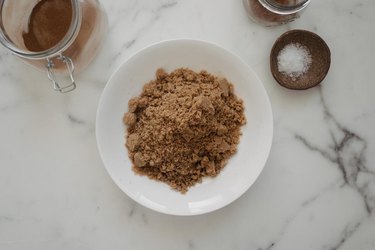 Step 3: Form & Bake Rolls
Line an 8-inch (20 centimetres) cast-iron skillet with non-stick parchment paper. Set aside.
Transfer the risen dough to a floured work surface. Using a lightly floured rolling pin, roll the dough out and into a rough rectangle, about ½-inch (1.3 centimetres) in thickness. Brush the melted butter over the top of the dough, then evenly spread over the cinnamon sugar filling.
Starting with the longest edge, roll the dough into a tight log shape.
Use a large knife or a dough cutter to cut the log into 1-inch (2.5 centimetres) slices.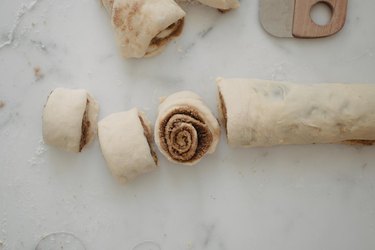 Arrange the slices into the prepared cast-iron skillet. Cover with plastic wrap and let them rise again for a further 30 minutes.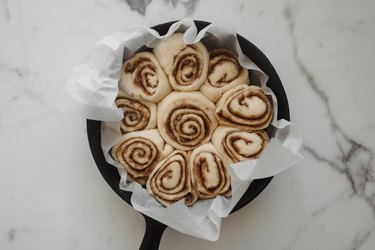 Meanwhile, pre-heat the oven to 350 degrees Fahrenheit (180 degrees Celsius).
Brush the cinnamon rolls with a little of the egg wash. Bake for 25 minutes, or until golden brown and fragrant. Remove from the oven and let cool for 10 minutes.
Step 4: Make Frosting
Meanwhile, make the frosting. In a medium sized mixing bowl, combine the powdered sugar, cream cheese and vanilla bean extract. Add in the milk and whisk to form desired consistency for the glaze. 2 tablespoons of milk will yield a thicker glaze and 4 tablespoons of milk will make it slightly thinner. Generously spread the frosting over the cinnamon rolls.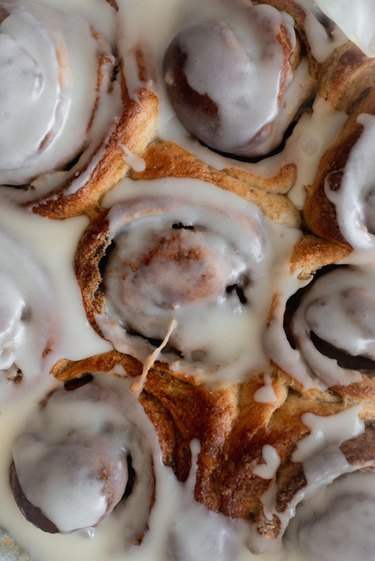 Step 5: Serve & Enjoy
Serve and enjoy the cinnamon rolls! They are best eaten warm on the day of making but can be stored at room temperature in an airtight container for up to two days or kept in the refrigerator for up to three days. Re-heat before serving.