This stylish scarf is a simple sewing project anyone can do -- really! Perfect as a heartfelt handmade gift during the holidays, or to sew for yourself when the weather gets chilly.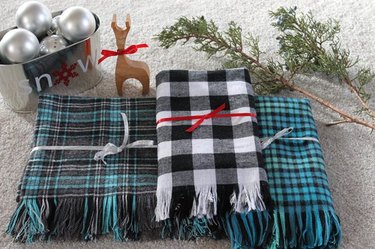 Things You'll Need
2 yards of woven flannel fabric

Measuring tape

Sharp scissors

Seam ripper

Pins

Sewing Machine
To make two full scarves, cut the 2-yard piece of flannel in half lengthwise, so you end up with two 22 1/2-by-72-inch pieces of fabric.
To make four narrower scarves, cut your fabric lengthwise again so you have four pieces of flannel 11 1/4 inches wide by 72 inches long.
Use a seam ripper to pull one thread from the short side of the flannel.
Then pull the thread out with your fingers.
The next part takes a while, so put your feet up, get comfortable and put in some of your favorite music. Continue pulling threads, one at a time, from the short ends of the flannel until you have created 2 inches of fringe.
If you're feeling super ambitious, you could fringe out all four sides of the fabric. This would look nice as well.
If you've created fringe only on the two short sides of the scarf, fold over 1/8 inch along both of the long, raw edges and press. Fold 1/8 inch over again, press and pin.
Sew along the pin lines, removing the pins as you sew.
Fold it up, add a pretty ribbon and you've got a great holiday gift.