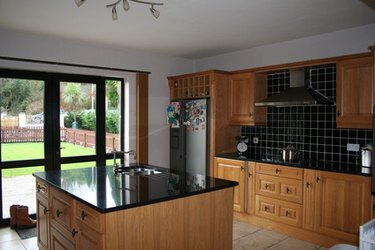 Granite countertops are an increasingly popular part of many kitchen designs. One of the elements also popular in today's kitchen design is undermounting a kitchen sink, or installing a kitchen sink so that its opening is below the surface of the counter. This allows you to push debris directly into the sink without it becoming caught on an edge.
The granite counter is cut to the size of the sink, with some considerations for the strength of the stone and the size of the sink and cabinet.
The Placement of an Undermount Sink
When a sink is undermounted beneath a granite counter, several measurements must be accounted for. The sink itself must be three inches in width smaller than the cabinet that is being installed, while the granite needs a minimum border of three inches of width around the entirety of the sink. More than 3-inches is fine, but less than this amount may stress the integrity of the stone, leading it to crack or break.
Room needs to be left behind the sink for drilling a faucet, with ideally at least four inches of stone left for this purpose. Therefore, to make these measurements, the sink and faucet must be on hand, and the cabinets installed when the counter is templated and measured for cutting
Placement of the Sink Under the Stone
The sink is measured and the granite opening is cut to the exact size of the sink. The inside walls of the sink, and the granite opening, should ideally be flush with one another once the sink is installed. If the granite must have a lip of any kind, it should be only millimeters over the edge of the sink. To have too large a lip will cause debris, such as mold to collect on the underside of the rim. Additionally, any kind of overhang can further stress the stone.
The sink will have a lip attached to the underside of the stone with epoxy and metal clips holding it in place. The finished installation of the sink will have the sink fitting into the sink base cabinet, with the granite opening flush to the sink, and the granite surrounding the sink with at least three inches in front, four inches in back and adequate space on each side.