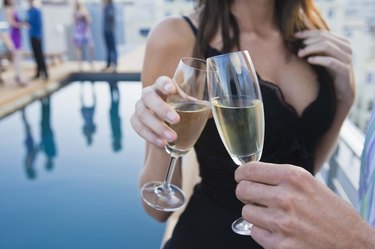 Hosting a fundraiser is a great way to get involved with a cause that is important to you and build up relationships within your community or organization. However, planning and executing a profitable event takes far more than good intentions. If you want to put together a Cash Bar fundraiser you must first make sure that you have the resources, personnel and time required to make your affair a success.
Planning
First, look at your organization or group and ascertain if you have enough resources to run a fundraiser. You need people who have the interest, time, talent and connections required for the work, and you also need enough up-front capital to put it all together.
Next, you need to consider what type of event you are going to hold and where. A cash bar fundraiser can be anything from an informal get-together in a member's home where a presentation is given and participants are asked to pay for their drinks as a donation to the cause; to a formal affair held at a country club or banquet hall.
Think about the audience you want to reach: people who would be interested in raising funds for a local animal shelter may be very different from those who would like to support the opera theater. Establish the type and cost of your event based upon the demographics of your target market: are they generally young or old? Would they be readily available? How much disposable income do they have? Do they have strong ties to the cause? Is there a particular type of event that this audience regularly attends? Knowing the answers to these questions and building your function around them will increase your chances of holding a lucrative fundraiser.
Once you determine the type of affair you are going to have, the next biggest question is: when? You will need to give yourself enough time to prepare and you will also have to consider possible competing events. Additionally you have to make sure your fundraiser is seasonally appropriate—holding a Cash Cart fundraiser at your local golf course in February, for example, probably isn't a good idea unless you live in a climate that allows for year-round golf.
Preparation
After you have your initial plan together, your next big question will be where you are going to hold your fundraiser. The best option would be a venue that that someone is willing to donate to your cause, but, if you are unable to find such a place, choose a site that gives you the most amenities for your budget. Don't be afraid to shop around and always ask if the owners or managers would be willing to throw in "extras"—like coat checking, valet service, or hot hors d'oeuvres—as a donation. Keep in mind that if you choose to hold your event at a location that does not already have a license to sell alcohol, you will likely need a special license from the municipality where your event will be held.
Once your location is set you can start advertising and publicizing your event. Always take advantage of the free and low-cost ways to market your fundraiser: press releases, notices in Church bulletins and community message boards, and flyers handed out by volunteers, are all ways to advertise that will not strain your budget.
Next, you need to get your drink supply together. The type of event you are holding will determine the type of beverages you need and whom you should contact. If, for example, you are having a "Great Beers of the Northeast" event, you will want to contact not only all of the major beer distributors in your area to request donations, but all of the microbreweries you can find as well. If, on the other hand, you are having a "Black Tie and Martinis" evening, you'll need to contact the manufacturers of the various "top shelf" alcohols, and all of your local liquor stores. Do not forget to also contact stores and distributors for non-alcoholic beverages for those who attend but choose not to imbibe.
In addition to what you will be serving, you will need someone to serve it. This can be as big of a draw as the drinks themselves if you make an effort to find bartenders who are entertaining, famous, or well-known in your community. People will generally pay more to be served by the Mayor, an area sports star, or someone who juggles liquor bottles as they pour. Do not overlook your local Pub/bar owners who may have contacts that can help you stock your cash bar or know people who would make great "celebrity" bartenders.
Safety
One of the most important aspects of a rewarding cash bar fundraiser is your responsibility to your guests. You cannot assume that your attendees know their limits and will not over-drink. Having designated drivers or arranging for transportation after the event will prevent problems and could even avert a tragedy. As an added bonus, not having to worry about how they will get home can entice people to participate and help them relax and enjoy themselves once they are there.