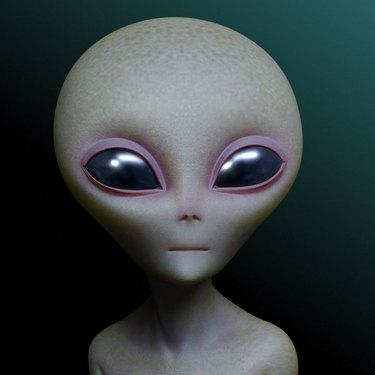 Whether you feel ready to cruise the galaxy or simply make a stellar entrance at your costume party, you can easily dress up in the most up-to-date alien fashions. Create your own stylish alien wear with everyday objects, basic sweats, sheets and a few props. With a little imagination and minimal labor, you can be the best-dressed alien in town.
Unusual Costume Items
Create unusual alien bodies out of trash cans, lids and boxes. Cut arm holes into a 32-gallon plastic trash can, and cut away the bottom. Use the trash can as the alien body or as a galaxy base for an alien head. Paint the can black and sponge paint glow-in-the-dark stars onto it. Cut a head hole in the lid. Paint it black and add Styrofoam planets. Assemble rock aliens with used cardboard boxes, chicken wire and expanding spray foam. Leave the bottom and top of the cardboard boxes open, and attach straps to go over your shoulders. Wrap the box in chicken wire and spray expanding foam through the wire. Paint the foam.
Sweat Suits
Sweat suits can be used for several different costume pieces. Choose a solid-colored sweat suit to create a uniform similar to ones found on Star Trek aliens. Paint intergalactic space symbols on the shirt. Cut pieces of silver fabric with hook-and-loop closures to create spats. Wear them over boots or low ankle shoes for space boots. Use the yoke and sleeves of a sweatshirt to create a Star Trek-inspired uniform shirt. Cut a sweatshirt underneath the neckband and arms. Wear the piece over a turtle-neck shirt. Use the remaining sweatshirt fabric to make a skirt. Cut small holes just under the banded edge of the sweat shirt. Run a piece of cord through the holes, and tie the cord at the waist. Pair it with black tights and knee boots.
Sheets
Cut a head hole into the center of any colored sheet to make a formal alien's dignitary garment. Wear it with a turtle neck and tights. Cinch it at the waist with a wide belt. Make a simple cape out of a sheet by cutting a neck hole 4 inches from the edge and allowing it to drape behind you. Tie the center front area with a cord, and hot glue a big metal button in the center. Wear with a leotard and knee boots.
Alien Costume Props
Simple props help to pull together alien costumes. Many are easy to create with paint and a little hot glue. Make a ribbon-wrapped head band and add pipe cleaners with small Styrofoam eyes attached to the end. Use metallic paint to make space guns out of old foam shooter guns. Or paint an old flip phone with metallic paints to make a communicator device.