Things You'll Need
Pot with lid

Olive oil

Onions, chopped

Celery, chopped

Garlic, minced

Vegetables, rinsed and chopped

Tubers, rinsed and chopped, optional

Wooden spoon

Italian seasoning

Noodles, barley or rice, cooked; optional

Chicken or beef, cooked and cubed; optional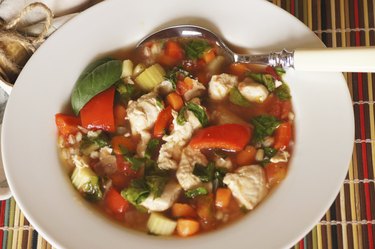 Few things offer the kind of simple culinary comfort you find in every spoonful of a hearty, homemade vegetable soup. Unfortunately, few home cooks have the time to build the rich flavor profile of vegetable stock, and not everyone likes chicken or beef broth in their vegetable soup. V8 Juice offers the deep flavors of a vegetable stock with a fresh tomato-laced tang that makes a quick and convenient base for homemade vegetable soup.
Step 1
Coat the bottom of a large soup pot with a thin layer of olive oil. Heat the oil over medium heat until the surface develops a shimmer and you can smell the oil's rich scent. You can also use canola oil or vegetable oil if they are all you have on hand, though olive oil adds flavor.
Step 2
Stir chopped onions and celery into the hot oil so that they are well coated. Precise amounts are not important, but try to have equal amounts of onion and celery. One-quarter cup to 1/2 cup of each is a good starting point for a large pot of soup. Cook and stir them until the onion is translucent and the celery is beginning to soften, about 2 to 4 minutes.
Step 3
Sprinkle minced garlic into the pot, stirring it to coat it well with the oil. How much garlic depends on individual taste, but 1 small clove for every 1 cup of combined onion and celery is a good guideline. Cook the garlic with the onion and celery until it is heated through and its scent loses the sharp bite it has when raw.
Step 4
Stir in 1 pound or so of mixed vegetables such as broccoli, cauliflower, carrots, zucchini, yellow squash, green beans, corn and peas. Add potatoes, sweet potatoes, turnips or parsnips as well. Any combination will work, so don't be afraid to get creative.
Step 5
Season the vegetables with Italian seasonings, herbes de Provence or your favorite spice mix. Stir the vegetables so that they are coated with seasonings and thoroughly mixed together.
Step 6
Pour enough V8 Juice of any variety into the pot to completely cover the vegetables with at least 2 to 3 inches of extra juice at the top. Use Spicy V8 Juice for an extra kick. For a large pot of soup, this can take two large containers of V8, so you can mix one plain and one spicy, or any other two varieties.
Step 7
Stir the contents of the pot and bring it to a low boil. Lower the heat to a gentle simmer and cover the pot. Cook the soup for 1 to 2 hours until the vegetables are cooked through and the flavors have blended.
Step 8
Add cooked noodles, barley or rice; and cooked, cubed chicken or beef for a heartier soup, if you like. Correct the seasoning to taste and serve with hot cornbread and a crisp, green salad for a complete meal.
Tip
Toss in a can of drained chickpeas and shaved, fresh Parmesan cheese on top of your hot soup for a touch of Italian flair.
Add a splash of red wine or dry sherry to your vegetable soup for a richer and more sophisticated flavor.
Place all ingredients into a slow cooker and cook it on low heat for 4 to 6 hours to have hot and hearty soup waiting when you get home on a chilly day.
Warning
Do not add salt to this soup without tasting it first because V8 Juice is fully seasoned.
Do not add softer vegetables like mushrooms to the soup until the end of cooking to keep them tasting fresh.