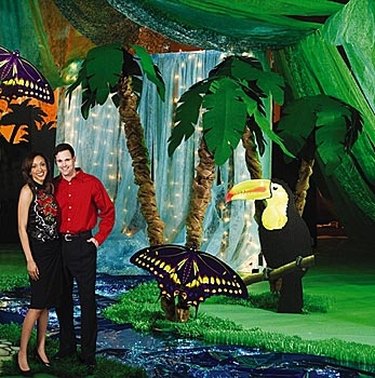 Want a wild party? Then consider having an exciting jungle theme. Fortunately, there are a plethora of jungle theme decorating kits that can transform any room into a tropical forest. You can either fully transform your entire party room into a full theatrical jungle or limit the look to having bits and pieces of the jungle.
Green Scheme
Green is the dominant color of the jungle, so it's up to you to decorate with as much greenery as possible. Use different shades of green, from green balloons, streamers, gossamer, etc. The sun rarely shines through the jungle because of forest canopies. Consider creating your own canopy out of green cloth that drapes from one end of the ceiling to the other side or consider throwing in some vines. Have palm tree props to quickly create an exotic atmosphere. You can cover your tables with animal print or stick with the green theme.
Atmosphere
There's nothing like the music of nature. You can bring the sounds of the rain forest to any home by downloading or buying a CD. Get a fog machine to help you achieve that realistic misty jungle feeling. If you're having your party outside, use tiki lights.
Animals
Hang cutouts of animals on the walls. Find tropical animals, such as parrots, butterflies, monkeys, lions, etc. If possible, find a monkey prop to hang from a palm tree. Find balloons in the shape of animals. Use animal pattern cups, napkins, and plates.