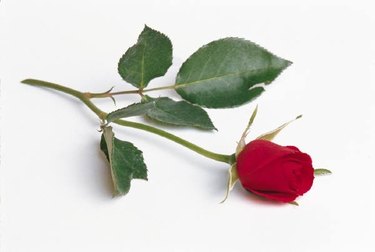 Valentine's Day, celebrated worldwide on February 14, is a holiday when people express their love for one another by giving each other gifts, cards, flowers or candy. What should you do if you've fallen on hard times? There are great ways you can show that special someone how much you care, without spending very much money--if any at all.
Greeting Cards
Many greeting cards can be purchased for less than $5. If you don't have any money, make your own greeting card on your computer. Open any paint program and set the image to 8 inches by 10 inches. Design your card and print it. There are some greeting card programs that are installed on many new computers. You can also send a free greeting card online. There are various websites out there that offer online greeting cards. If you can't buy your loved one anything, a greeting card will at least let them know that you thought of him.
Poems
Sometimes it can be hard to think of a poem. Poetry.com offers various services, free of charge, to help you write a poem. They also have a "rhymer," a program that lets you enter a word and find words that rhyme. Give the person the poem, slide it into a card, send it to his email, leave it in his car or on his pillow on Valentine's Day morning just after he's gotten up.
Food
Some candy can be purchased for less than $5. Give heart-shaped candies or a small box of chocolates. Or, cook something. Make them breakfast in the morning or dinner that night. A single rose, which can be purchased for less than $5, along with a meal cooked by you, will satisfy your valentine.
Gifts for Her
Find nightgowns, perfume, a bouquet of flowers, a bath and beauty set or a stuffed animal for under $20 at many department stores. Most women are happier about the gift, rather than what it cost. By adding a single rose, a letter from the heart, or a card, you can make it a special Valentine's Day for under $25. If you do not have any money to spare, a letter or a poem will suffice.
Gifts for Him
Some cheap gift ideas for men include wallets, hats, pajama sets, cologne, hobby magazines, fishing gear, sporting goods or a new basketball or helmet. Include a nice card and you can spend less than $25. Try cooking breakfast and giving him a sweet letter if funds are in short supply.