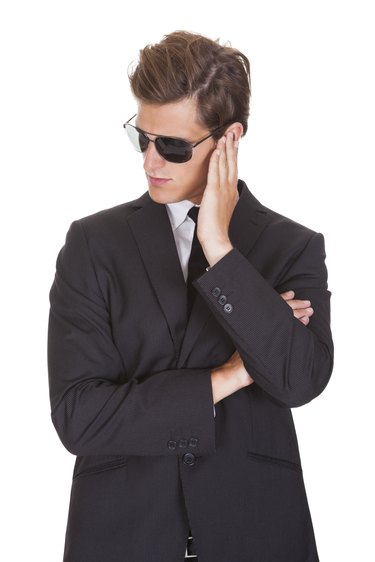 Whether you've received a last-minute party invite or you simply don't have much time or cash to invest in an elaborate Halloween costume, there's still hope. A trip to your own closet may unveil a bulk of the materials needed to create a costume that you can complete with a few additional crafting supplies you may already have. Keep thrift stores in mind as well; you may find just the item you need for a quirky Halloween costume.
Simple Sports
Dressing as a sports player may be as easy as looking through your closet or drawers for team gear if you play a sport or are a fan of a local team. A soccer costume can be as simple as a soccer jersey, a pair of shorts, cleats, shin guards and sports socks. Wear your favorite team jersey from any sport, purchase a pair of pants or shorts typically used in the sport, rounding out the look with tube socks or sports socks and cleats. Add some fake eye black makeup under your eyes for a football player's costume to add to the effect. If you don't have any jerseys or uniforms and don't have funds to make your own, whip up a faux jersey using strips of painter's tape or duct tape on a solid-colored T-shirt, using the tape to create a number and player name. A white T-shirt and thick black tape pair together for a referee's shirt.
Stick Figure Sillyness
Turn yourself into a stick figure by starting with a white long-sleeved shirt and pair of pants, or a white dress you don't mind potentially ruining with tape. Create a stick torso down the middle of the shirt or dress with black duct tape or painter's tape -- painter's tape will pull off more easily afterwards. Craft the stick arms and legs with tape, also connected to the torso. Add bits of tape to gloves to create stick fingers as well, if desired. Use glowing duct tape for a glow-in-the-dark stick figure, or use white tape on black clothing and create a skeleton instead, adding ribs across the torso. Your head serves as the stick figure's head in any of the stick-figure costumes.
Totally Touristy
Just as an outlandish outfit makes a tourist stick out he's visiting a vacation locale, a tacky tourist outfit ensures you'll be noticed on Halloween. Wear the brightest, visually loudest Hawaiian shirt or flowered dress you can find, along with sandals and black or white socks. Dress as an older female tourist by wearing comfy sandals and knee-high pantyhose rolled partially down. A large straw hat or floppy hat protects you during your touristy travels, and sunglasses large enough to fit over regular glasses protect your eyes. Wear an old non-working camera around your neck, such as a Polaroid camera from a thrift store, and pretend to take plenty of pictures. Carry a map for an add-on accessory.
Secret Security
Dress in all black and wear black sunglasses to act as a member of the CIA or Secret Service or as an A-list artist's bodyguard. Wear one earbud and talk into your sleeve frequently, as if the earbud is really an earpiece to communicate with other agents. Get a few friends in on the action, all dressed the same way, with one person acting as the celebrity, dressed in a sparkly gown or a tuxedo. If you don't have a black suit, dress up a yellow polo shirt with the word "security" on the back in black letters; act as a bouncer at a party, pretending to let some guests through and not others. If handing out candy, pretend to allow some kids to receive candy by allowing access to a VIP candy line, denying others temporarily.