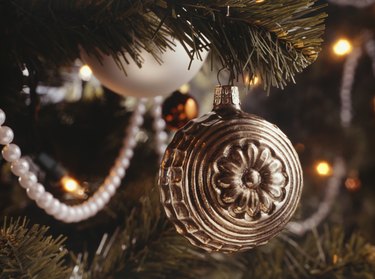 Many people have smart home gadgets, including even smart-tech Christmas trees. If the latter goes dark, do some LED smart-tech tree troubleshooting to solve the problem. Perform testing in steps to eliminate more common problems as you go.
LED Smart Tech Lighting Christmas Tree Troubleshooting
With some kinds of prelit Christmas trees, you can replace damaged bulbs with spares, so it is always good to have some extras on hand. If the problem is with the wire, you may have to replace it, as well. LED light strings have a one-piece construction, so you won't be able to check individual bulbs. Smart-tech Christmas trees have PVC-constructed branches that light up. You can turn them on and off and change their colors remotely using an app, so the troubleshooting process is different.
When these trees have multiple light plugs stacked together, you might notice that a section is not turning on or flickering as it should. Look to see that all of the plugs are secure. With one-plug and power pole designs, check every section where the poles meet. There could be something that is blocking the connection.
If you can't identify the problem spot, slide open the door for the plug and look at the fuses. If any are burned out, replace them. Next, you can plug the strand into an extension cord. Did the tree light turn back on? If not, continue your troubleshooting by moving on to the bulbs and wiring.
If any bulbs are burned out, you can replace those with extras that came with your tree, or others you purchase that are the same type. However, if you notice fraying or split wiring, you should not attempt repairs by yourself. This is a safety issue, so you'll either need to use the tree unlit, purchase a new one or contact the manufacturer for help or warranty information.
Types of Smart Tech Christmas Trees
Smart tech trees are easy to set up, use and take down after the holidays. Their twinkling lights are already built in, meaning there are no messy wires. You can use a computer or smartphone to control the trees and even set up schedules and timers. This is a great feature if you plan to go out of town or are already in bed when you realize you forgot to turn off the tree lights.
Check to see how tall the tree is before buying, and see how much room you have for it; you don't want it to hit the ceiling. Look for smart tech trees that are Alexa and/or Bluetooth-compatible so you can control them wirelessly.
Additional Prelit Tree Features
Some allow you to create countless color patterns for every day of the month. These trees' lights don't take up much room; there will still be plenty of space to hang ornaments, tinsel and your favorite tree toppers.
These trees are sold in parts, which you can put together in minutes. Some experts recommend Mr. Christmas Tree, which has 2,400 flame-resistant tips (the branches are great for hanging ornaments). Goflame also makes a good tree that is somewhat less expensive. These trees do cost upwards of $300, but if you consider how much money you will be saving compared to buying a natural tree every year, the decision may be "smart."