Commonly, London broil is a name given to flank steaks and roasts. It is a lean cut of meat with very little fat and therefore, needs tenderizing before cooking under the broiler or on the grill. London broil adapts itself well to marinades. Some butchers and grocery stores will label other cuts of meat, such as top round or sirloin tip, as a London broil. London broil is also a name that can refer to the preparation and cooking of any type of beef steak or roast.
Marinating the London Broil
Marinades for London broil steaks or roasts should have a high acid content to help soften and tenderize the fibers of the meat. Lemon juice, tomato juice, vinegar and wine are all good acid bases for a London broil marinade. London broil steaks should marinate for 4 to 6 hours, and a roast will produce the best results if marinated overnight.
London Broil Steaks
London Broil steaks up to an inch thick can be grilled, fried or broiled. Cook on each side for 5 to 7 minutes to cook to rare, or 145 degrees Fahrenheit internally. Allow the steak to rest for 5 minutes before slicing or cutting across the grain. Cutting the steak across the grain helps to make the meat tenderer. Overcooking a London broil steak can result in tough, chewy meat.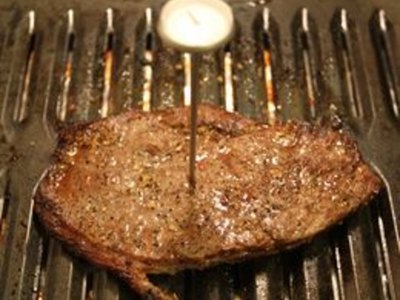 London Broil Roasts
A London broil roast can be cooked in the oven, on the grill or in a Dutch oven on the stove top. Like all beef, London broil roasts should be cooked to no less than 145 degrees for rare, 160 degrees for medium and 175 degrees for well done. Like steaks, the longer a London broil cooks, the tougher the meat will be unless you are using the braising method of cooking. Roast a London broil roast in 350 degree oven for 30 to 35 minutes per pound for a rare roast. Add an additional 5 to 10 minutes per pound for a roast that is more well done. If grilling or broiling a small London broil roast, plan on cooking for 5 to 10 minutes per side and then cooking over cooler coals for another 10 minutes or until the internal temperature reaches at least 145 degrees. A London broil roast braised in a Dutch oven on top of the stove will take 2 to 3 hours or until the meat is fork-tender and can be pulled apart easily.
Serving London Broil
When removed from the heat source, a London broil should be allowed to rest for 5 to 15 minutes. This will help the roast reabsorb some of the juices on the platter. Slice London broil in thin slices across the grain for super tender meat.