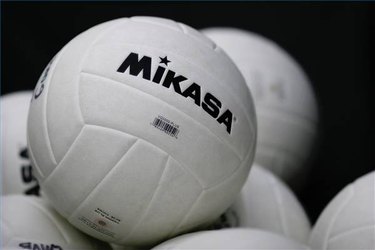 Celebrate the victories and the memories of your volleyball team with an end-of-the-season volleyball banquet. Invite family and friends to a banquet hall, gymnasium or cafeteria decorated in volleyball-themed decorations. You don't have to buy all your decorations. Instead have a fun time hanging out with your teammates and making the decorations.
Team Pictures
Set up the volleyball net and use clothespins to attach team pictures to it. These can be pictures of the team playing at meets or hanging out together. You can also pin small paper volleyballs, one with each teammate's number on it, to the net.
Jerseys
Use the team jerseys as centerpieces. Display the jerseys on shirt display stands in the center of each table. Pin small pictures of each player to her jersey as well as notes written to her on small pieces of paper from her teammates.
Streamers
Create volleyball streamers to drape across the ceiling and walls. Cut several white paper circles and decorate them to look like volleyballs or use volleyball die cuts from a craft store. Attach the small paper volleyballs to 2-inch wide ribbon, in team colors, with safety pins.
Plastic Foam Volleyballs
Paint small plastic foam balls to resemble volleyballs. Cut the bottom of the ball so that it is flat and will sit on a table. Stick several pieces of wire, cut to varying lengths, into the plastic foam volleyball. Tape pictures of the team and coaches to the pieces of wire. Use these as centerpieces or on a team display table.
Volleyball Vases
Make your own volleyball vase to use as a centerpiece or to decorate a team display table. Cut open an old volleyball and place a vase inside it. Arrange flowers, preferably in the team's colors, inside the vase.
Banners
Decorate the walls of the banquet space with team banners that you might see at a meet. Take long strips of colored paper, the kind that comes on large rolls, and paint them with volleyball-themed sayings and drawings. For example, you could decorate one banner to say, "Spike!" and paint a volley ball on it.