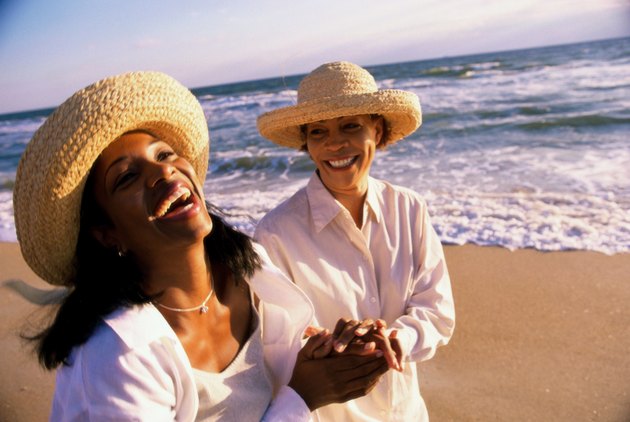 People often make a mockery of a woman turning 50, claiming it is truly the mark of becoming old. While many people find humor in this kind of celebrating, sometimes the birthday celebrator secretly wishes people would merely acknowledge she is not old and shriveled, that her life is not over. The best 50th birthday gifts will celebrate the living she still has to do rather than making fun of what is gone.
Taking the Time
Spa days make wonderful gifts for women turning 50 because they give the gift of time and pampering. Spending time at the spa allows her to reconnect with her body, her youth and her beauty. Sometimes there is nothing quite as divine as a massage, pedicure and facial.
Express Herself
Giving a gift certificate for clothing to a woman turning 50 will allow her to have some time to herself to pick out clothing that will help her to feel her best. Instead of encouraging her to dwell on her age, it encourages her to take the time to enjoy her beauty and express herself in the image she projects to others. Your gift will be noticed and greatly appreciated among the sea of over-the-hill gag gifts.
Stepping Out
Take the birthday celebrator out on the town to celebrate her 50th birthday. Get dressed up, have a nice dinner and go out to hear some lively music. No need to sit at home and crack jokes about getting older when there is still so much living to do. Let the good times roll.
Party On
Take the birthday lady on a 50th birthday celebration getaway. Plan a long weekend somewhere fun and youthful like Disney World or Las Vegas. Include tickets to interesting shows and find eclectic restaurants. Getting the birthday girl to let down her hair, forget the rules and have some youthful fun will help her to feel rejuvenated and alive.