Flinstones--They're the Flintstones--and now you can be too. The family and friends that reside in Bedrock consist of Fred Flintstone, his beautiful wife Wilma and their red-headed baby Pebbles. Then there's the neighbors, the Rubbles--Barney, Betty and Bamm-Bamm. Choose your favorite character to make a fun-filled stone-aged party or clever costume for Halloween.
Fred and Wilma
For the scarcely-sewing costume designers, using pre-made clothing is best. Head to the construction or work outfit aisles of any store (places where farm work clothes are sold work well, too). Find an orange T-shirt. Cut the sleeves to make them look ragged (but almost gone) and cut the bottom to be ragged and pointy. Look at the cartoon Fred for better ideas. Use cloth glue to affix cut out black circles (black T-shirts or any cloth can be used for these). Make a large, loose light blue tie out of any cloth or an old scarf cut ragged. And remember, Flintstones don't wear shoes.
For Wilma, use a large white T-shirt. Making sure to only allow for one strap for the dress, over the left shoulder. Then make the bottom ragged like Fred's outfit. For a cartoonish effect, head to the craft aisle for Wilma's necklace. Any large white balls will work, but styrofoam ones are easiest to thread. A poofy ponytail and thick blue eyeshadow top off the ensemble.
Pebbles and Bamm-Bamm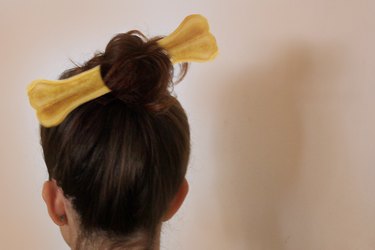 If you have kids along for the ride, use a child's t-shirt that is large on your Pebbles (one that goes past her knees) and cut off the sleeves, cut a small V-neck, and cut the bottom in ragged triangles. Cut out pointed black shapes from a t-shirt or other fabric and use cloth glue to affix them to the dress. A ponytail sprouting on top of the head fits this perfectly.
Bamm-Bamm is all about accessories. Equip your little guy with a sideways or backward orange cap that fits him, and affix pointed black fabric with cloth glue. Hand him a "club"--try a large dog bone for a fun dinosaur bone effect. If it's Halloween-time, look for another discounted item that might work. Then just make a matching loin cloth out of orange fabric, with ragged edges.
Barney and Betty
Barney is simple, but the costume may be itchy. Try a burlap or just a brown fleece and fashion a wrap-around brown jacket, almost, with a strings near the neck that tie. Make the outfit sleeveless and the bottom ragged. Very simple to do, and not time-consuming.
Betty may take a little splurging, unless you have her black bob. Betty Rubble wigs or similar ones can be purchased at costume stores. Fashion a blue outfit from felt. It is easier to make two pieces, one top piece that is upside-down triangle shaped. Cut a styrofoam ball in half to make a jewel to affix to the top, and make straps of black felt. Make a matching blue felt skirt. This outfit will require the skills of the sewers in the family.