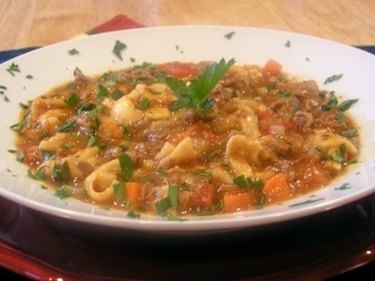 Soup and salad make excellent dinners because they offer a wide variety of combinations to choose from. You can go the hearty route for those winter evenings, or try something a little lighter when the summer heat kicks in. Reversing the order and making salad your main course with soup on the side also offers alternatives when planning your dinner menu.
Hearty Meals
A good, robust soup can be both filling and comforting on cold nights. Chowders, stews, and bean-based and pureed soups make for a hearty meal. Along with a traditional clam chowder, try corn or potato-based chowders that can incorporate Italian, Indian or Mexican spices easily for variations on the theme. White, black and red beans along with lentils and split peas make good foundations for thicker soups and stews while also providing protein and dietary fiber.
Leafy green salads pair well with any of these soups, along with a heavy-crusted bread like ciabatta or sourdough. If you would like to stay with a warm dinner, try a wilted spinach salad with sautéed onions and red peppers.
Lighter Fare
For those nights when you need something less substantial or the thermometer is reaching the high numbers, try a broth or even a cold soup like gazpacho or vichyssoise. Chicken noodle is a standard, but using beef broth and adding small chunks of sirloin, carrots, onion and celery also works well. When looking for a slightly different or exotic taste, try dissolving miso into a chicken or vegetable broth. Miso soup is well-known in Japanese restaurants and is cheap and easy to make at home by purchasing miso paste at the supermarket. Add chopped green onions, chicken or tofu to complete the soup.
While green salads are typically served with soup, you can also try salads made with cooked wild rice, millet, quinoa or whole-wheat pasta as the base. You can add raw, lightly steamed or sautéed vegetables to enhance any of these high-protein grains. These all provide a little added filler to complement the lighter soup without making the meal unduly heavy.
Vegetarian and Vegan Fare
Rich vegetable soups with a tomato base don't need to incorporate meat or milk into them. Blended soups can provide a creamy texture without using dairy products as their foundation. One way to thicken vegan or vegetarian soups is to puree two or three cups of freshly roasted vegetables and add that to a hot broth. This will add a rich flavor, color and thicken the soup nicely. Sweet potatoes, carrots, onions, celery and garlic work well for this purpose.
Traditional soups like cream of mushroom and broccoli can also be made without using cream. Use alternatives to milk products like soy or rice milks, pureed avocado, or tofu to provide the desired texture.