Making tomato sauce from fresh tomatoes is really as easy as one, two, three. But as simple as the process may be, you'll need to devote a few hours of cooking time to get it just right. This fresh tomato sauce is delicious atop classic spaghetti, or even better when served with chicken Parmesan.
Things You'll Need
Large pot

Blender or food processor

Immersion blender

5 pounds of tomatoes

2 teaspoons of olive oil

5 cloves garlic, minced

1 medium yellow onion, diced

1 tablespoon dried thyme

1 tablespoon dried oregano

1 tablespoon fresh basil, chopped, plus additional for garnish

1/2 - 1 teaspoon crushed red pepper flakes

Salt and pepper, to taste
Step 1: Cook the Onion and Garlic in a Large Pot
Warm a large pot over medium heat, and then add olive oil. Once the oil is hot, dice the onion and garlic and add them to the pot . Cook the onion and garlic until they're translucent and aromatic, about four to six minutes.
Step 2: Dice Half of the Tomatoes
Dice two-and-a-half pounds of the tomatoes, or about half of the portion.
Step 3: Stir in the Tomatoes
Add the diced tomatoes to the onion and garlic mixture and stir together.
Step 4: Puree the Remaining Tomatoes
Using a food processor or a blender, puree the remaining tomatoes. Pour the mixture into the pot with the diced tomatoes, onion and garlic. Mix the ingredients together.
Step 5: Mix in the Seasonings
Add all of the seasonings to the tomato mixture, including the dried thyme, dried oregano, fresh basil and crushed red pepper. Season the sauce with one to two teaspoons of salt and one teaspoon of pepper. Place a lid on the pot and cook sauce on a low heat for two hours, stirring occasionally.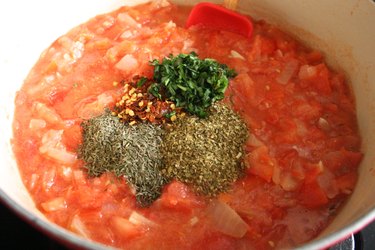 Step 6: Create a Consistent Texture
Using an immersion blender or food processor, blend all of the ingredients together to create a consistent texture. Place the lid back on the pot and allow the sauce to simmer for an additional 60 to 90 minutes, stirring occasionally. Season with additional salt and pepper, if necessary.
Step 7: Serve the Sauce
Serve sauce hot, atop pasta or chicken, and garnish with chopped basil.