Ask any baker for her preferred brand of cake pans and she will likely answer, "Wilton." In business since 1929, Wilton has a reputation for quality baking and decorating products and is one of the foremost names in teaching the art of cake decorating. Attention to the use and care of Wilton pans helps bakers of all skill levels achieve the delicious and visually appealing results they desire.
Wilton Pan Basics
Wilton cake pans are made from aluminum, silicone or heavy-gauge steel. Each type of pan has its own benefits and must be cared for properly.
Pure aluminum pans are preferred by many bakers because they cook evenly and produce a golden outside. While most are dishwasher safe, Wilton recommends hand washing in hot, soapy water for best results.
Silicone pans are ideal for detailed, small cakes and treats as their flexibility makes it easy to release cakes without breakage. Silicone pans are freezer-, refrigerator-, oven-, microwave- and dishwasher-safe, and can double as candy or gelatin molds.
Wilton's heavy-gauge steel pans have a non-stick coating and are ideal for the home baker. The solid construction ensures years of use and the non-stick coating promotes easy cake release and cleanup. Wilton recommends hand washing these pans.
Traditional Pans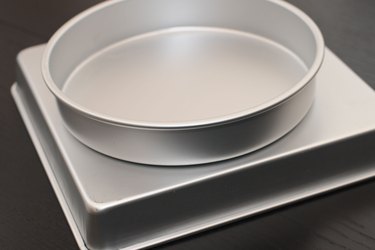 Traditional pans include the most popular cake shapes: round, square, rectangular, oval and heart. The array of sizes appeals to both home bakers and professional cake artists, and most of Wilton's traditional pans are a full 2 inches deep. Wilton offers traditional pans in aluminum, silicone and heavy-gauge steel.
Shaped Pans
Wilton makes a variety of shaped pans ranging from cartoon characters and superheroes to holiday decorations and sports items. The shaped pans are indented or molded on the bottom, resulting in an intricately detailed cake that makes decorating easy. Shaped pans for effortless, detailed mini treats are also available.
3D Pans
For extra "wow" factor, Wilton offers 3D pans that make completely freestanding cakes in shapes such as eggs, sports balls or animals. You fill the two pan halves with cake batter and snap them together securely before baking. You can use kitchen twine to help keep rising cake batter from forcing the pans apart. Wilton recommends placing 3D pans on a cookie sheet when baking. Cakes may take longer than usual to bake in 3D pans; follow instructions carefully.
Preparing the Pans
A properly prepared pan yields the best results. Before using your Wilton cake pan for the first time, remove any stickers or tags, wash in hot, soapy water and towel dry. Using a paper towel or pastry brush, coat the inside of the pan with solid shortening. Dust with flour, shaking out excess. Or, use a cooking spray or a cake release spray. If using a shaped pan, get the shortening or spray into all the small indentations so that details do not stick and break when you release the cake. Follow the instructions provided with your pan for baking temperatures, times and care considerations that may be included with specialty pans.