Things You'll Need
Brandy, whiskey or other spirit

Plastic wrap

Aluminum foil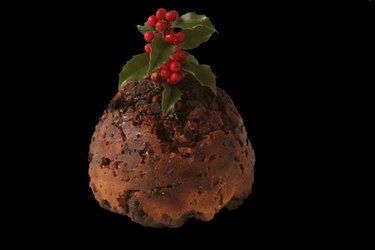 Contrary to its name, plum pudding often does not contain any plums. It is more like a cake rather than a pudding. Despite its potentially misleading name, plum pudding is a traditional Christmas staple for many people. Make the plum pudding early and store it for at least a few weeks and up to a year before serving it.
Step 1
Pour brandy or another spirit over your freshly cooked, but cooled, plum pudding. Do not completely soak the pudding, but use enough that a good amount sinks in.
Step 2
Wrap the pudding in a complete layer of plastic wrap, then a layer of aluminum foil. Store the plum pudding in a cool, dark place such as a cellar or a cabinet that is not near the stove or a heater.
Step 3
Unwrap the pudding every week or two and pour more brandy, or the spirit of your choice, over the pudding. Use only a small amount of alcohol in these feedings, otherwise your pudding may become soggy, fragile and dangerously flammable. Rewrap the pudding and return it to its storage place.
Tip
You can poke small holes in the pudding to allow more of the alcohol you pour over the top to soak into the pudding instead of it running off the sides.
You do not need to pour alcohol over the pudding as it ages. Instead, you can store the wrapped pudding without doing anything to it until you are ready to use it.
Resteam the pudding in the same way as you originally made it for several hours immediately before serving it.