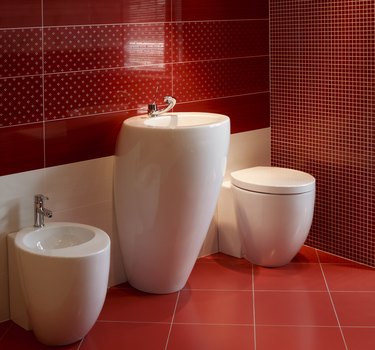 There is a myriad of bathroom flooring options and some, like linoleum, are easy to care for while others, like wood, are not for the faint of heart. Technically you can use any flooring material you like in the bathroom, including vinyl sheets and carpet. The best bathroom flooring materials, however, are tile and linoleum. Both are easy to clean, water resistant and last for many years when properly installed and maintained.
Trying Tiles
Tile bathroom floors provide superior water resistance and easy cleanup. Tiles are available in a wide range of materials including ceramic, stone, vinyl, porcelain, glass and marble. Wood grain tiles are also available that mimic the look of wood but offer the performance of porcelain. The price of tiles varies greatly with the material used as does the expertise needed to install them. As of 2014, the approximate cost per square foot of professionally installed tiles was $5 for ceramic and porcelain tiles, $6 for marble and $8 for glass. Most homeowners can tackle installing vinyl tiles on their own but ceramic and marble usually require more expertise. Slightly textured tiles are a better choice than those with smooth finishes, which get slippery when wet.
Liking Linoleum
Linoleum is an excellent choice for bathroom floors as it repels water, has antibacterial properties, resists dirt and dust, is made from renewable resources and can be cut to fit any floor shape. The color in linoleum goes all the way through the material, allowing you to buff out any scratches or damage and helping your floor last up to 40 years. Linoleum flooring cost around $2 to $3 per square foot in 2014 and is best installed by professionals.