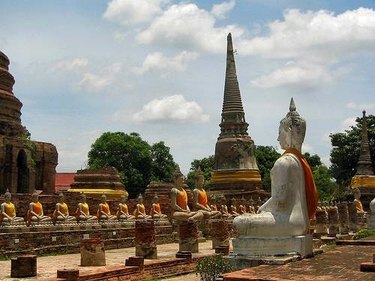 Do your children love art projects but get tired of making the same old thing? Add a global flair to your children's art repertoire by embracing the beautiful Thai culture and creating Thai-inspired art.
Practical Art
Who says art can't be practical? Get your children's creative juices flowing with these useful ideas for Thai crafts:
Use nontoxic and dish-safe paint to decorate the handles of chopsticks. Paint only the ends that won't be touching food. Teach your kids the fine art of batik on T-shirts or other simple items that they can actually wear (or give as gifts). Let your child try her hand at painting a batik scarf or sarong. Create hair barrettes to mimic Thai animals or flowers. Wrap hand-painted batik fabric over the edges of picture frames to create one-of-a-kind frames. Create Thai stationary by decorating blank paper with images of Thai fauna--animals such as monkeys or elephants--or flora such as water lilies or lotus flowers. Make Thai animal key fobs using polymer clay.
Playful Art
The fun doesn't have to end when the craft project is over. Have your child make one of these Thai crafts:
Make a string windsock or batik windsock to hang outside. Use leather or parchment to stretch over a cardboard cylinder (such as an empty oatmeal canister or #10 metal can) to create a Thai-inspired drum. Use leather or twine to wrap around the sides and hold the covering in place. Have your child decorate the sides of the drum with painted elephants or orchids. Mimic the design of a Hanuman traditional Thai monkey mask (or another traditional Thai mask) by carving it in large bars of Ivory soap. Use Popsicle sticks and toothpicks for carving to make the project extra safe. Make tiny paper umbrellas to use as party favors or to decorate a festive drink. Decorate white paper with elephants or other Thai designs and fold them into paper fans. Use polymer clay to create Thai mask pencil-toppers. Sew simple bean bags or stuffed animals that resemble favorite Thai animals, such as frogs, pigs or monkeys.