Things You'll Need
1-by-6-inch lumber, 40 inches long, 2

1-by-6-inch lumber, 28 3/4 inches long, 2

1/4- or 1/2-inch square molding, 40 inches long, 2

1/4- or 1/2-inch square molding, 20 inches long, 2

Measuring tape

Pencil

Box of 2-inch wood screws

Screwdriver

Builder's square

2-by-4-inch studs, 39 3/4 inches long, 2

Wood saw

1/4-inch plywood, 30-by-40 inches

White paint

Paintbrush

1/4-inch clear glass or plexiglass, 28 1/2-by-38 1/2 inches

36-inch fluorescent strip lights or incandescent bulb fixtures, 2

Drill

Power strip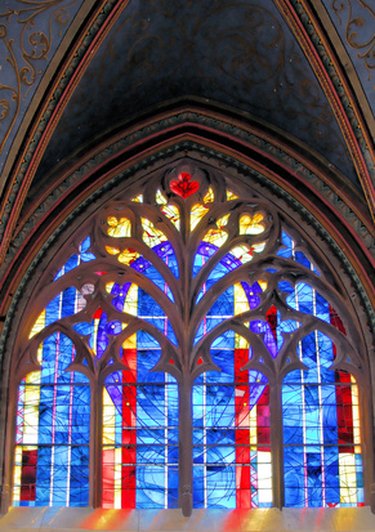 A stained glass light box is an important tool for viewing and choosing the best colors for any stained glass project. The light box enables you to see how the colors you choose look next to each other in transmitted light. The light box makes it much easier to determine the best combinations of color, texture, translucence and pattern direction. As you cut and shape the pieces, you can also lay them out on the light box to make sure the final layout looks as planned.
Step 1
Measure and mark 1/4 inch from one long edge of each 1-by-6-inch piece of wood.
Step 2
Screw the four pieces of molding along the mark 1/4 inch from the edge, onto the appropriately sized 1-by-6-inch boards (the 40-inch molding to the 40-inch 1-by-6, the 20-inch molding to the middle of the 28 3/4-inch 1-by-6). This provides a shelf for the glass or plexiglass.
Step 3
Screw the 1-by-6 boards together at the corners, using the builder's square to make sure the corners are at 90 degrees. Place the short sides inside the long sides when forming the box.
Step 4
Attach the 2-by-4s to each corner of the short side with screws. Leave 1/4 inch at the top to match the edge of the molding.
Step 5
Measure and cut 2-by-4-inch rectangles out of each corner of the 30-by-40-inch plywood to fit around the legs.
Step 6
Fit the plywood to the bottom of the box formed by the 1-by-6 boards and screw it into place.
Step 7
Paint the interior of the box white and let it dry.
Step 8
Attach the light fixtures to the interior of the box, along the bottom. Drill a hole and run the cords out to an on/off switch or power strip affixed to the outside of the box.
Step 9
Set the glass into place on the shelf formed by the molding.
Tip
The glass can be sandblasted on one side to diffuse the light. When choosing glass for stained glass lamps, be aware that the glass looks different when incandescent light is used versus fluorescent light, so plan accordingly.