Overview
Step 1
Pom poms are one of those cutsie things everyone loves but no one is quite sure what to do with. Here is a fun and simple way to use pom pom trim to make a bright and colorful necklace. Ideal for a DIY gift or something to make for yourself, it takes only a few minutes to create this statement piece. The pom pom isn't just ornamentation -- it's the star of the show.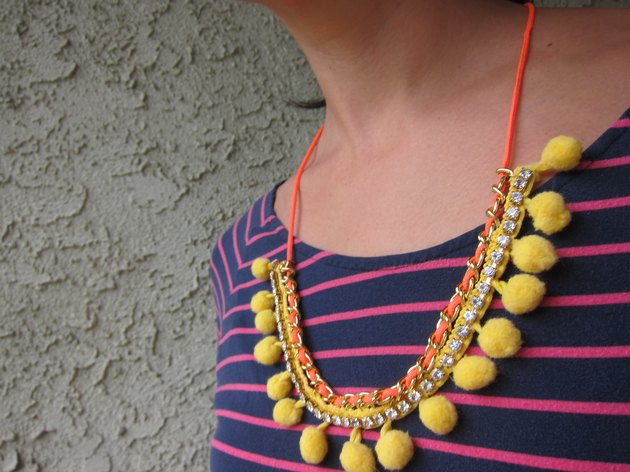 Materials
Step 1
To make your own pom pom necklace, you'll need: 10 inches pom pom ribbon, 10 inches rhinestone strand, 10 inches curb chain, separated (10 for the necklace, 1 for the clasp), 2 feet orange nylon cord, 12 jump rings, 2 eye pins, 2 end caps, 1 clasp, wire cutters, flat-nose pliers and permanent glue.
Step 1
Step 1
Align the top of the pom pom ribbon with the length of the chain. Open your jump-rings and hook one end of the strand of pom-pom garland to one end of the chain. Close the jump-rings. Every four links, on the same edge of the chain, hook together the chain to the pom pom ribbon so the pom pom ribbon hangs from the chain in a flat manner.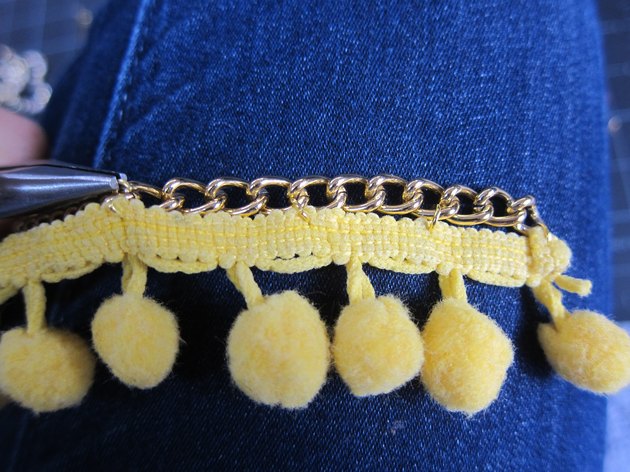 Step 2
Step 1
Remove the excess chain (1 inch). Save this for the clasp at the back of the necklace.
Step 3
Step 1
Take your cord and weave it through the curb chain in an up and down pattern. The cord will look like an inch-worm wiggling up and over the joint of a flat chain. This will create a Chanel-esque look to the chain. Scoot it through until the chain is right in the middle of the length of the cord.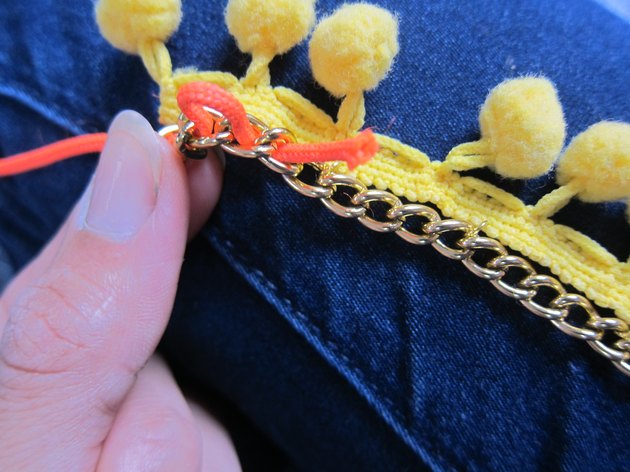 Step 4
Step 1
Glue the strand of rhinestones to the bottom edge of the flat ribbon of the pom pom.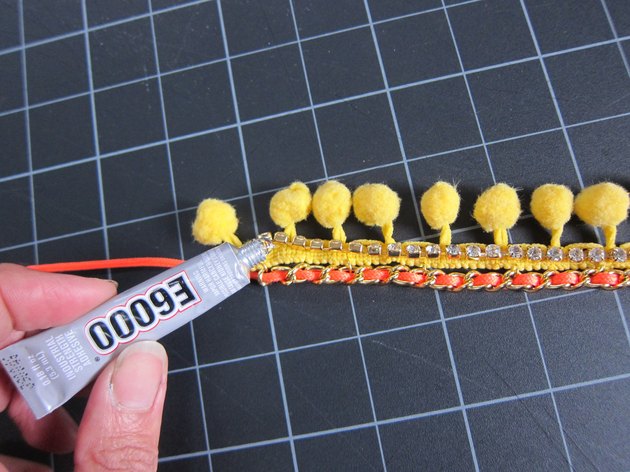 Step 5
Step 1
Use your wire cutters to trim away any excess rhinestones.
Step 6
Step 1
Load up the first head pin with the nylon cord 1/2 inch from the cut end, an end cap, and the clasp. Make a loop at the clasp's loop then wire-wrap right above the end cap. Trim excess wire.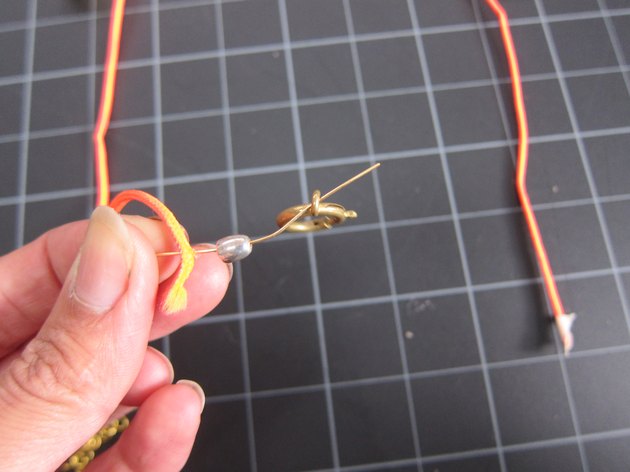 Step 7
Step 1
Load up the second end pin with the other end of the cord 1/2 inch from the end, the end cap, and the inch of chain. Make a loop with the wire, wrap once, then trim the excess with wire cutters.
The Finished Necklace
Step 1
Once you've attached the end cap and the clasp, you're ready to show off your pom pom necklace!