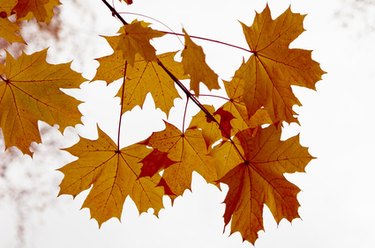 Homecoming for a church and its members is a time for renewing friendships and ties. It's a way for new and old members to reconnect to the church and commemorate the past. A homecoming often begins with a celebration of a special Mass and ends with a dinner for church members. Church homecoming organizers spent time preparing for the event. Decorating the banquet hall with a special theme is one way to create a festive and cheerful mood.
Seasons
Use the season as your guide. If the homecoming falls during autumn, decorate with autumn foliage and warm colors. For your table centerpieces, use fruits such as apples, blackberries, pears, plums, and fresh figs in a basket along a big candle and fall leaves. Tie the basket with big ribbons of orange and gold. If it's winter, decorate the venue with foam strips fashioned into icicles and snowflakes that hang from the ceiling. Decor should be white to echo the winter season.
History
If your church is many years old, print photographs of it from its beginning until its current state. Include the photos of former pastors, priests, church members and important people connected to the church. Use captions to explain the picture. Framing these photos and decorating the halls with them creates a museumlike exhibit. If the church's ministry is 30 years old, put 30 flowers on each table.
Holidays
If the homecoming falls near a holiday such as Christmas or Valentine's Day, use this as a theme. For Christmas, decorate the venue in red and green. For added festivity, put a big Christmas tree in the center and let the kids decorate it during the event. For Valentine's Day, make red and pink the dominant colors within décor. Set the tables with red mantels and put centerpieces of romantic votive candles floating in a small fish bowl sprinkled with rose petals.
Goals
Churches set many goals and using one as a theme adds a specific meaning. If a goal is to "spread the message of peace," decorate the venue with images associated with peace such as the dove. Make cutouts of doves on white paper and hang them from the ceiling. Add dove figurines and white flowers to each table.