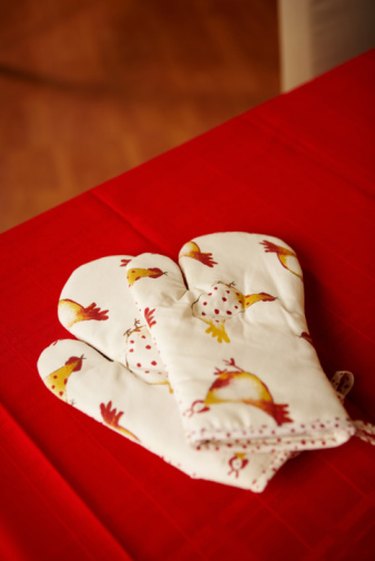 Use a basic oven mitt as an unpainted canvas for your next craft project. From a child making a Mother's Day gift to a Christmas-themed craft, oven mitt craft ideas will make use of your imagination to create projects your friends will envy. A quick trip to your local dollar and craft store is all you need to get started on these oven mitt crafts.
Mother's Day Gift
Let your child make a memorable gift you can keep for many years using fabric paints, a solid-colored oven mitt and fabric markers. Dip your child's hand in fabric paint and help her put a handprint on the front of the mitt. Use the other hand to put a handprint on the back of the oven mitt. Your child can use the fabric markers to write her name, the date and "Happy Mother's Day" on the oven mitt.
Animals
Create animal oven mitts using fabric markers, paints, a pencil and light-colored oven mitt. Take a picture of an animal, such as a chicken or cat, and trace the picture on the oven mitt using a pencil. Use the fabric markers and paints to color the picture on the mitt. Try to match the oven mitts to your kitchen theme. For example, draw a rooster on an oven mitt if you have a rooster-themed kitchen. Hang the oven mitt in your kitchen for added decoration.
Christmas
To make a Christmas-themed oven mitt, use fabric paints and solid-colored oven mitts. Paint diagonal red stripes all the way down a white oven mitt to make a candy can oven mitt. Paint Christmas ornaments all over a light green oven mitt to make it look like a Christmas tree. Decorate a white oven mitt like a snowman: Paint the eyes of coal, carrot nose and black hat on the mitt.
Puppets
Children can make puppets using oven mitts with several items found at your local craft and dollar store. Help your child hot-glue googly eyes and yarn (hair) on the oven mitt. Then he can use fabric markers, glitter and fabric paint to make the rest of his puppet oven mitt. For added decoration, let your child use felt or fabric to create clothes for the puppet. Throw a large cloth over a table and the child can kneel down behind the table to perform a puppet show.