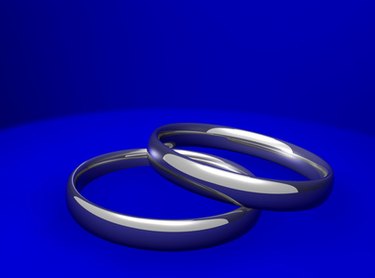 Every wedding anniversary is special, but 65 years of marriage is a rare accomplishment that should be celebrated in a big way. Both diamonds and sapphires are traditional gifts associated with this anniversary. Family members and friends of a couple celebrating their 65th anniversary can make this a special day by planning a celebration centered on the couple's long-lasting journey together, traditionally focusing on their children and grandchildren as well as their early life together.
Gift Ideas
Sixty-fifth anniversaries are a diamond anniversary year. Traditional gifts would include diamond jewelry, diamond-shaped picture frames and diamond-shaped candle holders. Sapphires, a brilliant blue gemstone, are also associated with this anniversary. Jewelry, cufflinks and watches with sapphires make exquisite gifts.
For anyone on a tighter budget or looking for a more personal gift, finding something meaningful to the couple's past, such as a book about their hometown or the location of their honeymoon, or a restored photo from their wedding, can make a meaningful gift. Also, spending time with the anniversary couple may be the gift that they appreciate most of all.
Party Planning
A 65th wedding anniversary should recognize the strong commitment and devotion that is required to stay married for practically a whole lifetime. Often the children of the couple will plan such a party and invite all of their extended family, friends, associates and neighbors. Traditionally this type of large party or reception is held at a church or banquet hall.
Photos of the couple over the years are perfect decorations for the party. Also consider, because of the age of the couple, holding the party in the daytime or early evening and including a light meal or coffee and dessert.
Commemoration
A special commemoration of the milestone could be something as simple as a plaque with the couple's names, wedding date, 65th anniversary year and a meaningful quote.
A touching and personal way to memorialize this special day is to have family and friends all write a few sentences, each expressing their warm feelings toward the couple. These messages of appreciation and love can be compiled into a book format for the couple and their family to treasure always.
A more elaborate way to honor this anniversary could include a framing a large portrait of the couple with a name plate commemorating the anniversary date, then placing the portrait in their church or the location of their wedding, if possible. Another idea is to donate a bench at their favorite spot, such as a local park or library, or to donate money in their honor to their favorite charity.
All of these commemorative gestures can be presented at an anniversary celebration.