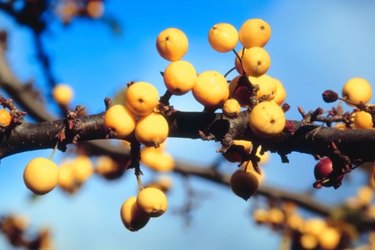 Trees that produce berries and flowers can add visual interest, color and texture to a garden. If you want a cheerful, uplifting landscape, plant trees that produce yellow berries. According the Bloomsburg University of Pennsylvania's Department of Instructional Technology, color can "have a profound effect on how we feel both mentally and physically." Yellow can induce feelings of happiness, optimism, hope and idealism. Enhance your mood, and your yard, with yellow berry producers.
Russian Olive
The Russian olive, or Eleagnus angustifolia, is a deciduous tree with silvery gray foliage. A drought- and salt-tolerant tree, the Russian olive can reach up to 20 feet tall and grows in an irregular, globe-like shape. This fast-growing tree blooms with white, cream or gray flowers in the spring, followed by yellow berries. Berries are round or oval and less than a ½ inch long. The Russian olive prefers full sun and well-drained soil.
Chinaberry
The chinaberry, or Melia azedarach, produces yellow berries that attract birds. The tree's round berries are less than a ½ inch long and can present a litter issue, according to the University of Florida Extension. A deciduous tree, the chinaberry grows up to 40 feet tall and can grow up to 10 feet per year in the first two years after germination. The chinaberry can live in a variety of soil types, from alkaline to acidic, and a range of sun levels from full sun to partial shade.
Clermontia
The Clermontia arborescens, also known as 'ohawai or haha, is endemic to the Hawaiian islands of Lanai, Maui and Molokai. This rare tree produces yellow to orange berries that range from 1 to 1 1/2 inches in diameter. Both humans and birds eat the berries. According to the University of Hawaii at Manoa, the clermontia tree resembles a candelabra, as it has few branches. The largest clermontia trees grow up to 25 feet high.
D'Or Chinese Holly
D'Or Chinese holly, or Ilex cornuta D'Or, is an evergreen tree with densely rounded leaves. The D'Or Chinese holly produces clusters of bright yellow berries. This fast-growing plant reaches heights up to 15 feet and tends to grow into a densely rounded shape, according to the North Carolina State University Cooperative Extension Service. The plant's dark-green, shiny leaves feature pointed tips. D'Or Chinese holly prefers sun to partial shade and can tolerate a variety of soil types.
Dahoon Holly
Dahoon holly, or Ilex cassine, produces small clusters of berries that range from yellow to red. This evergreen tree reaches heights up to 30 feet and can grow to 15 feet wide. The dahoon holly has gray bark and dense branches and, according to the North Carolina State University Cooperative Extension Service, appears to be "somewhat shrubby." Dahoon holly prefers sun to partial shade and can thrive in a variety of soil conditions.